The Great Debate Exclusive Clip: SYFY Wire Takes Us Behind the Scenes
There can be only one. One Nerd will reign supreme in SYFY's newest, half-hour, late-night series SYFY WIRE's The Great Debate. Tune in each week as, a rotating panel of your favorite celebrities experts and creators dispute fandom's most burning dilemmas like Who would be a worse boss, Darth Vader or the Joker? (I'm leaning Joker). What's a more monstrous monster, Zombies or Vampires? I mean, who hasn't had that discussion around the watercooler? The conversations you have with your friends and family, that don't involve politics.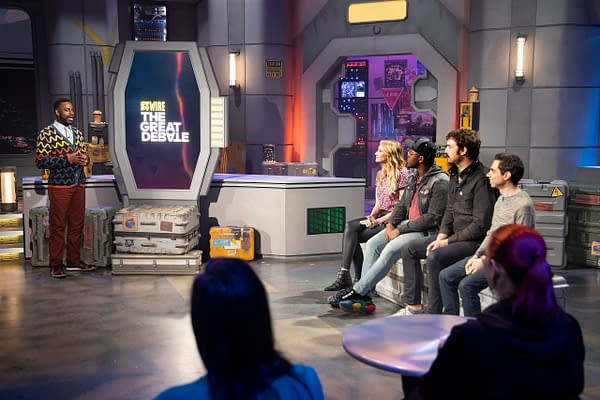 Hosted by comedian Baron Vaughn (Mystery Science Theater 3000, Right Now Kapow) SYFY WIRE's The Great Debate is based on the successful live convention event series. Vaughn serves as a mediator, tasked with fanning the flames, keeping the peace, and leading some of the funniest minds in geekdom into verbal battle as they settle the hottest topics in science fiction, fantasy, horror, comics. Aisha Taylor, Adam Savage, Amber Nash, Brian Posehn, Jonah Ray, Mayim Bialik, Orlando Jones, and many others will celebrate how much they know and love cultural icons.
Also onboard is the wisecracking Droid sidekick, DB-8, checking facts busting chops along with a live studio audience to supply Hall H level energy to the proceedings. The fine folks over at SYFY WIRE have sent us this behind the scenes video that will give you a taste of what you can expect from the universe's greatest geeks. Just push that lil old play button.
SYFY WIRE's The Great Debate is from B17 Entertainment, an Industrial Media company, and is executive produced by B17's Rhett Bachner and Brien Meagher, with T.J. Chambers serving as executive producer and showrunner. SYFY WIRE's The Great Debate premieres on Thursday, June 18 at 11 PM ET/PT.