The Last of Us Episode 3 Boosts Linda Ronstadt Song "Long, Long Time"
With HBO's The Last of Us use of "Long, Long Time," Spotify reports a surge of streams for the Linda Ronstadt hit from her "Silk Purse" album.
---
Like Netflix's Stranger Things before it for Kate Bush's Running Up That Hill and Metallica's Master of Puppets, HBO's The Last of Us is helping audiences find along beloved hit this time in Linda Ronstadt's 1979 hit Long, Long Time, which was also the title of the series' third episode that explores the unexpected love story between survivalist Bill (Nick Offerman) and wayward wanderer Frank (Murray Bartlett).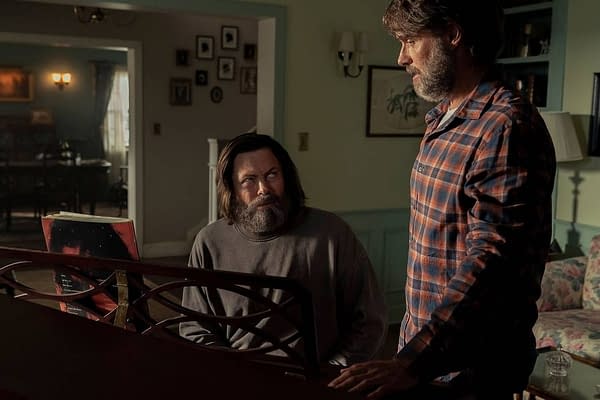 How 'The Last of Us' Led Fans to Rediscover Ronstadt Song
The two characters bonded over the song when Bill performed it on his mother's piano and lived their lives during the Cordyceps apocalypse. When Joel (Pedro Pascal) and Ellie (Bella Ramsey) left with Bill's truck at the end of the episode, the song was played from the vehicle's cassette deck. Unlike the game that treats the relationship more as a reveal, fans were able to see Bill and Frank's lives play out on the HBO series. Popular music streamer Spotify reported an increase of 4900 percent for Ronstadt's song. The creator of the Last of Us, Craig Mazin, revealed to Variety how the song was selected.
"I knew that song needed to hit certain things about longing and aching and endlessly unrequited love," Mazin said. "I could not find the right song for the life of me. I was trying and trying, and then I texted my friend Seth Rudetsky, who is the host of Sirius XM on Broadway and a savant. I told him, 'Here are all the things I need,' and two seconds later: 'Linda Ronstadt, 'Long, Long Time.' I was like, there it is. That's it!" Written by Gary White, the song is featured on Ronstadt's "Silk Purse" album. The single spent 12 weeks on the Billboard Hot 100 chart and peaked at No. 25. Ronstadt earned a Grammy nomination for Best Contemporary Female Vocal Performance in 1971. The Last of Us airs Sundays on HBO.