Metallica To Debut 72 Seasons In Theaters The Day Before Release
Join the Metallica Family in theaters on April 13th and be among the first the hear their new album 72 Seasons a day early.
---
Metallica will release their new album, 72 Seasons, the first album of new material since 2016's Hardwired…To Self-Destruct, on April 14th. The night before, on April 13th, they will host an album premiere party in theaters, where the entire album will play with a music video for each song, including lead singles "Lux Æterna" and "Screaming Suicide." Each song will also have commentary from the band, and tickets for the theatrical experience will go on sale March 2nd here. "This is a monumental opportunity for Metallica fans to be the first to hear the new album. We are thrilled to be a part of this historical global moment—connecting Metallica with their fans once again," said Kymberli Frueh, SVP of Programming and Content Acquisitions, Trafalgar Releasing.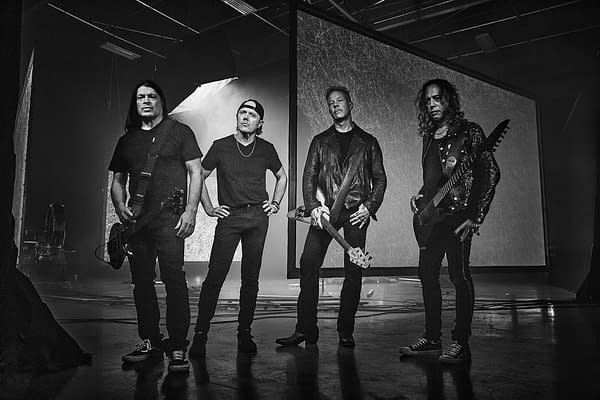 Metallica On The Big Screen
"Metallica and Trafalgar Releasing are excited to extend an open invitation to a worldwide listening party: the global premiere of Metallica's forthcoming 12th studio album, 72 Seasons. For one night only on Thursday, April 13th, 72 Seasons will be played in full in pummeling surround sound, exclusively for cinema audiences worldwide—with every one of the new songs featuring its own music video and exclusive commentary from the band. The result will offer fans an unforgettable night as they experience 72 Seasons first and fully on the eve of its April 14th release date. View a 72 Seasons – Global Premiere announcement video from Metallica HERE. Tickets for 72 Seasons – Global Premiere will be available beginning Thursday, March 2nd at metallica.film."
I have seen Metallica events on the big screen before, and they usually go all out for them, so this will be a good time for sure. Getting to hear the whole album a day early is also a plus. Both songs have been really solid so far, so here's hoping the full 77-minute album lives up to those two tracks.