The Last of Us: Melanie Lynskey on Craig Mazin's Kathleen Pitch & More
HBO's The Last of Us star Melanie Lynskey (Yellowjackets) discusses militia leader Kathleen, her motivations, Craig Mazin's pitch & more.
---
When The Last of Us creator Craig Mazin was looking for someone to play season one villain in rebel faction leader Kathleen in the HBO series, he thought who better than Emmy-nominated actress and star of Yellowjackets Melanie Lynskey, which airs on the premium cable network rival Showtime. The actress opened up about how she got recruited. "He called me and said, 'I would love for you to play a war criminal,'" she recalled. The following contains major spoilers for the series.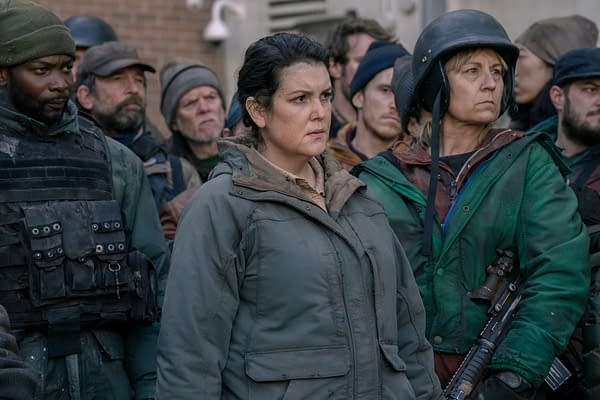 During the events of the series' fourth episode, "Please Hold to My Hand," Joel (Pedro Pascal) and Ellie (Bella Ramsey) are in the middle of their cross-country road trip to get the latter to the Fireflies in hopes they can take advantage of her immunity to the Cordyceps plague in hopes for a cure. When they hit Kansas City, they find the local militia imposing their will to find a person of interest who Kathleen views as a threat in Henry (Lamar Johnson). How much is he a threat, you ask? It's enough that she systemically tortures her family doctor (John Getz), who tries to appeal to her better angels reminding her that he delivered her not long before she coldly executes him.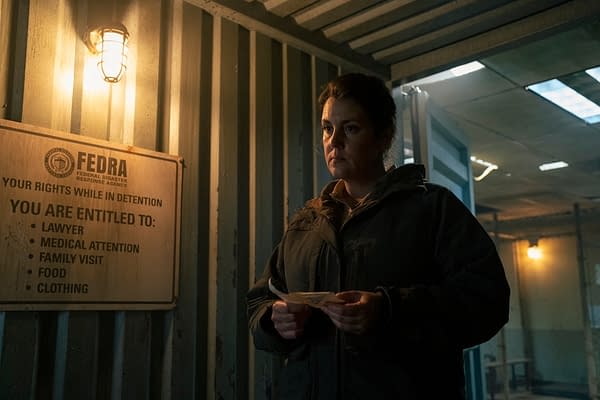 Kathleen, an original character to the HBO series with no ties to the Naughty Dog PlayStation game, blames Henry for her brother's death. "It's such a well-written scene. The whole show is so well written! It's perfect. There's nothing that you look at, and you're like, 'Oh, I feel like I should ask if I can pitch a change,'" Lynskey told Variety. "John Getz is such an amazing actor, and just was so beautiful and broken in the jail cells. That was the hardest part: not completely falling apart and just trying to maintain the shred of toughness that would allow her to do it. And I think at the end of the day, she is always just looking at the bigger picture: 'What does this mean? What is this going to tell people about who I am?' And she's quite vicious."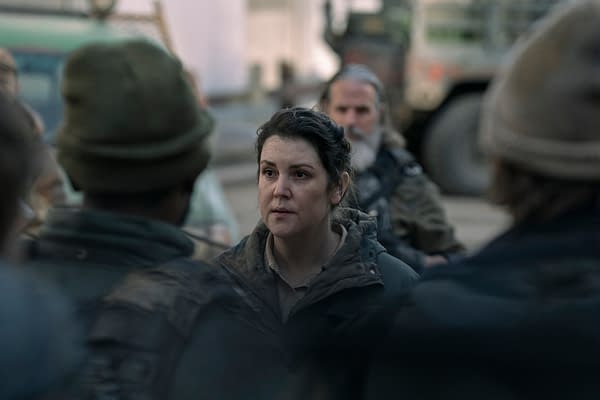 Lynskey recalled Mazin's pitch. "He basically said, 'Imagine if you were Jesus' sister. Your brother was the greatest man, who was just so wonderful to everybody, who you loved and revered, and then he was brutally murdered," she said. "And you're just this ordinary person who knows that they're not that great of a person, who has to then step into this role and is sort of consumed with wanting to adventure.'" If it weren't for the apocalypse, "If the world had remained as it was, she would probably be a high school teacher who's complaining about the kids all the time … but she's forced into this position that she's quite good at, for the worst reasons."
Henry was voiced by (Brandon Scott) in the 2013 original game by Neil Druckmann (who co-created the HBO series) and Bruce Straley. In the game, he and his brother Sam (Nadji Jeter) bump into Joel (Troy Baker) and Ellie (Ashley Johnson) as the latter two attempts to flee their militant pursuers. Henry, who's not established to be the freedom fighter as he was in the HBO series, and Sam lead Joel and Ellie to an abandoned military tower as part of their attempt to contact the Fireflies. The brothers were separated from their group, but it's presumed their party is dead.
The game leaves Henry and Sam's fate grim, but the HBO series isn't above changing fate since game Bill (W. Earl Brown) is presumably still alive while TV Bill (Nick Offerman) took his own life with his dying partner Frank (Murray Bartlett). For more, including Lynskey discussing fan reactions to her original character and where Kathleen's headspace is at this point in the show's timeline, you can check out the rest of the interview here. The Last of Us airs Sundays on HBO.