The Mandalorian Brings a Darksaber to a Gun Fight: Season 3 Key Art
The Mandalorian isn't messing around in new key art released for the third season of the Lucasfilm series, premiering on Disney+ on March 1st.
---
We told you the last time we met that we could tell that the Season 3 return of Jon Favreau & Dave Filoni's Pedro Pascal-starring The Mandalorian was inching closer based on how we were seeing an increase in teasers, key art, and other previews. Well, get ready to update your key art collection with the release of a new poster for the "Star Wars" spinoff series. But unlike the previous looks, this one finds Din Djarin not in the mood to mess around. With Grogu staying on the ship (because, unlike Morty, Grogu knows how to listen), our main Mando looks ready to throw down. And guess who brought the Darksaber to a gun fight?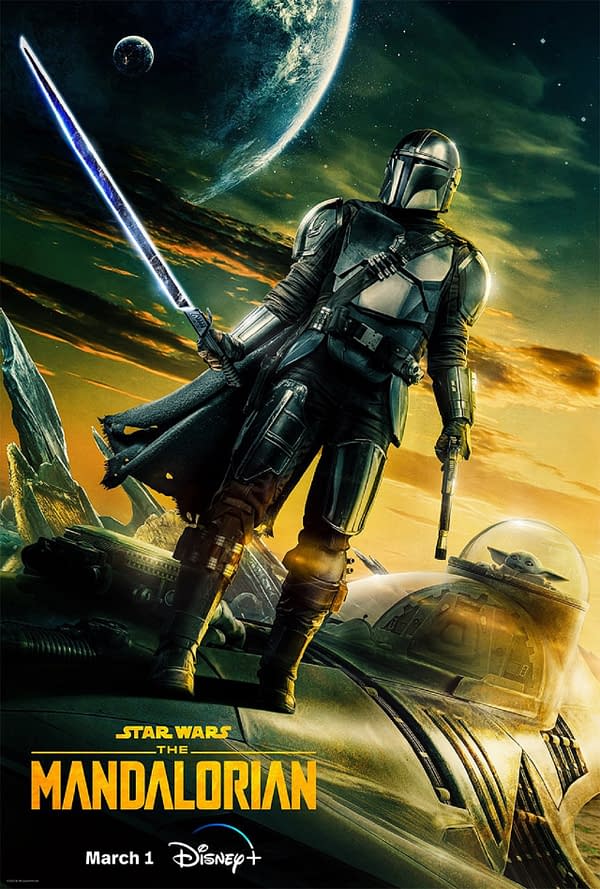 With Bryce Dallas Howard, Rick Famuyiwa, Carl Weathers, Rachel Morrison (Black Panther DP), Peter Ramsey (Spider-Man: Into the Spider-Verse), and Lee Isaac Chung (Minari) on tap to direct this season, here's a look back at the newest teaser for Lucasfilm & Disney+'s The Mandalorian Season 3 (hitting streaming screens on March 1st):
"If he is stepping into a leadership position, he's reluctant to do so," Pascal explained to Total Film as the series readies for its next chapter. "I don't think that there's anything more interesting than a character being forced into discovering what they're capable of and who they are. That part has been really, really fun." Pascal continued, "Also, from my point of view, there's so many searchable ways to find the tonality of that. I just tried to achieve the subtleties of that kind of character development." As for Bo-Katan, Sackoff sees it as a moment for her character to pause and process. "Anytime you have a goal, and you don't succeed, I think you reevaluate," the actress explained. Here's a look back at the official trailer that was released earlier this month:
The journeys of the Mandalorian through the Star Wars galaxy continue. Once a lone bounty hunter, Din Djarin (Pascal) has reunited with Grogu. Meanwhile, the New Republic struggles to lead the galaxy away from its dark history. The Mandalorian will cross paths with old allies and make new enemies as he and Grogu continue their journey together.