To say that writer, executive producer, and director Dave Filoni has logged a lot of flight time inside the Star Wars universe would be an understatement. Star Wars Rebels and Star Wars Resistance, and Star Wars: The Clone Wars (appropriately set to end its run on Star Wars Day, Monday, May 4) gave him the opportunity to weave a number of characters and storylines throughout the Star Wars historical tapestry. But it's his work with Jon Favreau on Disney+'s The Mandalorian that's gotten the biggest attention and rightfully so: the live-action series proved the doubters wrong and helped kick off the streaming service in a big way.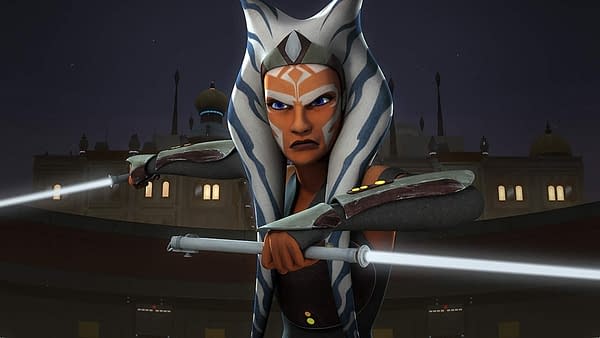 With the second season of The Mandalorian currently in post-production and The Clone Wars ending next week, Filoni sat down with EW to discuss what it's like having worked so long in the Star Wars universe. While he wouldn't divulge too much about it even if it were true, Filoni understands that his work does have a level of influence on other projects at or coming to the streamer (like the upcoming Obi-Wan series). That said, he doesn't feel the pressure to have to set things up for other series or make things a direct fit with The Mandalorian.
Listening to Filoni speak about the second season and how work on it is going, it sounds like the series has hit its stride this go-around. Considering how well the first season was received, that's a very good sign for fans: "It's a lot of fun. Maybe that's just me reacting to making it. Now that I have a year of it under my belt, doing live-action, and I need so much more experience. I wrote in Clone Wars 'experience outranks everything,' and I need to get some. So it was a great learning experience, working with a great team of people, working with Jon. I've applied what I've learned into the second season to the best of my abilities. And I think everything is getting better and better, and everyone was energized from the reaction we got from the first season. We're looking forward to sharing it with everybody when we're finished."
So what about those Rosario Dawson/ Ahsoka Tano rumors that have been rambling about, the ones Dawson herself hasn't exactly put to rest? Filoni keeps his response very general and vague, but it's clear that he sees Ahsoka as having more than proved herself as a character and more than deserving of a lead role (hmmm…): "Over the years people have always asked me about that character and potential live-action possibilities. It's a real credit to the animation team and everybody that's been involved with her over the years to make a character that fans say, 'Hey, that would be great. We would want to see that.' And the debates that surround that. When we started in 2008, giving Anakin Skywalker a young Padawan wasn't at top of mind for a lot of people. It seemed a bit out of left field and risky. George always knew that it would work if we did it the right way. The great thing about the character is she's proved herself and earned her place among the Star Wars leads out there. So whatever the future holds, who knows? But for now, we'll get to see this ending of Clone Wars and see how that goes."
Enjoyed this article? Share it!