The Mandalorian: Katee Sackhoff Talks Luke Skywalker Bait-and-Switch
The Mandalorian star Katee Sackhoff is used to the limelight in science fiction, but one question she gets asked frequently is about her time in Star Wars. One moment she became a part of is arguably the biggest in franchise history on television with the appearance of Luke Skywalker (circa Return of the Jedi) in the season two finale of the Disney+ series. While the scenes were shot, however, the actress told Star Wars Explained production wasn't completely upfront about who it was saving the day in the final climactic scenes.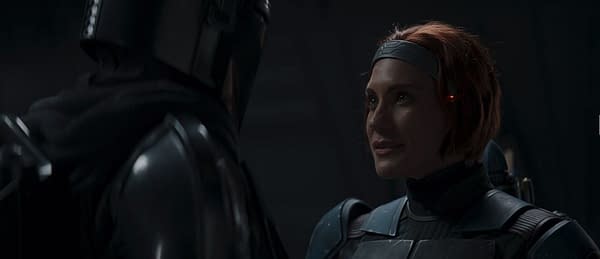 The Original Season Two Final Sequence in The Mandalorian
In the episode "The Rescue" as Din (Pedro Pascal), Fennic (Ming-Na Wen), Koska (Mercedes Varnado), and Bo-Katan (Sackhoff) took Moff Gideon's (Giancarlo Esposito) light cruiser, they were about to be intercepted by his experimental dark troopers attempting to gain access to the bridge. In the original scene, Luke, a de-aged CG-body double for Mark Hamill, was used with the original actor lending his voice. "That's who we thought that it was at the end of [season finale]. That's who we thought it was, was Plo Koon," she said. "That's who we were told it was, and I'm a very gullible person. When somebody tries to tell me something, I say 'Okay.'"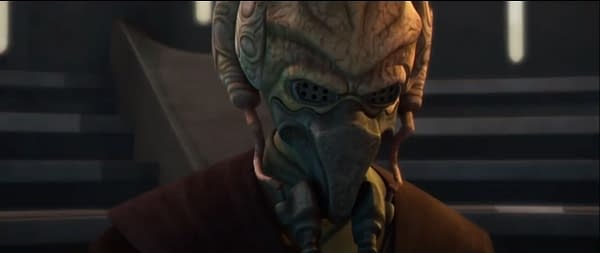 Plo Koon was a Kel Dor Jedi Master who met his end during the Jedi Order purge called Order 66 from the Emperor during the events of Revenge of the Sith (2005) when his ship was shot down betrayed by his one-time allies, the clone troopers. While Plo wasn't exhibited much during the live-action films, he had a larger presence in the animated series The Clone Wars. The Dave Filoni-created series was also how Sackhoff's character Bo-Katan made her debut in the Star Wars universe as she initially lends her voice to the proud warrior of Mandalore. The Mandalorian is available to stream on Disney+.