The Umbrella Academy: Check Out Gerard Way's Song "Here Comes the End"
After a date announcement music video and weeks of some trippy teaser key art, fans of Netflix's series adaptation of Gerard Way and Gabriel Ba's comic book series The Umbrella Academy were treated to the official trailer for the second season. We'll get to the trailer in a second, but first, there's something fans of Way's musical/My Chemical Romance side will want to know about. That song you're about to hear is a new single from Way entitled (perfectly) "Here Comes the End" (with Judith Hill). Way revealed to EW that the idea of writing a song for the series began during the first season's filming: "I was originally inspired to write this track when series one of The Umbrella Academy was being shot. By the time I finished it 2020 was in full swing, the world had taken a profound turn and the song was finished in a surreal new reality." Check out the official music video for the song (which we've already listened to three times by now) below: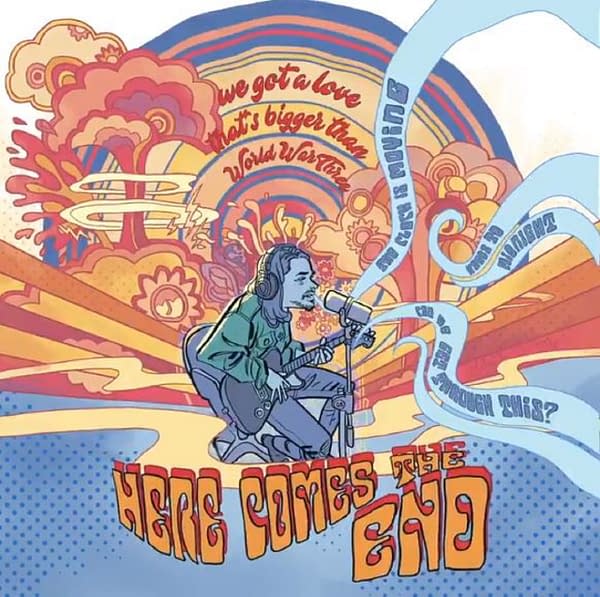 Now with the series set to make its return on July 31, viewers are getting the thing they've been waiting for (second only to the series itself): the official trailer, where we get a look at someone to rival Baby Yoda, how an infamous moment in American history could be the key to everything (hint: remember when/where they are), a Hargreeves getting hitched, another Hargreeves with a new love interest, "The Cult of Klaus," and… well… let's just say that Time can play tricks with who might (or might not) end up seeing again:
The Umbrella Academy season 2 stars Ellen Page as Vanya Hargreeves aka The White Violin aka Number Seven, Tom Hopper as Luther Hargreeves aka Spaceboy aka Number One, David Castañeda as Diego Hargreeves aka The Kraken aka Number Two, Emmy Raver-Lampman as Allison Hargreeves aka The Rumor aka Number Three, Robert Sheehan as Klaus Hargreeves aka The Séance aka Number Four, Aidan Gallagher as Five Hargreeves aka The Boy, and Justin H. Min as Ben Hargreeves aka The Horror aka Number Six. Colm Feore as Sir Reginald Hargreeves, Kris Holden-Ried as Axel, Jason Bryden as Otto, Tom Sinclair as Oscar, Yusuf Gatewood as Raymond Chestnut, John Kapelos as Luther's boss, Ritu Arya as Lila, Stephen Rogaert as Carl, Cameron Britton as Hazel, Kevin Rankin as Elliot, Marin Ireland as Sissy, and Justin Paul Kelly as Harlan also appear.
Produced by UCP for Netflix, The Umbrella Academy is executive produced by showrunner Steve Blackman as well as Jeff F. King, Keith Goldberg, and Mike Richardson. Comic book series creators Gerard Way and Gabriel Bá serve as co-executive producers.