The Walking Dead Offers Look Back at Rosita's TV, Comics Lives
Normally, we would start off numbly going over how things are still pretty much status quo across the entire Walking Dead universe. But after tenth season finale director Greg Nicotero's recent teases about our jaws dropping (more on that below), we've got the fires for the franchise going again. So what better time than now to take a look at someone who (fingers crossed) will keep making an impact through "A Certain Doom" and into the eleventh season. That's right, one of our favorites; the one who's still in need of a storyline worthy of her skills; one of the very few who could take on Beta (Ryan Hurst) even while not 100%: Rosita (Christian Serratos).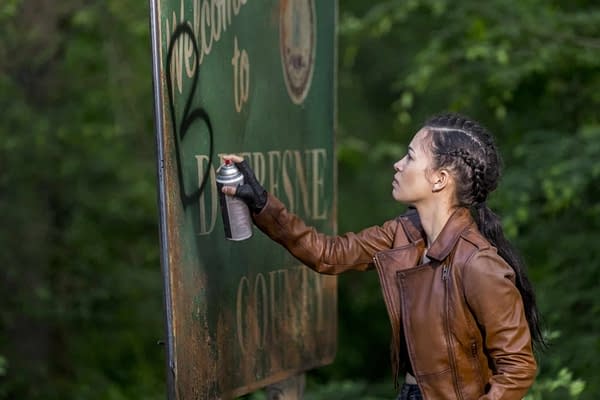 Over the past few weeks, Skybound has offered fans the "Who Is…?" series: different character profiles that compare the on-screen faces we know with their comic book counterparts. Previously, we've gotten to know more about Paola Lazaro's Juanita Sanchez aka Princess, Jeffrey Dean Morgan's Negan, Tom Payne's Jesus, Melissa McBride's Carol, and David Morrissey's The Governor aka Philip Blake. Now, it's a look back at the long, hard journey Rosita' taken: from her time traveling with Abraham (Michael Cudlitz) and Eugene (Josh McDermitt) to the final assault in "The Whisperers War":
Speaking with Fandom recently, Nicotero explained why the season 1o finale was one of his favorite episodes from the season: "What's great about our show, and what Angela [Kang, showrunner] has done so well, is really kept the momentum of the story moving forward. Where we last left everyone was that Beta and the horde was surrounding the tower, and the finale picks up right where we left off."
The director reveals that a number of characters' storylines are touched upon in the finale, including the return of a very familiar and beloved name: "There's a lot of character storylines that are [addressed], you get little bits of information here, here, here, and you want to end that chapter and start the next chapter in the finale. We address lots of stuff with Daryl, lots of stuff with Negan, lots of stuff with Beta, lots of stuff with Carol. I think it's already been revealed that Maggie's return is in the finale, and it tees us up so well for Season 11 that it's a little agonizing for me to not be able to talk about it. Because the last two minutes of the finale, people's jaws are gonna drop."