"The Walking Dead" Season 10 "Silence the Whisperers": In Michael Cudlitz, We Trust [SPOILER REVIEW]
While the cast and crew of AMC's The Walking Dead roll along with their deep-dive production-wise on the tenth season, life in the franchise's universe has become a lot like the NFL: neither have off-seasons anymore. With a strong ensemble cast (and a "Big Bad" fronted by Samantha Morton in an award-earning turn as Whisperers leader Alpha) and richly layered writing, showrunner/executive producer Angela Kang did the near-impossible: made the show feel fresh and dangerous again.
We didn't mince words over how impressed we were with season opener "Lines We Crossed" (check out our review here). Then we had Morton, Ryan Hurst, and Thora Birch raising the bar even higher with "We Are the End of the World" (check out our review here), – offering up some Whisperers backstory. Last Sunday, "Ghosts" elevated the paranoia as Melissa McBride continues delivering an award-winning performance (and that review's here).
Which brings us to next episode "Silence the Whisperers," and an Alexandria's that's getting a little fed up living by the Whisperers' rules. As anger and frustration levels rise, it looks like Lydia (Cassady McClincy) and Negan (Jeffrey Dean Morgan) might end up on the receiving end of a little post-apocalyptic "purging."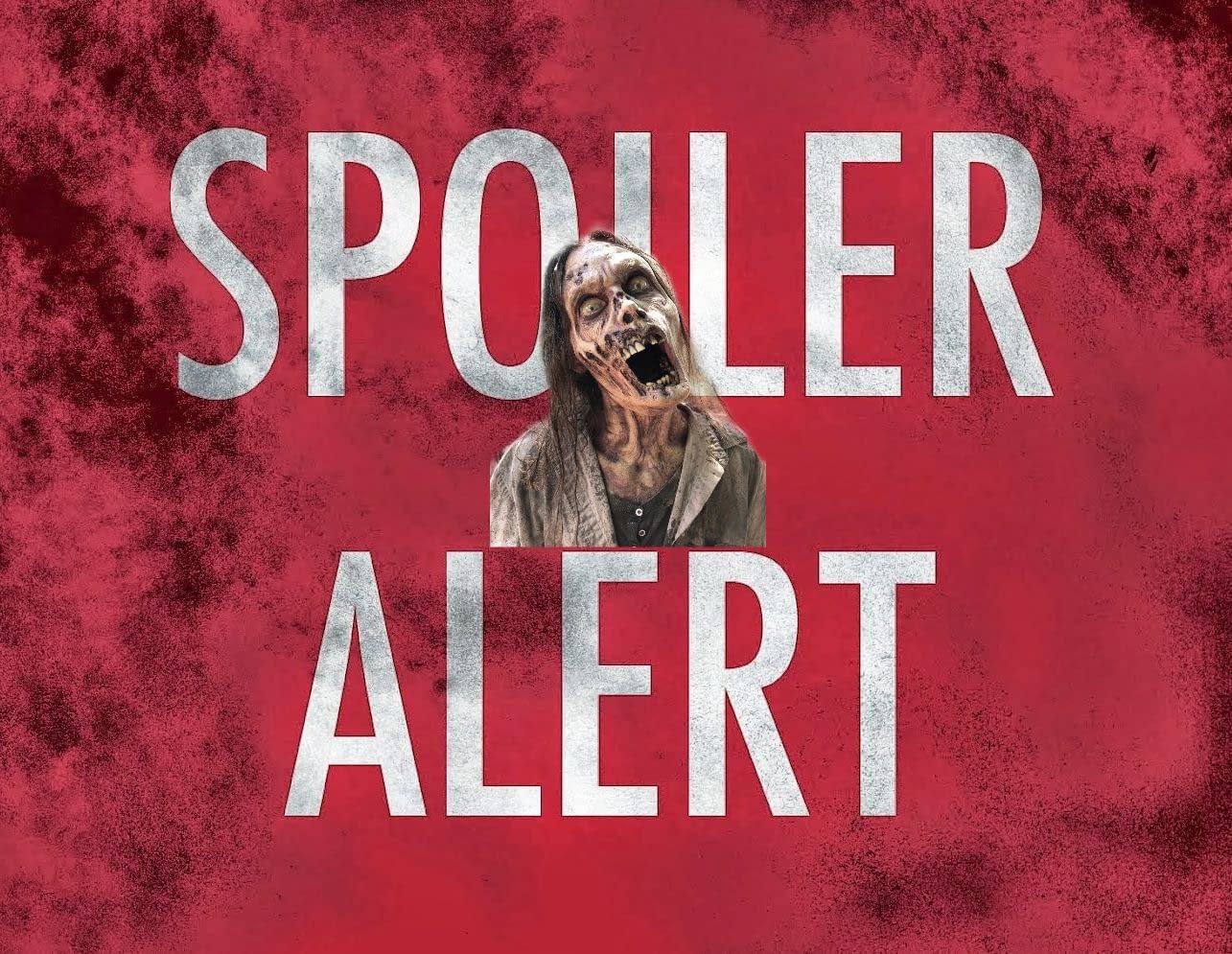 "The Walking Dead" season 10, episode 4 "Silence the Whisperers": Still-paranoid Alexandrians get riled up over the Whisperers and take their fear out on Negan. Directed by Michael Cudlitz and written by Geraldine Inoa.
Damn you, Michael Cudlitz. It's almost not fair.
The man known as Abraham to the Walking Dead Universe (and as Bob Destepello to us Grosse Pointe Blank fans) has already cemented his status as a legend within the franchise. If you've been living under a rock and so now you're calling that assertion into question, just look at how many online fans start petitioning for an Abraham prequel miniseries or Fear the Walking Dead involvement after this week's episode "Silence the Whisperers".
So what right did Cudlitz have to be so "selfish" and be even better behind the camera than he was in front of it? Having more than proven himself with last season's episode "Stradivarius" and set to helm this season's seventh episode "Open Your Eyes" (as well as an episode of "The Walking Dead 3"), this week's turn in the director's chair was further proof that Cudlitz knows this world and the people in it.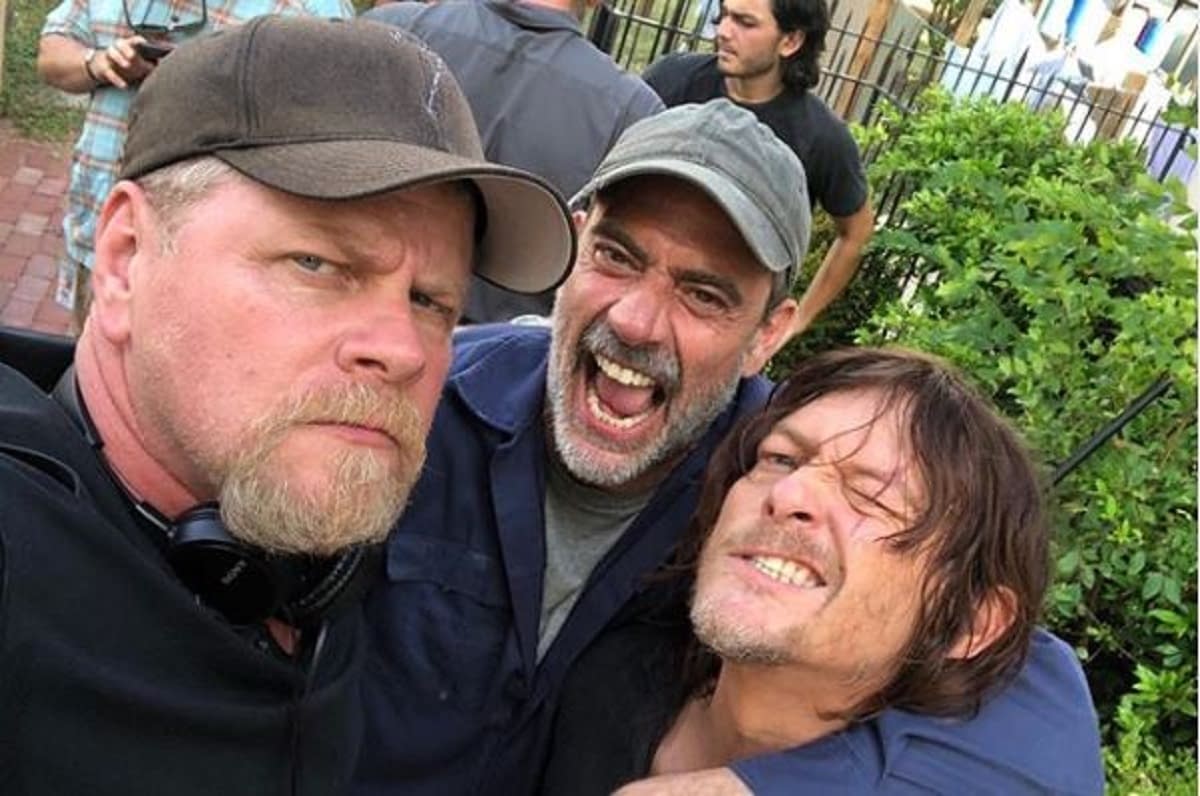 His use of music and the flow of the scenes we see set to it give his episodes a completely different vibe that other outings – no disrepect meant, since this has been a strong season start-to-finish (so far). He finds a way to give viewers their "walker fix" while still digging deeper into the psyches and backstories of our survivors – and the "big bads." For a show whose cast has grown into a sizeable ensemble, Cudlitz makes sure we touch-base with as many as possible without it coming across as just a series of "pop-up updates". But even those who didn't get much screen time this week (sorry, Carol fans), I was fine with because it made sense – and it fit into one of Kang's overall philosophies about the series: this is the story of a family looking to survive – not just a family member.
Of course, none of this would be possible without some amazing "word fu" on the part of writer Geraldine Inoa – again, please more and more of this in the future, Kang and AMC!
● The opening minutes to this week's episode might rank as some of the most beautiful and heartbreaking in the show's ten seasons – driven home by Cudlitz's vision and Gordi's "Heaven I Know":
● My heart breaks more for King Ezekiel (Khary Payton – sorry but after this episode, he gets the title back) in this episode than it has in awhile – in fact, he was starting to come across a bit "eh". But after his as-awkward-as-we-thought-it-looked kiss with Michonne (Danai Gurira), he opens up about what's haunting him: he's a man who's lost his kingdom, most of his people, Shiva, the woman he loves – he's lost who he is as a person. Michonne revealing more of herself to him over shared loss went a long way – but we can't shake this nervous feeling we have for the King's future.
● The Daryl-Lydia-Negan dynamic is one that's playing out similar to Rick-Carl-Negan – except for one major difference: even after all of their past baggage, Daryl (Norman Reedus) and Negan (Jeffrey Dean Morgan) actually seem to care about Lydia first and their own issues second. Granted, the "power positions" in play make things a bit different this time, but we have two "father figures" willing to at least consider what's in Lydia's (Cassady McClincy) best interest first – and actually including her, too!
● Let's be clear: Margo had it coming – and it was an accident. But more than that, it made Negan and Lydia's case for them that Michonne and Daryl's "civilized society" was just a ticking time bomb looking to go off on someone they can blame – and those "someones" are Lydia and Negan. Negan and Lydia are judged for their pasts – by people who are where they are because others let them move beyond their pasts. As the two "outsiders" see it, a deadly double-standard like that could prove their downfall. Lydia (or someone???) setting Negan free was always a matter of "when"… never "if".
● Moment of the episode? That moment of "mom pride" on Michonne's face as she watched Judith (Cailey Fleming) kick some righteous walker ass.
● The side storyline between Yumiko (Eleanor Matsuura) and Magna (Nadia Hilker) is definitely worth keeping an eye on. Is Yumiko jockeying to be the leader of the "Silence the Whispers" faction of the community – and how will Michonne respond to that?
Even better, how will a returning Maggie (Lauren Cohan) respond to that?
● I never get tired of listening to Eugene (Josh McDermitt) pretty much explain anything…
● RHETORICAL WRAP-UP QUESTION: Why else would someone scrawl "Silence the Whispers" on the roof of a building – aside from wanting to reach more of the community? Maybe they were looking to communicate with someone with air support? Maybe… say… black helicopters?
Asking for a friend…

The Walking Dead is a story that started 10 years ago with one man trying to find his family. That family grew and gradually communities took shape. They fought and survived, thrived and gave birth to a new generation. It is a tale of humankind and there are more stories to tell.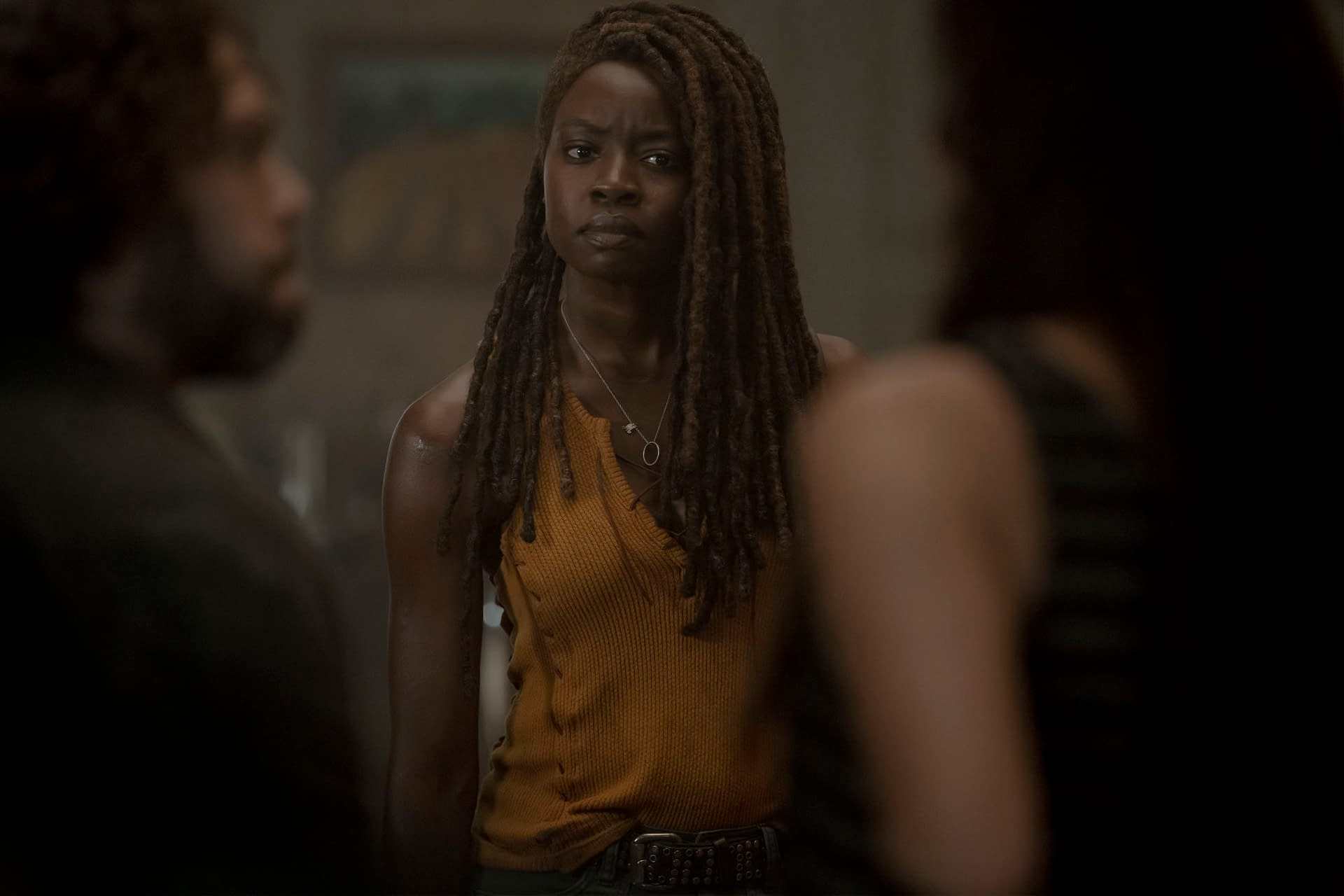 It is now Spring, a few months after the end of Season 9, when our group of survivors dared to cross into Whisperer territory during the harsh winter. The collected communities are still dealing with the after effects of Alpha's horrific display of power, reluctantly respecting the new borderlines being imposed on them, all while organizing themselves into a militia-style fighting force, preparing for a battle that may be unavoidable.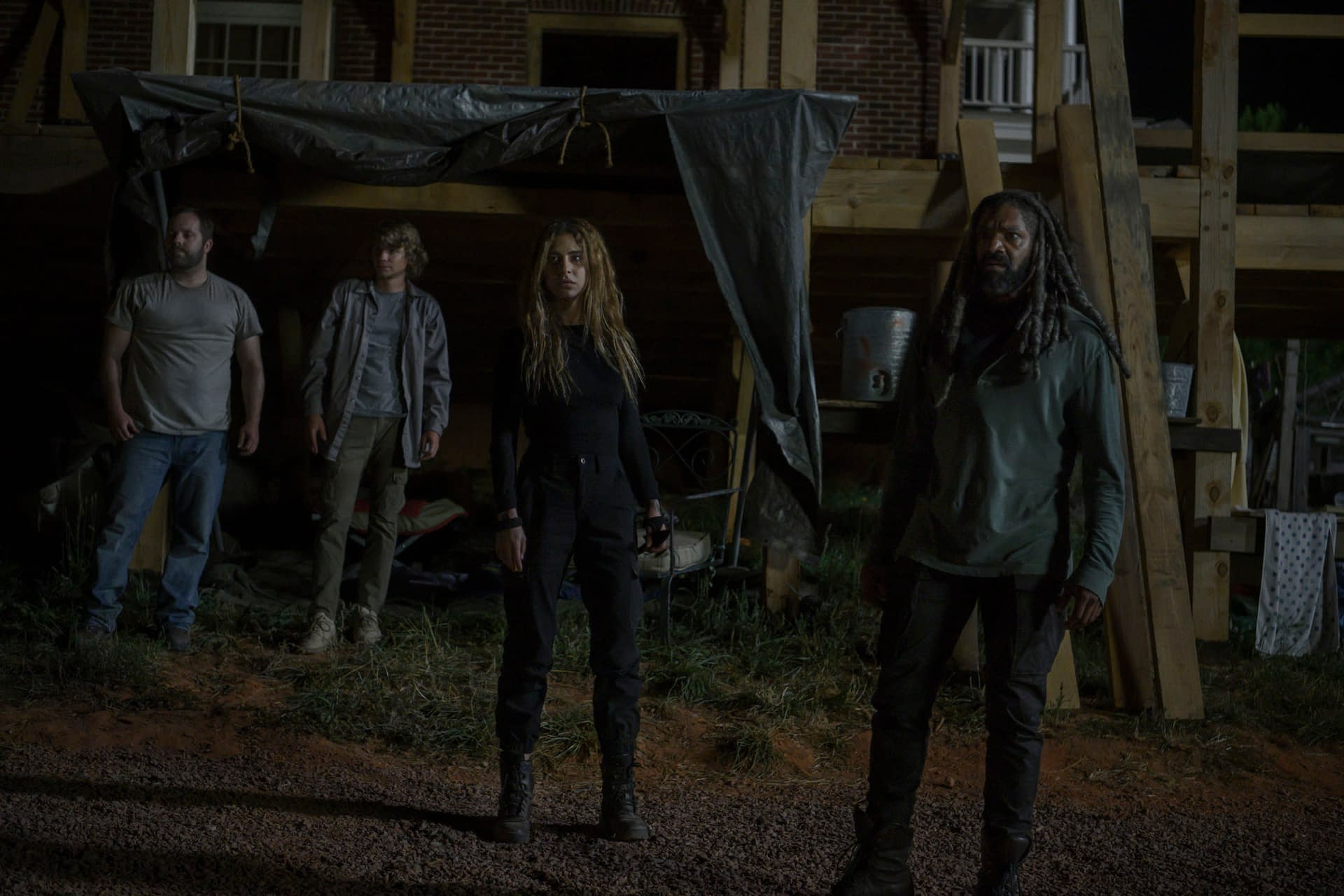 But the Whisperers are a threat unlike any they have ever faced. Backed by a massive horde of the dead it is seemingly a fight they cannot win. The question of what to do and the fear it breeds will infect the communities and give rise to paranoia, propaganda, secret agendas, and infighting that will test them as individuals and as a society. The very idea of whether civilization can survive in a world filled with the dead hangs in the balance.