Welcome to Bleeding Cool's The Walking Dead spoiler-filled quick rundown of the things that went down in this week's episode of the long-running AMC series' ninth season, "Scars." ● Michonne's old friend Jocelyn (True Blood's Rutina Wesley) arrive and claims that she and her group of kids need help. Michonne brings them in because she cares and wants a friend in her post-Rick life.
● Jocelyn turns out to one of the bad guys, taking her kids and Alexandria's kids (and their medical supplies and food) – with Michonne and Daryl getting captured trying to rescue the kids. Held captive, Jocelyn trains the Children of the Corn trainees to brand them both with an "X" – with the mark meant to signify an enemy to the kids.
● Michonne confronts and kills Jocelyn, whose cult-like ways are very Alpha-like – but here's the worst part: Michonne is forced to kill her way through the children to keep them from killing Judith and the others.
It's a slaughterhouse. You'll understand why Michonne changes the way that she does.
● While in the present, two Whisperers see Michonne and Judith pick up Daryl, Connie, Henry, and Lydia to bring them to the Kingdom for the Trade Fair
Don't forget to check out our review of The Walking Dead s09e14 "Scars" starting Monday – and next week, it all goes to hell!
The Walking Dead s09e14 "Scars": An outsider's arrival forces Alexandria to rehash devastating old wounds; eye-opening secrets from the past are revealed.

The second half of "The Walking Dead" Season 9 finds our groups of survivors, both old and new, continuing to deal with the impact of events that took place during the six years that have passed. Since the disappearance of Rick, many of these characters have become strangers to each other, and in some ways, strangers to themselves.

AMC

What they do know is that they are in undeniable danger. They will soon realize the world just beyond does not operate as they thought. The group's rules and ways of survival no longer guarantee their safety. A whole new threat has crossed their paths, and they soon discover it's unlike any threat they have encountered or endured before. The group will start to question what they think they see. What may appear to be normal in this post-apocalyptic world could actually be more disturbing and terrifying than when the apocalypse first broke out. All that is certain is the stakes are high and numerous.

Based on the comic book series written by Robert Kirkman and published by Image Comics, "The Walking Dead" tells the story of the months and years after a zombie apocalypse and follows a group of survivors who travel in search of a safe and secure home. The series is executive produced by chief content officer Scott M. Gimple, showrunner Angela Kang, Robert Kirkman, Gale Anne Hurd, Dave Alpert, Greg Nicotero, Tom Luse and Denise Huth.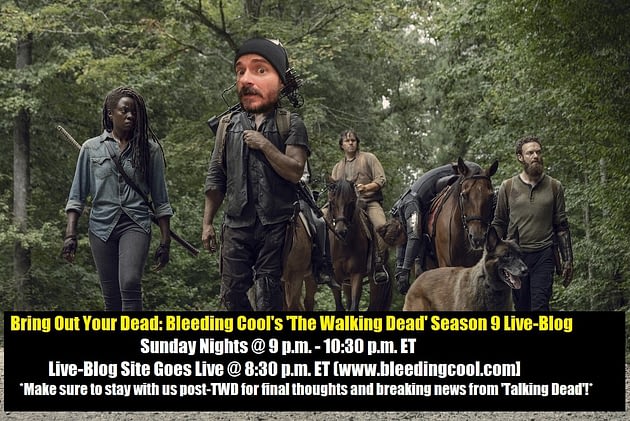 That's right! Bring Out Your Dead: Bleeding Cool's The Walking Dead Live-Blog is back each and every Walking Dead Sunday night – starting with a little "pre-game" at 8:30 p.m ET (live-blog goes live on our website) before charging head-long into our live-blog coverage beginning at 9 p.m. ET. After the show, hang out with us a little longer as we share our thoughts on the night's developments and offer up some predictions on what's still to come – and to see if Chris Hardwick has any news to break on Talking Dead.
AMC's The Walking Dead airs Sunday nights at 9 p.m. ET.
Enjoyed this article? Share it!