Titans Season 1: Dwain Murphy Joins the Doom Patrol as Negative Man
The Doom Patrol finds its finale founding member. Geoff Johns first teased the the Doom Patrol would be visiting the Titans on the new live-action series, then we got the casting news that Bruno Bichir was going to play Dr. Niles "The Chief" Caulder, and then word that April Bowlby would be Rita Farr, aka Elastic-Girl, and of course Jake Michaels cast as Cliff Steele, aka the Robotman. The only one missing from the original lineup was Larry Trainor, aka Negative Man, and according to Den of Geek, they've found Dwain Murphy (Stark Trek: Discovery) for that part.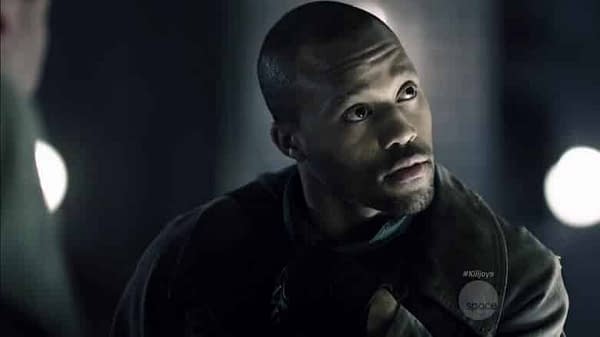 Trainor was a test pilot that crashed his plan after flying through massive amounts of radiation. The result is he has to keep his body constantly wrapped or kill those around him, but he gained the ability to leave his body as a negative energy form. In that form he can generate radiation, absorb energy, project energy, phase through objects and fly. Negative Man made his first appearance in My Greatest Adventure #80 (1963) along with the rest of the original Doom Patrol. They were created by Arnold Drake, Bob Haney and Bruno Premiani.
Murphy is likely to be familiar to fans having played recurring roles on Degrassi: The Next Generation, Nikita, Rogue, The Strain, The Mist, and Mohawk Girls. Most recently he played Captain Maddox on Star Trek: Discovery.
The series is from executive producers Akiva Goldsman, Geoff Johns, Greg Berlanti and Sarah Schechter. Already cast as Dick Grayson is Brenton Thwaites, along with Anna Diop as Starfire, Ryan Potter as Beast Boy, Teagan Croft as Raven, Minka Kelly as Dove and Alan Ritchson as Hawk. The series focuses on Grayson as he moves out of the shadow of The Batman and into becoming a hero of his own. We've seen images of Thwaites in a Robin costume, but I expect that we'll also see him as Nightwing.