TNT "knows drama" – particularly that of the Supernatural variety. The network has championed The CW's longest-running and most beloved series for years. They're given our SPN Family quite a boost – along with our streaming friends at Netflix. That said… their past marathons haven't always been super spot-on.
Luckily, TNT nails the roster this time… though that poster might need to go back to "Photoshopping 101":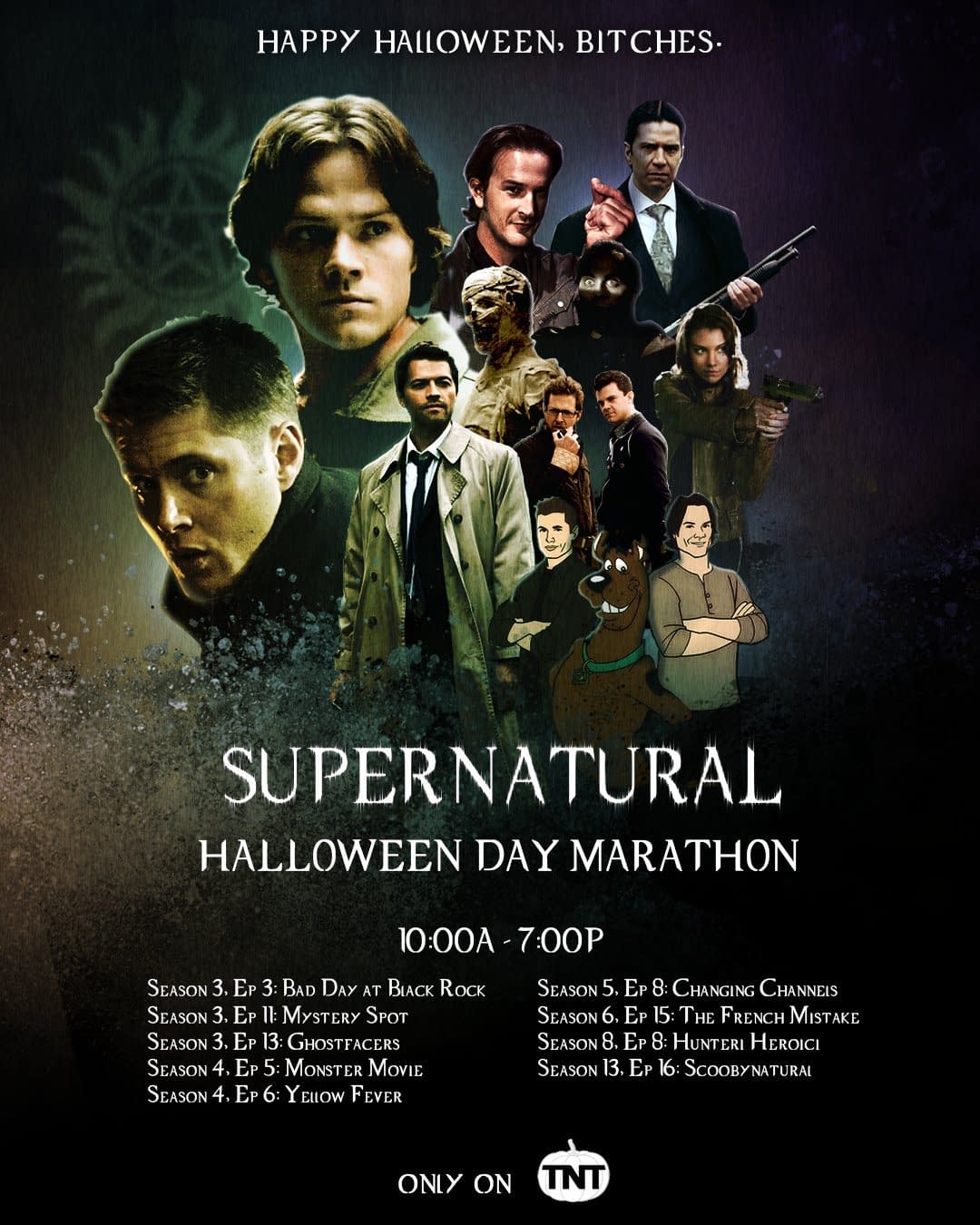 This line-up includes some of my long-time personal favorites – "Bad Day at Black Rock," "Monster Movie," "Changing Channels," "The French Mistake," "ScoobyNatural" and more!
Full "Supernatural" Halloween Day Marathon Schedule Episode 3.03 – "Bad Day at Black Rock"
10:00a.m.-11:00 a.m. ET/PT
Sam and Dean come in contact with a rabbit's foot that gives them good luck until a thief steals it from Sam, giving him bad luck. His bad luck continues when he's kidnapped by the mentor of a hunter who believes he still has his powers.
Episode 3.11 – "The Mystery Spot"
11:00a.m.-12:00p.m. ET/PT
Dean is killed after looking into a case about the disappearance of a man with Sam. The next morning, Sam is shocked to find Dean alive and is hit with the realization he is reliving the day before.
Episode 3.13 – "Ghostfacers"
12:00p.m.-1:00p.m. ET/PT
While investigating Morton Mansion, Sam and Dean become inadvertent participants in a new reality show named Ghostfacers. As events turn deadly and the team are trapped, the investigation becomes a battle to survive until morning.
Episode 4.05 – "Monster Movie"
1:00p.m.-2:00p.m. ET/PT
Sam and Dean investigate a town plagued with monsters from classic black-and-white horror movies.
Episode 4.06 – "Yellow Fever"
2:00p.m.-3:00p.m. ET/PT
Sam and Dean investigate the deaths of several men who seemingly died of fright. Dean becomes infected with it starting as anxiety then leading to a full-blown terror which ends in death. Sam and Bobby race against time to save Dean.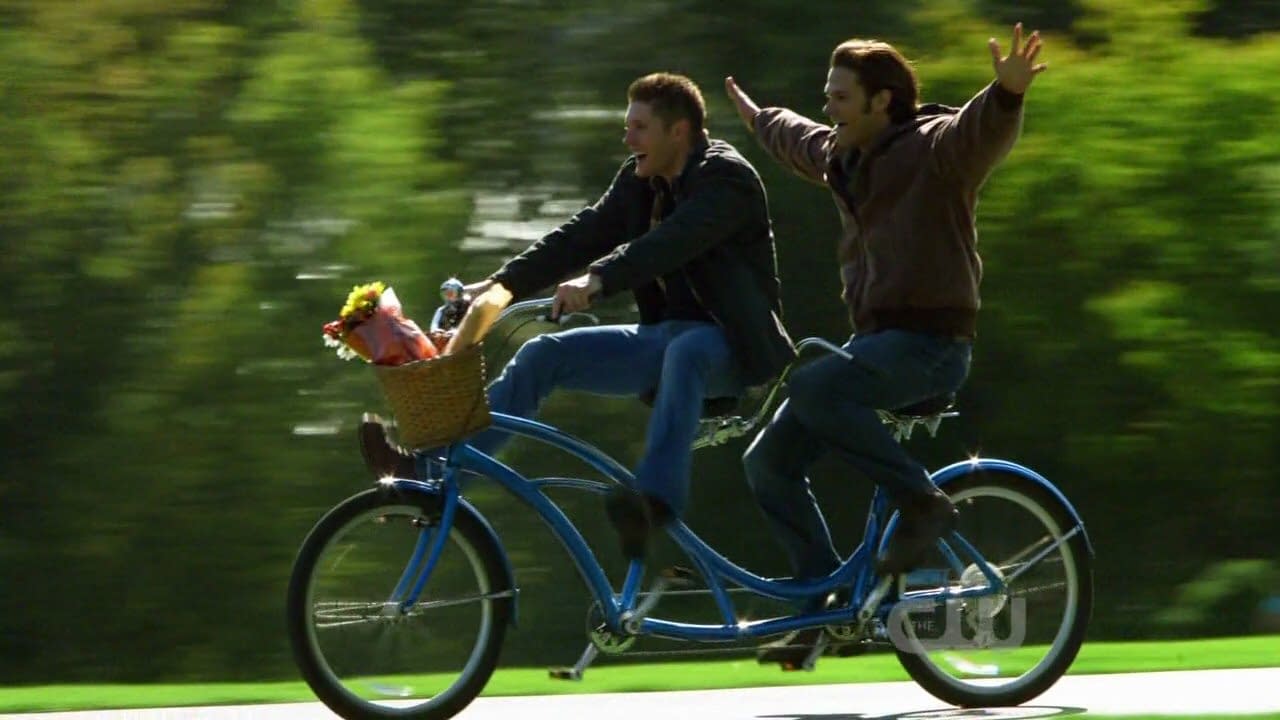 Episode 5.08 – "Changing Channels"
3:00p.m.-4:00p.m. ET/PT
Dean and Sam find themselves mystically trapped in a series of real-life TV shows and there appears to be no escape. They believe their old enemy the Trickster is responsible but discover someone or something else is involved.
Episode 6.15 – "The French Mistake"
4:00p.m.-5:00p.m. ET/PT
Sam and Dean are transported to an alternate universe, where they are actors on a TV show called Supernatural and are named Jared Padalecki and Jense Ackles, and they must avoid an angelic hit man who is pursuing them.
Episode 8.08 – "Hunter Heroici"
5:00p.m.-6:00p.m. ET/PT
Castiel joins Sam and Dean as a hunter, and together, they investigate a series of small-town murders wherein each of them resembles a cartoon death.
Episode 13.16 – "ScoobyNatural"
6:00p.m.-7:00p.m. ET/PT
Sam, Dean and Castiel are transported into the animated world of Scooby Doo; and they join forces with the Scooby gang to solve a ghostly mystery.
I'm a little surprised Episode 4.7 "It's the Great Pumpkin, Sam Winchester," Episode 4.8 "Wishful Thinking," and Episode 6.9 "Clap Your Hands If You Believe" didn't make the cut. I guess TNT could devote only so many hours to #SPNHalloween.
Catch TNT's Supernatural marathon Thursday, October 31 from 10 a.m. to 7 p.m. EST/PST
Enjoyed this article? Share it!