Adult Swim's Toonami Shifts Line-Up, Start Time in January 2019
Viewers of Adult Swim's Saturday night/Sunday morning Toonami anime programming block are getting a bit of a reality check from the network, with the schedule shifting back to an 11 p.m. start as of January 5, 2019. With the shortened schedule, Dragon Ball Z Kai and Samurai Jack didn't make the cut; but viewers do get Pop Team Epic back and a later end-time (Mobile Suit Gundam: Iron-Blooded Orphans airs until 5 a.m.).
Here's a look at the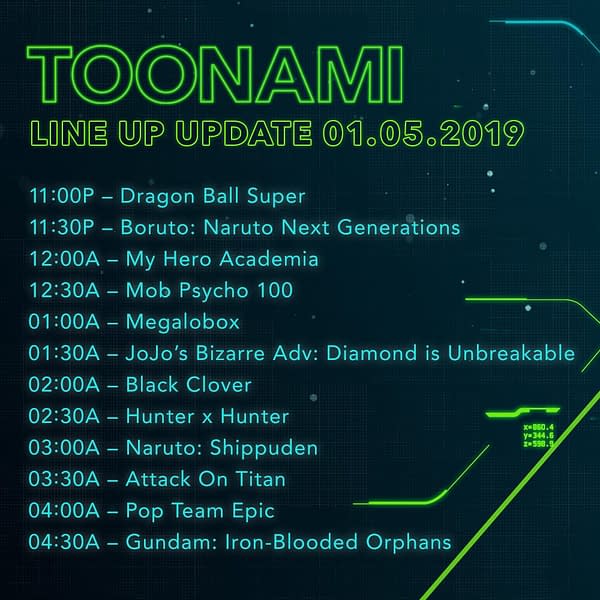 11:00 p.m. – Dragon Ball Super
Goku and his friends take on a whole new universe of trouble in the exciting continuation of the Dragon Ball franchise! Between facing gods, going to entire new worlds, and even meeting the ruler of the 12 universes, they'll face some of their toughest foes yet. But nothing will prepare them for the ultimate tournament! In a battle to defend their universe, can Goku summon the power needed to fight?
11:30 p.m. – Boruto: Naruto Next Generations
The Hidden Leaf Village has entered an era of peace and modernity. Tall buildings line the streets, giant screens flash with images, and the Thunder Rail runs through the village, connecting each district together. Though it's still a ninja village, the number of civilians has increased and the life of the shinobi is beginning to change.

Boruto Uzumaki, son of Seventh Hokage Naruto Uzumaki, has enrolled in the Ninja Academy to learn the ways of the ninja. The other students are ready to dismiss him as "just the son of the Hokage," but Boruto's heart and character blow all their assumptions away.

As a series of mysterious events begins to unfold, it's up to Boruto and his new friends to handle them. Like a gale-force wind, Boruto makes his own way into everyone's hearts; his story is about to begin!
12:00 a.m. – My Hero Academia
In a world where eighty percent of the population has some kind of super-powered Quirk, Izuku was unlucky enough to be born completely normal. But that won't stop him from enrolling in a prestigious hero academy. Now, he'll get his first taste of brutal rivalry from other schools as he braves the cutthroat, no-holds-barred provisional license exam.
12:30 a.m. – Mob Psycho 100
https://www.youtube.com/watch?v=RC7ktAbK7vE
Kageyama Shigeo (a.k.a. Mob) is an 8th grader with powerful psychic abilities. Working under his not-so-capable master, Reigen, Mob uses his powers to exorcise evil spirits. But his will to be normal causes him to suppress his powers and feelings until he hits 100 percent—a point where his pent-up emotions are unleased and a darker power takes over.
1:00 a.m. – Megalobox
https://www.youtube.com/watch?v=XE1TtpPuUlE
A desolate land stretches out from the city of poverty. A motorcycle speeds recklessly, blowing clouds of sand and dust. The rider is the protagonist of this story – he has neither a name nor a past. All he has is his ring name, "Junk Dog" and a technique for rigging MEGALOBOX matches with his pal Gansaku Nanbu, which they use to support their hand-to-mouth lives. JD is bored, resigned, and unfulfilled. Yuri has been the reigning champion of MEGALOBOX for the past few years. He has the skills and presence of a true champion. This is a story of JD and his rival, Yuri.
1:30 a.m. – JoJo's Bizarre Adventure: Diamond Is Unbreakable
https://www.youtube.com/watch?v=SqNdVYTwPbQ
The legendary Shonen Jump classic JoJo's Bizarre Adventure is a groundbreaking series with multiple story arcs whose creation has already spanned 25 years. It's famous for outlandish characters, wild humor and frenetic battles. Join the Joestar family as they fight the evil Dio and his legacy across continents and time!
2:00 a.m. – Black Clover
Asta and Yuno are two orphans who want the same thing: to become the Wizard King. Locked in a friendly rivalry, they work hard towards their goal. While Yuno excels at magic, Asta has a problem uncommon in this world: he has no powers! But, on the day they receive their grimoires, they surprise everyone. To reach their goal, they'll each find their own path to greatness—with or without magic.
2:30 a.m. – Hunter x Hunter
Abundant riches, hidden treasures, fearsome monsters, and exotic creatures are scattered around the world… Gon departs on a journey to become a Pro Hunter who risks his life in search of the unknown. Along the way, he meets other applicants for the Hunter exam: Kurapika, Leorio, and Killua. Can Gon pass the rigorous challenges of the Hunter exam and become the best Hunter in the world!? His wild and epic journey is about to begin!!
3:00 a.m. – Naruto: Shippuden
The Village Hidden in the Leaves is home to the stealthiest ninja in the land. But twelve years earlier, a fearsome Nine-tailed Fox terrorized the village before it was subdued and its spirit sealed within the body of a baby boy. Now that boy, Naruto, has grown up to become a hyperactive ninja-in-training who's more interested in pranks than schoolwork…but Naruto is determined to become the greatest ninja ever!
3:30 a.m. – Attack on Titan
Years ago, humanity was forced to retreat behind three concentric walls to escape the man-eating Titans outside their fortress.
4:00 a.m. – Pop Team Epic
Crude, rude, and a little…cute? Get ready for the larger-than-life attitude of Popuko and Pipimi, the small and tall stars of Pop Team Epic! Based off the bizarre four-panel webcomic by Bukubu Okawa comes a comedy that'll throw you off with its out-there jokes and intense absurdity. You think you're ready for these girls? Think again, F#%**er!
4:30 a.m. – Gundam: Iron-Blooded Orphans
Mikazuki Augus is part of Tekkadan, an organization that jumped to fame from the battles involving the escorting of Kudelia Aina Bernstein to Earth and the Arbrau primary elections. The conflict exposed the corruption of Gjallarhorn as well, and the world was changing slowly but surely.

Tekkadan, with the rights to halfmetal as negotiated with Arbrau, became a direct affiliate of Teiwaz. That resulted in abundant funds and more people interested in joining, growing massively to even have a branch on Earth.
Kudelia, learning about the world from her journey to Earth, founded Admoss Company to strive for the financial independence of Mars both in reality and in practice. However, there are many who do not look favorably about the rise of the youngsters who are trying to start something new.

Admoss Company will be inspecting a mining site of halfmetal, and hired Tekkadan to guard them. There, the leader of Tekkadan, Orga Itsuka, senses an attack from a new enemy. Under Orga's command, Tekkadan, including Mikazuki in the mobile suit Gundam Barbatos Lupus, head out to repel the enemy.