'Transparent': Series Creator Jill Soloway Reveals Fate of Jeffrey Tambor's Maura
Fans of Amazon and series creator Jill Soloway's series Transparent have been speculating for months what the final fate would be for Jeffrey Tambor's character, Maura – and now it's been confirmed: Tambor's character will be killed off by the opening of the series' musical finale "The Transparent Musicale Finale" (yes, "musicale" is meant to rhyme with "finale"). Maura's passing will be addressed at the start of the episode, and will follow the Pfefferman family – Shelly (Judith Light), Sarah (Amy Landecker), Josh (Jay Duplass), and Ali (Gaby Hoffmann) – as they all grapple and come to terms with her death.
"We were all in mourning in many ways, and we all had to process together. It was important [for the show] to go through all those stages. The show has always been a reflection of who we were and we were mourning our own narrative."

– Jill Soloway
Tambor played the late-in-life transgender parent Maura over the course of the series, but was terminated from the series in 2018 after an allegation of sexual misconduct surfaced. Tambor continues to deny the allegations.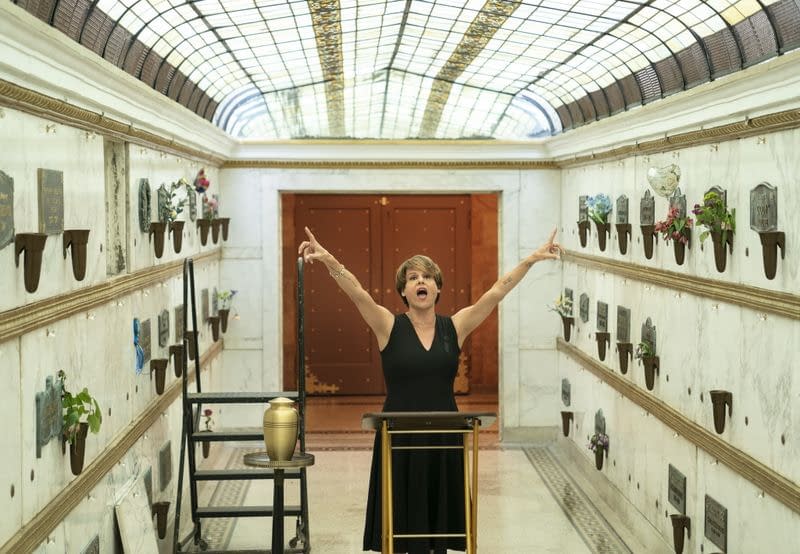 Also joining the series finale are Kathryn Hahn as Rabbi Raquel; Cherry Jones as Ali's love interest; Melora Hardin as Tammy, Sarah's old college girlfriend/ex; Tig Notaro as Tammy's ex-wife, Barb; Rob Huebel as Sarah's ex-husband, Len; and Trace Lysette as yoga instructor Shea – with ties to both Maura and Josh.
"People say when they're making musicals that there are moments when the characters have to sing because they can't put something into words. I think it's the same thing with what our show went through, we felt like we needed a different way of looking at the family. And we did it through song."

– Jill Soloway
As for what viewers can expect from the finale, Soloway promises a number of powerful numbers; in particular, "Your Boundary Is My Trigger" – which Soloway describes as a mother/daughter aria between Sarah and Shelley that addresses the powerful nature of maternal love:
"It's extreme. It hits the most extreme high notes. I feel like 67-year-old Jewish moms are going to be seen in a new way."