Trouble for Team Taz? Brian Cage Marks Out for Sting
Brian Cage broke ranks with Team Taz this week on AEW Dynamite, praising Sting for beating them in a street fight and proclaiming that, regardless of what Ricky Starks has to say, the 61-year-old Stinger is still The Icon. Cage's comments didn't go over well for the rest of the members of Team Taz, leading to speculation that Cage could be headed for a break with the group or a possible face turn.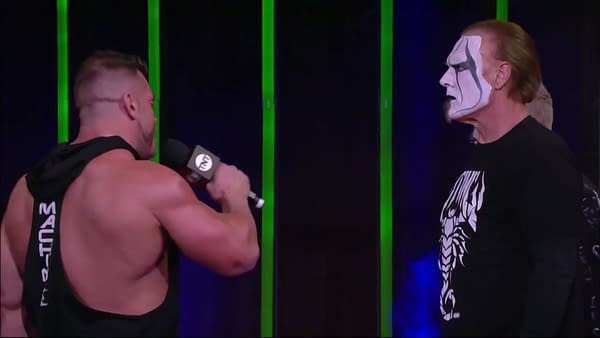 Here's what Brian Cage had to say when he confronted Sting during an interview with Sting and Darby Allin on AEW Dynamite this week.
"You show up with some hotshot and you stick your nose in our business week after week after week, and after all the back and forth and the physicality and the damndest street fight in this business, I got to say: I respect you. And more importantly, I wanted to come out here and look you eye to eye and tell you Ricky Starks is wrong. With or without your bat, you are still The Icon."
Those were bold and courageous words from Cage, and his teammates didn't take kindly to them. Ricky Starks in particular seemed quite upset that Cage would break ranks, as were Taz, Powerhouse Hobbs, and Hook. After some back-and-forth, Cage left without the group. Is this the start of a potential face turn for Cage? Or is he merely trying to lure String into a false sense of security? Considering Cage has lost pretty much every big match since coming to AEW and joining Team Taz, it might not be such a bad idea to try going it on his own. How much worse could it be?
You can watch a video of Brian Cage kissing up to Sting here.