TV, Film Task Force Submits COVID-19 Guidelines to Resume NY, CA Prods
Less than a day after word broke that film and television productions were given the green light to resume productions after the UK government and health agencies gave the approval to new coronavirus safety rules and guidelines, New York Gov. Andrew Cuomo and California Gov. Gavin Newsom are hearing from Hollywood. The Industry-Wide Labor-Management Safety Committee Task Force has submitted a 22-page set of recommendations and guidelines to be considered by their respective states for the resumption of film, TV, and streaming productions. New York and California represent the states with the highest number of domestic film and television production.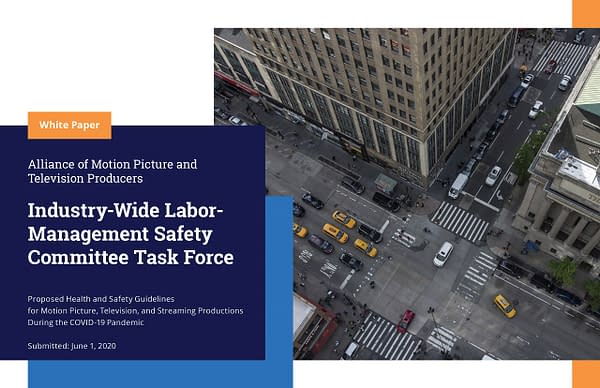 Entitled the Proposed Health and Safety Guidelines for Motion Picture, Television, and Streaming Productions During the COVID-19 Pandemic, the document emphasizes a combination of "regular, periodic" testing, access to proper protective gear (like masks), and continued social distancing are essential elements of the plan. While a number of the recommendations are similar to other production return plans, the report also calls for the creation of a new position/office to ensure that safety standards are maintained. Here's a look at the description from the report: "An autonomous COVID-19 Compliance Officer(s) with specialized training and responsibility and authority for COVID-19 safety compliance and enforcement will be in the workplace to address issues as they arise. COVID-19 safety plan oversight and enforcement shall be the principal responsibilities of the COVID-19 Compliance Officer(s), provided they may be assigned additional responsibilities related to workplace safety."
At the time of Deadline Hollywood's initial reporting, neither Newsom nor Cuomo's offices would comment on the report. Regional officials and offices like the Los Angeles County Department of Public Health will also receive the report, with productions in Los Angeles and New York City elected to go through several stages of approval before work resumes. The proposal also offers "special considerations" for minors, animal performers, craft services, an emphasis on virtual writers' rooms, avoiding location filming as much as possible, and discouraging live studio audiences. You can check out a pdf of the full TV and film production report here.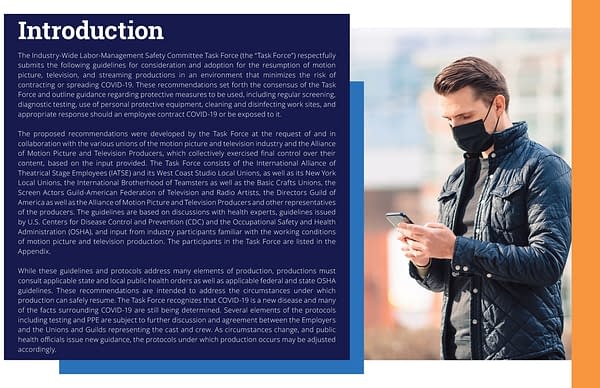 Walt Disney Pictures, Netflix, Alliance of Motion Picture and Television Producers, Apple Studios, CBS Studios Inc., Amazon, Columbia Pictures, Disney Television Studios, Fox Corporation, HBO. HBO Max, NBCUniversal, Paramount Pictures, Sony Pictures TV, and Warner Bros. Entertainment offered input into the task force's findings. In addition, the DGA, SAG-AFTRA, IATSE (including Art Directors Guild and Costume Designers Guild), the Teamsters, and others were also involved in the process and helped craft the submitted recommendations.