The Walking Dead Season 9, Episode 8 'Evolution': A Death, A Change, and A Major Cliffhanger [SPOILERS]
We can now confirm the spoilers reported on earler today for this week's season 9 midseason finale of AMC's The Walking Dead ('Evolution')… but first: So three major mood-changers in this season's mideseason cliffhanger: two not super unexpected – but one that might catch viewers off-guard: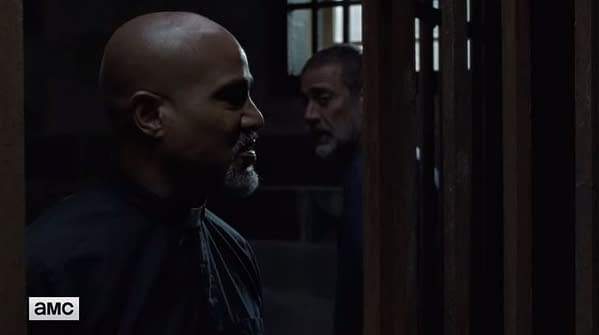 ● Father Gabriel (Seth Gilliam) get a little too caught up worrying about Rosita (Christian Serratos) that he neglects his Negan (Jeffrey Dean Morgan) duties…and Negan escapes!
● In an attempt to buy Daryl (Norman Reedus), Aaron (Ross Marquand), Eugene (Josh McDermitt), Michonne (Danai Gurira), Yumiko (Eleanor Matsuura), and Magna (Nadia Hilker) some time to escape a herd of walkers (actually Whisperers), Jesus (Tom Payne) stays behind to fight off the walkers – only to be stabbed through the chest and killed by a walker/Whisperer ("You're where you do not belong.").
● After Daryl kills the walker, the remaining survivors discover he's actually a human wearing walker skin – as the Whisperers close in.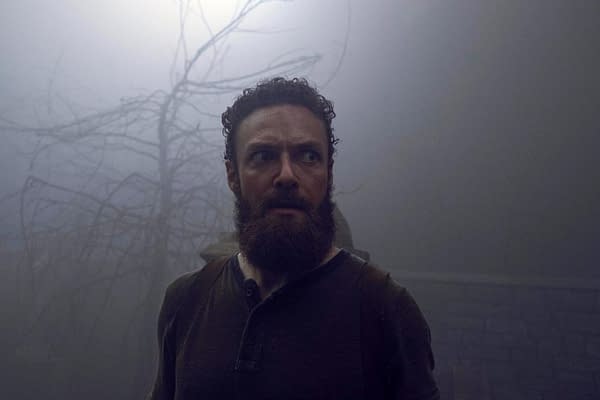 For his part, Payne hinted at a possible departure from the series during a March 2018 interview with Daily Star Online:
"I didn't become an actor to play the same part over and over again. I never went near EastEnders or Coronation Street because I didn't want to do that. I wanted to play different parts and be in lots of different things. Having said that, I'm in a television show which is like a soap and it's been on for eight years now and long may it continue."

"A part of me is like, 'I don't want to play the same guy over and over again,' but I know that it's finite.

"I don't think the show is going to be EastEnders or Coronation Street. It could carry on for a good while, but we'll see where it takes me."
The Walking Dead Season 9, Episode 8 'Evolution': A small rescue mission braves a dangerous herd in their hunt for a missing comrade, only to discover a surprising threat that could doom them all.

Last season brought the culmination of "All Out War," which pitted Rick Grimes and his group of survivors against the Saviors and their cunning leader, Negan. With Negan's life in his hands, Rick had a character-defining choice in front of him. By making the unilateral decision to spare Negan, Rick upheld the values his late son, Carl, championed in order to build for the future, but created conflict within his group.

Now, we see our survivors a year and a half after the end of the war, rebuilding civilization under Rick's steadfast leadership. It is a time of relative peace among the communities as they work together, looking to the past to forge the future, but the world they knew is rapidly changing as man-made structures continue to degrade, and nature takes over, changing the landscape and creating new challenges for our survivors.

As time passes, the communities confront unexpected obstacles, danger, and of course, walkers, but nothing quite prepares them for the formidable force they are about to encounter, which threatens the very idea of civilization that our survivors have worked so hard to build.

Based on the comic book series written by Robert Kirkman and published by Image Comics, "The Walking Dead" reigns the number one drama on television among adults 18-49 for the last six seasons. The series is executive produced by chief content officer Scott M. Gimple, showrunner Angela Kang, Robert Kirkman, Gale Anne Hurd, David Alpert, Greg Nicotero, Tom Luse, and Denise Huth.