The Walking Dead Season 9 First Image Released: Time Jump Teased, Greg Nicotero Directing Opener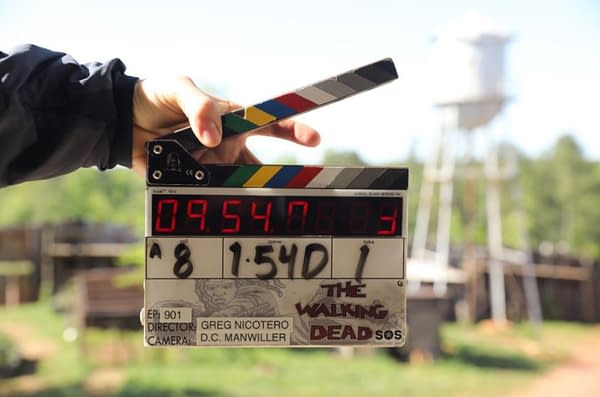 Feels like there's barely been enough time for the Saviors and the Hilltop folk to bury their dead; and for [SPOILER] Negan's (Jeffrey Dean Morgan) righteously severe "shaving accident" to heal from his visit to Rick's (Andrew Lincoln) impromptu "barbershop." But for AMC's The Walking Dead to keep with its tradition of returning in October, looks like there's no rest for the wicked — or the walkers. Production on The Walking Dead season 9 has already begun in Senoia, Georgia, with the network releasing the first official image from the set (above).
AMC's official Twitter account for The Walking Dead shared the photo from production on the season's first episode, directed by executive producer Greg Nicotero. Nicotero previously directed the premieres and season finales for seasons 7 and 8; as well as the mid-season 8 premiere. The cast had already started pre-production on new episodes prior to this week, for a season that sees Scott M. Gimple promoted to oversee the Walking Dead franchise and writer Angela Kang promoted to series showrunner.
One takeaway from the image is that there will be a pretty extensive time jump between the ending of season 8 and the start of season 9. Clearly, Maggie (Lauren Cohan) heeded Georgie's (Jayne Atkinson) words about using that "A Key to the Future" to make the Hilltop a better society for a brighter future: the water tower and surrounding structures appear to have been standing for some time; and also gives fans a sense that the community has had some time to rebuild itself without a Saviors-level threat to fight. Another clue that the time jump will be a pretty sizeable one comes to us courtesy of building proposals submitted by the production crew, which request permission for and describe the construction of a 55-foot-tall windmill on Alexandria set. That would fit in line with the time jump that occurs at the end of the "All Out War" storyline in the comic book series.