WCW Star Disco Inferno Unconvinced of COVID-19 Pandemic Severity
In these strange and uncertain times, Americans look to their leaders for answers of how to navigate a world paralyzed with fear over the coronavirus pandemic which has killed more than 78,000 Americans and shut down economies all over the country. From amidst a bevy of so-called experts urging caution and measures to flatten the curve and protect the most vulnerable, one man has arisen above to ask questions contrary to the popular narrative, a man with credentials such as former WCW Cruiserweight Champion, former WCW Television Champion, and former WCW Tag Team Champion. That's right, it's a man named Glenn Gilberti, best known by his wrestling moniker, Disco Inferno.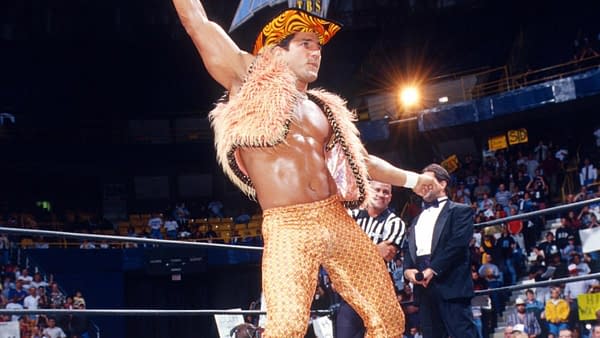 "How many people getting Covid, as the news so happily likes to report, are actually being hospitalized?" Disco tweeted. "Is it possible to get THAT news?? Or are we going to keep pretending this is the black plague?" When someone responded by pointing out the videos of refrigerator trucks being used to store the bodies of the deceased, saying, "I dunno but watching here from New Zealand @TheRealDisco when I see videos of refrigerator trucks parked up outside of hospitals in America you might call me stupid but that s**t is serious. [eyeroll emoji]," Disco responded by asking to see a link. When a link was provided, Disco didn't respond.
Another responder wrote, "It's a shame people listen to the news and scientists and the images of bodies being piled into mass graves and freezer trunks in huge cities instead of listening to disco inferno on this one." To that, Disco replied, "The mass graves you see are standard for the disposal of bodies of people that die with no known kin. Those images could have been recorded long before covid. That is how the media works the fear." Disco provided a link to back up his claim.
Another reply thread resulted in a longer conversation, as one person wrote, "If the black plague was treated like Covid 19 then there would've been less deaths, get a f**king clue stop blaming the 'media' and start blaming you're government and the idiots ignoring the Gov guidlines they were given. Honestly Glenn you're disrespecting those who've died." Disco responded, "How so? By trying to get accurate information? If you hear someone tests positive, exactly how do you interpret that?"
The Saga of Disco Inferno Continued
"Here's a number 78,615 that's how many have died and 1,019,567 are infected," the person replied. "What else do you need to know? ages 45 up are more susceptible and ages 75 and above are extremely susceptible and by susceptible I mean to death to dying. I get you're bored I really do." To which, Disco asked, "What does "infected" mean. What are the symptoms?" "They can be none at all but the test will show up positive so you could be infected and not even know show it," the person answered. "Mostly it's a persistent cough, high temperature, migraine type headache and it progresses from there but like I said you could show no signs. It also mutates so…." Disco pressed further, "What percentage do you think have it with zero to mild symptoms, and how many people do you think have had it in the United States?"
"They don't know as they haven't tested everybody which is why a lot of people have been pissed off, especially over here in the UK they lied about how many were being tested everyday," was the response. "So not even showing symptoms and not knowing if you have it is extremely dangerous right now." "Well just know that 50-60% of the people tested show zero to mild symptoms, and around ten times the amount of confirmed cases have had it based on the recent antibody tests," Disco responded. "So you can figure out the math."
"It's not going to go away by pretending everything's alright and back to normal though so don't do anything silly and stay safe Glenn," said the person, continuing, "Oh and Glenn could you answer this question honestly no wrestling persona stuff, Do you think the US government has handled this Pandemic well?" Disco replied, "We should not have shut the economy down so no." When asked "How do you run an economy during a pandemic? I value lives more than money," Disco did not respond.
Disco has since moved on from the discussion to tweet about the latest happenings on Fox News instead, but hopefully, President Trump was paying attention and hires Disco Inferno to join his coronavirus task force. Would Disco Inferno do a better job than Dr. Anthony Fauci at heading up the government's pandemic response? There's no way of knowing until he's given the chance.