West Wing Dreams: Why President Bartlet Is Needed Now More Than Ever
Are you missing the days of President Josiah Bartlet (Martin Sheen) from NBC's The West Wing? Yes, he was fictional, but they were still better times, to say the least, even though he was the fictional amalgamation of Presidents Bill Clinton and George W. Bush, with a splash of the power to change the world as only a television character can. These are just a handful of things I find myself longing for not only in American leadership but in my television series. I know the idea was batted around, but can we please bring back The West Wing and fill it with some amazing new characters as well as some of the ones we know and love, please Aaron Sorkin? I suppose that lamenting over my favorite parts of the series will have to do for now.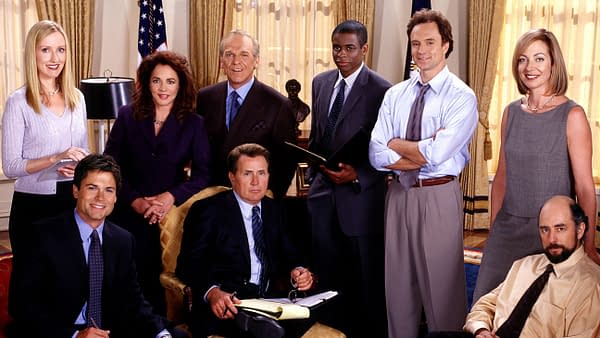 Eden's Top 5 Favorite Parts of The West Wing
(5) C.J. Cregg and The Amazing White House Staff
The cast of the show is top-notch, which is a given, but the characters they portray are absolute perfection. Let's start with White House press secretary C.J. Cregg (Allison Janney) – she's affable, smart, and an absolute kickass woman. Deborah Fiderer (Lily Tomlin) and Donna Moss (Janel Moloney) carry on the theme of strong witty women. Dulé Hill plays Charlie, the President's young assistant trying to navigate everything and come into his own. There are so many other supporting characters who are absolutely perfect: John Spencer, Bradley Whitford, Richard Schiff, Rob Lowe, even Alan Alda, and Jimmy Smits make an appearance later on. There's not a single character who doesn't hold their own. Of course, the onscreen President Bartlet plays the role to absolute perfection nailing a leader who is "average" yet well versed in how politics have to happen. And when he doesn't know something, his staff is right there ready to educate both him and us as to why what is happening has to happen. It feels nice to be welcomed into the complicated world of politics by a cast of characters who are knowledgeable yet not condescending.
(4) Every Character's Wit and Charisma
True, it is a Sorkin show, which means the wit is quick, the dialog is snappy, and basically all the characters are likable. There's something about ascribing those qualities to politicians and their support staff that makes it absolutely irresistible; it could be the jargon, or it could be the topics that you have to think on to really digest and understand. Whatever the case, what each and every character says and how they say it is an absolute treat to watch.
(3) How They Tackled Tough Political Issues
Hate crimes and legislation, loss of faith in the President, taxes and national spending, natural disasters, domestic and foreign terror, they even have a quarantine episode – this is a show that started before 9/11 and carried on through two Presidential changes, countless political conflicts, and hurricane Katrina. While our nation may not have handled every situation with grace, The West Wing found diplomacy and always tried to show both sides to every issue they covered. It is still a show created by "Democrat Hollywood", but it presented issues with grace and a partisan sensitivity.
(2) How They Tackled Tough Personal Issues
Traumatic death and loss, growing up, navigating family and a career, incurable debilitating illness, addiction – this is just a taste of what the show covers without dipping into politics. True, every drama series shows the gritty situations and everyday dramas we find ourselves in from time to time, but The West Wing makes sure they never feel forced or put in there for the sake of needing drama.
(1) The Raw and Honest Openness of the Stories
I mentioned it before, but the stories and drama covered is only one component of what makes the show hit so hard and so good. The characters living in these situations, both political and personal, and treating everything with charisma and a sense of humor is like lightning in a bottle. Everything comes together so perfectly to show not only an administration that pulls together to try overcome anything, but a witty workplace drama that captures the American spirit and ideal by being unafraid to show real issues and say, "I don't have an answer for what's happening, and sometimes we will never know why or how to fix it, but we have to try our best and carry on anyway." and I think that's exactly a sentiment America needs right now.