Wonder Woman's Lucy Davis Signs on to Netflix's New Sabrina Series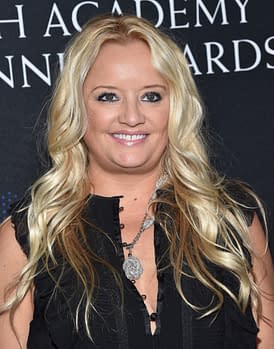 The casting for Netflix's upcoming adaptation of the Chilling Adventures of Sabrina keeps rolling along. The newest name to be added to the Riverdale spinoff is Lucy Davis (Wonder Woman), who has been signed to play Hilda Spellman, the aunt of Sabrina (Kiernan Shipka). The show is being put together by Roberto Aguirre-Sacasa and Berlanti Productions, the folks behind the CW's Riverdale series.
The still-untitled project is based on the more recent darker interpretation of Sabrina the Teenage Witch from Archie Comics. It's said to be a coming-of-age story with horror elements, the occult and witchcraft. In this version, Sabrina is trying to reconcile her two halves — human and witch — while trying to protect herself, her family, and the world against the forces of evil.
Davis character of Hilda is one of Sabrina's two witch aunts. She is more nurturing and motherly than Zelda. And while she has a warm sense of humor, it hides a wicked, ghoulish streak that goes with her specialty, brewing spite jars to be used against her family's enemies. And she makes a few love potions on the side to sell to the kids at Baxter High. Hilda was played by Caroline Rhea in the 1996 Sabrina series.
Davis starred in the original British version of The Office and played Dianne in Shaun of the Dead and Etta Candy in Wonder Woman.
Source: Deadline