Worst Cooks in America Season 19 Review: Meals Best Put Out to Pasture
This week the celebrity recruits' pallets get tested in a very unique way when judges Anne Burrell and Tyler Florence teach them that riding is hard on Food Network's Worst Cooks in America: Celebrity Edition. How does that tie into cooking you ask? The cooks in training must bounce around with a blow-up horse between their legs and test their oral skills before moving on to the "Main Dish Challenge". Squirting sriracha, finessing a mango with one's fingertips, loads of foreplay analogies, and of course drinking. Clearly Johnny Bananas needed to kill an entire bottle of wine to get through the episode, possibly making up for some of his shortcomings.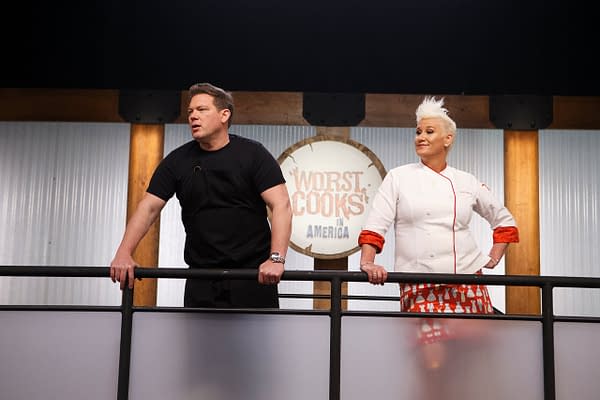 Recruits enter the Kentucky Derby and for the "Skill Drill" game must blindly taste and match ingredients while riding an inflatable horse: something of note is that most of them cheat. Brian Posehn only has one speed and its "grandpa". He does not steal a point for the Blue Team but does offer loads of comedic relief. In round one of the challenge, the Red Team takes the lead; unfortunately for the Blue Team, they do not redeem themselves in the second round where they are all asked to prepare the world's greatest crostini using a very difficult two ingredients. Pairings such as sweet and sour, sweet and salty, and salty and spicy yield some horrific tasting dishes for Burrell and Florence. Because who in their right mind would want to consume apples and dried ginger?
Main Dish Challenge: 60 min to make a Steak Dinner (or as Florence referred to it "Big Boi Steaks") – there is something seriously off with this man and his very bizarre remarks
Burrell teaches the recruits in the most effortless way to make New York Strip Steak with horseradish mashed potatoes and asparagus – that's right blanch then shock.
The celebs I think drooled more than took notes – high end steak
Florence demos Ribeye with red wine butter sauce and truffle mashed potatoes
The Red Team gets one very sweet advantage after winning the Skill Drill challenge, they each get Burrell's assistance for 3 glorious minutes. How do they choose to spend it? having her cut shallots, save their meet, and Sonja Robin just wants her company.
With three cheese and bacon mash, fluffy potatoes that resemble gooey slime, the Red Team struggles a little – that's ok, that's what alcohol is for.
The Blue Team "stick and move" (another glorious Florence saying – I am going to start collecting them)
Bananas cut a piece of his finger, steaks are placed on cold pans – no sizzling there
Mashed potatoes resemble soup and the cutting skills are just abysmal.
Red Team: produces some decent mash and "not rotten" meat
Blue Team: "Wow Dude" (Florence again) delight the judges with their garlic mash, steak, and jalapeno additions
In the almost-end:
Florence grants the win to Bananas
Burrell gives the win to Wells
In the real end:
On the chopping block are Brian and Sonja who must battle it out in the Redemption Challenge and create beef skewers with a sauce.
There is definitely some sauce shaming happening. When Brian tries to poison the judges with too much pepper, Sonja wins by default (even with her overcooked meat)
Brian is sent home, and I will miss him: he was like a sweet, funny turtle.
Worst Cooks in America: Celebrity Edition has a very different vibe than the typical seasons: they laugh, they cheat, they flirt, they drink and I guess in between the find time to learn to cook something and limit setting their perspective kitchens on fire. As much as Robin Givens is a ball of neurosis in the kitchen, she is becoming much more focused and showing some definite improvement. So far, she is my pick to take home the 25K with Bananas coming in a close second. David Coulier is just scary to watch "cut it out" and send him home before he hurts himself or takes someone else out as collateral damage, potentially the entire building. Next week, the recruits take on butchering a fish. Who will slice off a finger first? Join me next week to count digits and find out!