WWE 24 – Ric Flair: The Final Farewell Review – Bittersweet Nostalgia
After NXT Takeover: In Your House ended, WWE aired the latest episode of their 24 documentary series, Ric Flair: The Final Farewell. The show was released earlier on Sunday on the WWE Network. Feeling in a pretty nostalgic mood after all of WWE's nostalgia-peddling with In Your House, I decided to give it a watch. The show blends historical footage of Ric Flair with interviews and backstage footage of him and others from the period surrounding his retirement match and Hall of Fame induction in 2008, as well as interviews from today.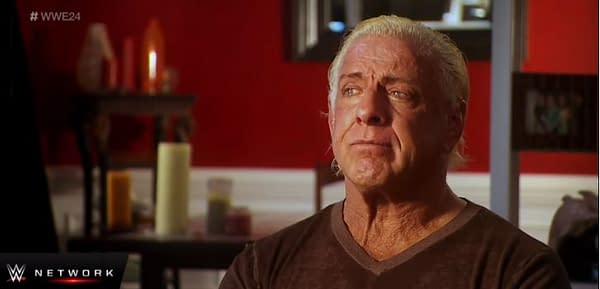 The thing about the In Your House nostalgia is that it hardened back to an era when the wrestling world was bursting with possibility. 1995-1997 was a transition time between WWE's "New Generation" era and the "Attitude Era," and it was building upon wrestling's past while heading into one of pro wrestling's greatest peaks. I thought it was a smart way to use nostalgia because where it works, it elicits a feeling of hope for the future that WWE is no doubt hoping can be transferred to its current product.
The era of WWE in the late 2000s was like the polar opposite of that. The best days of the business, at least for a while, were behind it. But it was an era where so many great minds and personalities from the end of the 20th century were still omnipresent. To think about the runs that both Shawn Michaels and Ric Flair had toward the end of their careers, with two absolute legends still performing, and performing at a high level. It felt like it would never end, but just a few years later, both of those guys, and so many others, were gone from the ring, and we entered a sort of dark age of wrestling that we're only starting to see the end of today. At least in my opinion.
So it's easy as a fan to understand Flair's struggle to let go, which is the overarching theme of this documentary. We didn't want to let go either. And so, the nostalgia being peddled in 24 – Ric Flair: The Final Farewell is of a more bittersweet sort, nostalgia for the end of an era, rather than the start of one. Like a quicker version of the Undertaker: The Last Ride doc that's also currently running on the WWE Network (notice a trend here?), if you too like to be sad thinking about the ends of things, and want to get a little misty-eyed seeing guys who have passed away like Dusty Rhodes and Harley Race (and what better way to honor Ric Flair than getting a little misty-eyed), then give this show a watch on the WWE Network.