NXT Takeover: In Your House kicks off tonight at 7PM Eastern time on the WWE Network, with the kickoff show starting at 6PM. Bleeding Cool will be covering the event live tonight, and we'll be updating this article with links to the coverage of each match, so you can consider this page a hub for live coverage. We've also got some predictions from the Bleeding Cool gang about the matches on the card.
Pre-Show Interviews
WWE featured a number of wrestling stars on its The Bump podcast today talking about NXT Takeover: In Your House. We saw interviews with X-Pac, Mauro Ranallo, and Shawn Michaels. Check out what they had to say at the links below.
X-Pac Takes Credit for WWE NXT, Says He'd Fit in Well There Even Now
Mauro Ranallo Explains Broadcast Career Before NXT In Your House
Shawn Michaels Talks NXT In Your House, What Matches to Watch For
Shawn Michaels on Backstage Politics: I Was Not Some Evil Genius
Shawn Michaels Says NXT Wanted Drake Maverick for a Long Time
WWE Legend Shawn Michaels Compares Himself to Adam Cole

NXT Takeover: In Your House Live Coverage
Tonight, it doesn't look like Lauren will be available, but you've still got Jeremy, myself, and unless my prayers are answered and he gets struck by lightning, Chad on deck to bring you live updates from the event. We'll be tagging in and out throughout the night, and links to each match will be posted here shortly after they end.
NXT Takeover: In Your House Predictions (Updated w/ Results)
There are six matches set to take place at NXT Takeover: In Your House tonight. I asked the Bleeding Cool team for their thoughts on the card, which looks just stacked enough to possibly live up to the nostalgia value of the name. At least, it has to, as WWE has marketed the event perfectly based on the In Your House name, which harkens back to the era right before "The Attitude Era" heated up and got into full swing.
The Attitude Era has been endlessly milked for nostalgia over the years, but the years between 1995 and 1997 are both fresher in terms of recent exploitation and also represent a certain excitement about the future that many would probably agree is lacking in today's WWE. Many of the elements of the Attitude Era boom years were there, but the best was yet to come. If WWE can recapture that latter feeling even a little bit, they'll have succeeded tonight.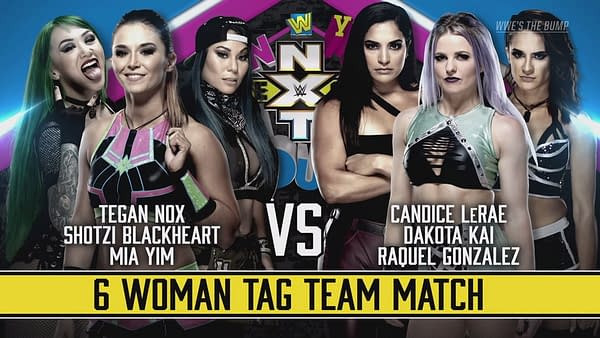 Mia Yim, Tegan Nox & Shotzi Blackheart vs. Candice LeRae, Dakota Kai & Raquel González
WWE NXT In Your House Results: Six-Woman Tag Team Match
Bleeding Cool Games Editor Gavin Sheehan:
I didn't realize the six-women's tag match was even a thing until Jude said "Anyone got any commentary for this one?" So my main comment is that these six women deserve better from WWE or NXT than to be an afterthought opening match. Let's see… Dakota and Tegan will both choose Rock and not be a factor, Mia and Raquel will badass brawl each other into the "crowd", and Shotzi becomes the sacrificial lamb for Candice who will hopefully be using a different shade of Kool-Aid in her hair tonight as she keeps being a great heel.
Bleeding Cool Wrestling Goober Chad McMahon:
I'm definitely looking for LeRae, Kai, and González to pick up the win in this one. The relationship between LeRae and Gargano reminds me of my own relationship with my wife Keighleyanne, so there's special place in my heart for these two. Plus, I think there's more to be milked out of the feud between LeRae and Gargano vs. Yim and Lee, so I think the heels need to go over in this one.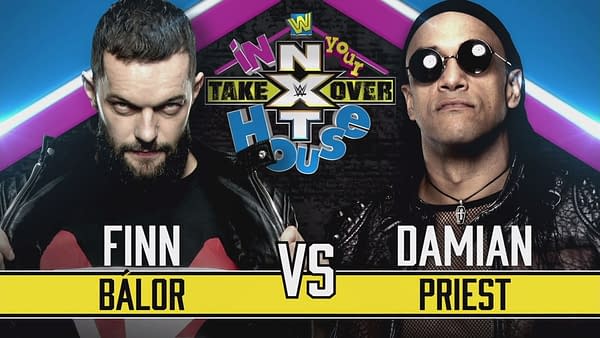 Finn Bálor vs. Damian Priest
Finn Balor vs. Damian Priest – NXT Takeover: In Your House Results
Gavin Sheehan:
Finn Balor and Damian Priest are fine wrestlers. But this is the match where the NXT roster audience will take this time to get in a quick nap after being forced to watch some of the shittiest and boring RAW and Smackdown episodes we've seen since 1995. I dunno… Balor for the win?
Chad McMahon:
Personally, I hope Gavin is right and the crowd takes a nap. You all know my thoughts on wrestling audiences: the sport is better without them! This one will be match of the night for me if it occurs in complete silence.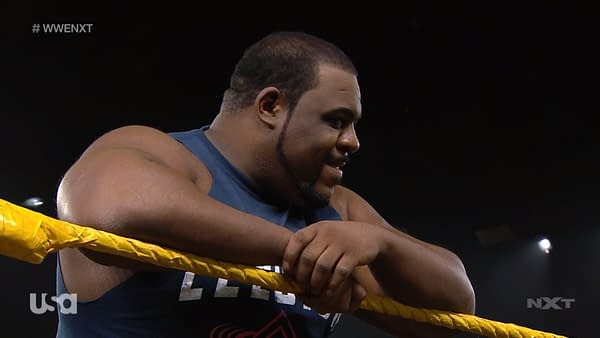 NXT North American Champion Keith Lee vs. Johnny Gargano
WWE NXT TakeOver In Your House Results: Keith Lee vs Johnny Gargano
Jeremy Konrad:
Johnny Gargano continues to push this narrative that he is a bad guy now, and it only works because it is annoying. It works much better for his wife Candace, who has made the most of the extra tv time she has been given. While she will most likely be on the winning side of her 6 woman match, Johnny will fail against Keith Lee, as the tradition of NXT feuds being blown off too soon continues. Only for Johnny to win the title on a random episode of NXT in two weeks
Gavin Sheehan:
Keith Lee vs. Johnny Gargano? I mean… come on! This is match-of-the-night material. There's no way these two are going to have a bad match, shy of injury or just terrible planning. Lee will probably go over, because its far more interesting to watch Johnny Angry Johnny chase after something. Even though his wife is currently more interesting than he is at the moment. Lee will celebrate by dancing before he is thrown into another match with Dominik Dijakovic. Because we might as well run that train into the ground before it ever sees the light of day on Raw or Smackdown.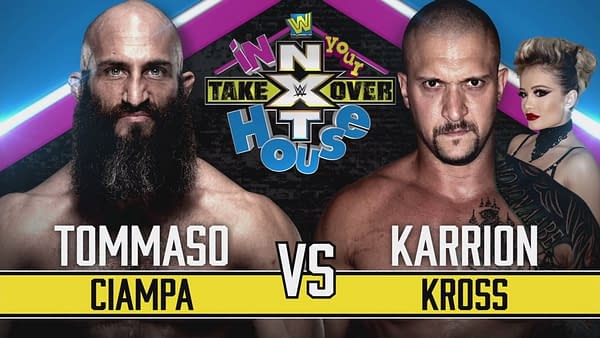 Tommaso Ciampa vs. Karrion Kross
WWE NXT In Your House Results: Tomasso Ciampa vs Karrion Kross
Jude Terror:
I've been covering WWE's interviews on The Bump all day and a common theme has been praise for Karrion Kross as the next breakout star and this match as one to look out for. The signs seem to point to a Kross victory.
Gavin Sheehan:
Of the six matches on the card, Tommaso Ciampa vs. Karrion Kross could honestly go either way and you'd love every minute of it. Even cynical wrestling fan me can't dump on this one too hard. This could be one of the best knock-down-drag-out matches you'll ever see in NXT, if they're given the freedom. But this is also a WWE product so… Scarlet does a dance to distract, Ciampa isn't buying it, comes in for the low blow, gets caught, ref deals with her, followed by (insert dumb object that doesn't belong under a ring) over Ciampa's knee for the win. Because if these two have a meaningful match, it will be before SummerSlam or Survivor Series, not at In Your House.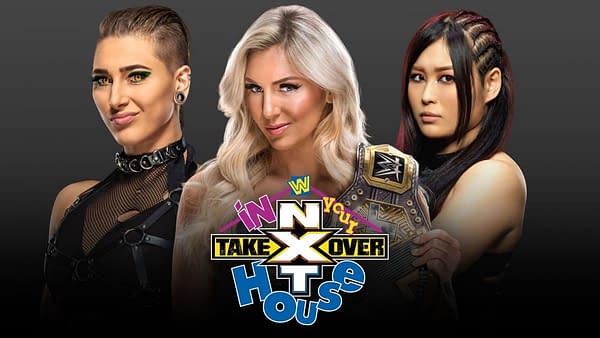 NXT Women's Champion Charlotte Flair vs. Rhea Ripley vs. Io Shirai (Triple Threat Match)
Women's Championship 3-Way – NXT Takeover: In Your House Results
Gavin Sheehan:
Charlotte Flair will continue her pointless rein as the NXT Women's Champion. Why? Because for some reason, WWE are still booking her like she's a babyface. Even though its clear people wanted to see Rhea Ripley become champion. Io Shirai will end up taking the pin because she'll be leaving the roster soon to go marry EVIL in NJPW in real-life and bail on the company that's trying to kill Kairi Sane before she leaves as well. And Charlotte… who really cares what she does at this point, it's clear she's considered a golden goose who we have to listen to honk about how great she is by the writers. Someone write an injury angle and get her out of here for 8 months
Chad McMahon:
Charlotte Flair is up there in my top five favorite wrestlers, right along with stars like Baron Corbin and Roman Reigns. I think that Flair being on NXT has been great for the brand, but it hasn't necessarily translated into ratings. AEW is still winning every week despite Flair's star power, so maybe it's time for her to drop the title. Ripley's already been there and might get called up to the main roster soon, so the most likely outcome to me is Shirai winning here. I see a finish where Flair takes out Ripley but Shirai gets the pin, keeping all three women looking strong.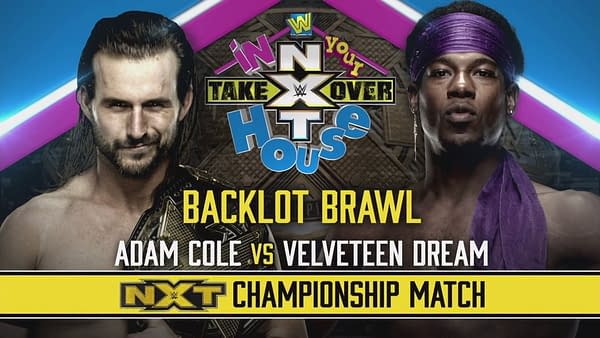 NXT Champion Adam Cole vs. The Velveteen Dream (Backlot Brawl)
Adam Cole vs. Velveteen Dream – NXT Takeover: In Your House Results
Gavin Sheehan:
Adam Cole will drop the NXT Championship after the Velveteen Dream borrows 9 more moves from '80s wrestlers, including Jim Duggan's 3-point stance tackle, followed by an appearance from the other members of Undisputed Era where they all are made to look weak against Dream. All four men will be thrown into a dumpster and never seen again as they all slowly are fired or leave for AEW. Dream cries over the belt in a parking lot before opening Twitter to slide into some DMs.
Jude Terror:
Strong words from Gavin on this one. WWE has been hit or miss with the cinematic matches, but I'm thinking these two are likely to end up on the hit side. Who wins largely depends on how Adam Cole's negotiations with WWE are going. If he's not going to sign a new deal and WWE thinks he's going to leave in August, he may drop the belt tonight. If not, then his championship might as well continue since he's got the longest-reigning gimmick going on. I wonder if there will be any callbacks in the match to the Backlot Brawl between Goldust and Roddy Piper. Will Cole hop in a white Ford Bronco and make a break for it?
Enjoyed this article? Share it!