In the first half our WWE NXT report, we saw Cameron Grimes bully Damian Priest (be a star!), Santos Escobar take on Jake Atlas, Dakota Kai move one step closer to the NXT Women's Championship, and Bronson Reed get squashed by Karrion Kross. But the best is yet to come with a big main event tonight between Keith Lee, Johnny Gargano, and Finn Balor.
NXT returns from a set of commercials with a Mercedez Martinez promo package and then Rhea Ripley comes out to face Aliyah. Ripley was on top of the world in NXT for a while, but then she fell victim to a Charlotte Flair feud. Not only did Charlotte beat her at WrestleMania, but Charlotte didn't even put over Io Shirai on her way out of NXT, with Ripley taking the loss instead. The purpose of this match, besides promoting more of Robert Stone's antics, is for Rhea to try to get some heat back.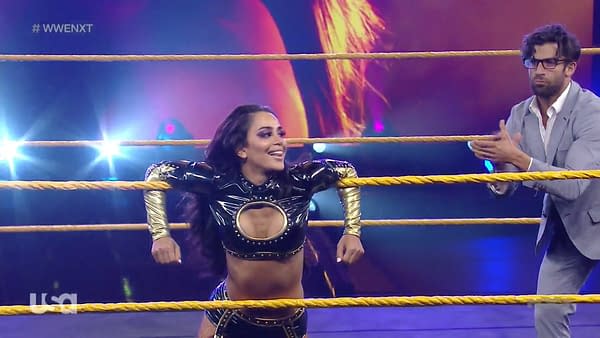 It's a mauling by Ripley. Aliyah gets in, by my count, three moves. But when Ripley puts Aliyah in the Prism Trap, Robert Stone climbs on the apron and throws his shoe at her. Ripley chases Stone around and into the ring where she sips his jacket off. Then she hits Aliyah with the Riptide for the win. On the bright side, Stone only threw his shoe rather than vomiting in the ring. We see Johnny Gargano pacing backstage before NXT takes another commercial break.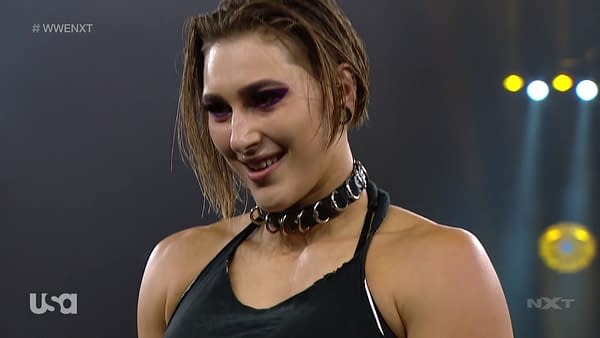 That creep Dexter Lumis comes to the ring for his match against Roderick Strong. Strong has to be coaxed out to the ring by Bobby Fish. Can you blame him? He does make his way to the ring and the match does start, but Strong immediately bails out of the ring and spends the next several minutes refusing to get back in the ring. Eventually, Lumis follows him outside the ring. Strong sprints in the opposite direction, slamming face-first into the plexiglass barrier. He gets up and runs backstage.  Lumis wins by count-out, and then puts a submission on Fish, who also runs away.
Backstage, Robert Stone speaks to William Regal over Slack. He begs for a rematch against Rhea Ripley. Regal agrees – Stone and Aliyah will team up to face Ripley in a handicap match. Stone is reluctant, but agrees, so long as Ripley is forced to join his stable if they win. Regal can't agree to that, but Ripley can. She appears out of nowhere and accepts the stipulation. Next up is the main event, but first, some more commercials.
Now it's time for the main event, a triple threat match for the North American Championship between Finn Balor, Johnny Gargano, and Keith Lee. We just about have time for the entrances and for Keith Lee to beat up Balor and Gargano a little bit before it's time for another commercial break.
Back from break, it's the same story. Balor and Gargano try to take down Lee and Lee basically shrugs them off. Balor and Gargano both try jumping on Lee's back with sleepers, but Lee just flings them both to the ground. Balor tries a second time, and this time, Lee drops to one knee. But he's back up just a quickly and smashes Balor into the turnbuckle. Gargano attacks, but Balor takes Gargano out with a forearm and hits a few running forearms on Lee.
Lee is showing damage, but it doesn't stop him from picking up both of his opponents and tossing them over his shoulders. Now, Balor puts a sleeper on Lee while Gargano applies a leg lock, but Lee once again throws off both men, who roll outside the ring. Lee is looking a little tired, but still dominant. He follows outside and gets hit with a slingblade by Balor and a senton off the apron by Gargano. Then both men drive Lee face-first into the ring stairs as NXT goes to commercials once more.
Back from break, Lee is still selling outside while Balor drives his shoulder into Gargano in the corner. Balor takes Gargano on a tour of the various turnbuckles, but Gargano gets a foot up on a Balor charge and hits a slingshot spear on Balor for a two-count. Gargano chops Balor and goes to the apron, but Balor punches him to the floor, then hits a dive onto Lee on the outside to buy more time alone with Gargano. Balor hits a final cut for two on Gargano. Then a slingblade as Balor gets ready to finish Gargano off.
But Keith Lee is up on the apron. He takes out both men with a slingshot crossbody over the top rope. Then some punches and splashes from corner to corner, but Balor trips Lee and hits a double foot stomp. Lee picks Balor up but Balor wriggles into another sleeper, which takes Lee to his knees. Gargano hits a superkick on Balor over Lee's shoulder and hits a DDT on Balor, but Lee breaks up the pin. Gargano puts a guillotine headlock on Lee as Balor sets up a move from the apron, but Lee uses Gargano to knock Balor off to the floor. Balor heads outside and Gargano hits dives on both. Lee gets the advantage outside and brings Balor in for a big powerbomb, but Balor reverses it into a dropkick.
Balor goes for a running dropkick on Lee but Gargano intercepts with a superkick. Lee falls on top of Gargano and Balor heads up top for the Coup de Grace, but Lee goozles him. Gargano tries a rollup on Lee and uses the ropes for leverage, but Lee still kicks out at two. Gargano goes for a hurricanrana but Lee catches him and does a Balor bomb (that's a buckle bomb but with Balor still draped over the turnbuckle – ban that one, WWE!) and hits the Big Bang Catastrophe, but Balor tries to break up the pin with a Coup de Grace. Lee moves out of the way and it hits Gargano instead. Then Lee hits Big Bang Catastrophe on Balor and gets a three-count.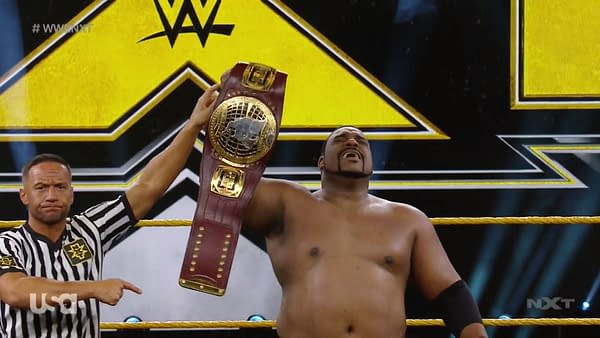 After the match, Adam Cole comes out with his NXT Championship so that he and Lee can pose with their belts. They'll put both belts on the line in two weeks. I'm a fan of AEW and my view of WWE has gone way down in recent years, but I have to admit NXT's main event was better than Dynamite's, which was an admittedly entertaining face-to-face encounter between Orange Cassidy and Chris Jericho. The angle between Robert Stone and Rhea Ripley (in which Aliyah is but a mere prop) is funny and I hope Rhea loses so she's stuck with Stone for the foreseeable future. I've yet to be really impressed with Karrion Kross, aside from by his booking. And when are we going to see Io Shirai in a match? NXT featured a pretty even mix of wrestling and shenanigans this week and it was fun. Too bad it may all be over for the near future once WWE comes to terms with the fact that their TV tapings are coronavirus breeding grounds.
But assuming they keep going, the Great American Bash starts next week! "What?!" you say? Yes, because WWE books NXT almost entirely as a response to whatever AEW is doing, the next two weeks will be themed after the classic PPV and feature big matches, just like Dynamite's Fyter Fest. Will it work? We'll see.
Enjoyed this article? Share it!