WWE Really Milking This Undertaker "Retirement"
In the wake of the last episode of WWE's documentary, Undertaker: he Last Ride, WWE has generated a ton of headlines claiming that the titular Taker has retired based on his comments at the end of the show. Of course, the mainstream media is a lot less cynical of WWE than they should be, with only Bleeding Cool properly reporting that Taker will definitely be back, if not by the next WrestleMania, then by the next time WWE needs to put on a big match in Saudi Arabia.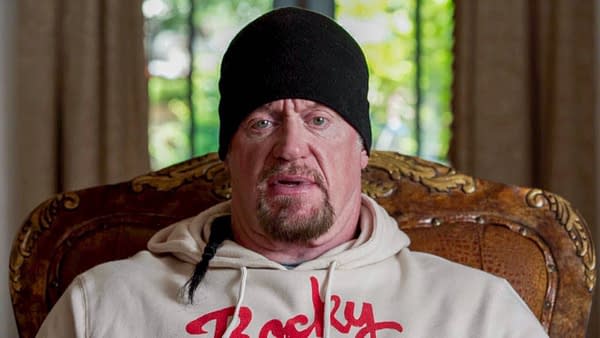 But WWE is still milking this whole thing as if the Undertaker actually even claimed he retired, which he didn't, by the way. WWE has announced that Smackdown will feature a special "Tribute to the Undertaker" on Friday, with a statement that, like Taker himself, completely avoids every actually explicitly saying that he's retired.
With the WWE Universe still buzzing over the final chapter of WWE Network's groundbreaking documentary Undertaker: The Last Ride, SmackDown will feature a special "Tribute To The Undertaker" this Friday night.

As part of the special recognition, the astonishing Boneyard Match between The Deadman and AJ Styles will air on television for the first time. As Superstars, legends, celebrities and fans have expressed their support for the sports-entertainment icon, the blue brand now gets to share the same message: Thank you, Taker.

Join SmackDown in honoring The Undertaker and much more in another action-packed Friday night on FOX at 8/7 C.
The good news is that WWE will be airing the entire Boneyard Match from WrestleMania, as well as presumably lots of old clips of the Undertaker throughout the night. That means less time WWE's workers need to spend in the Performance Center during a coronavirus outbreak, so if there's no other reason for everyone to say "thank you, Taker," there's that.