Less than three months after Adult Swim announced it had given a series order to Michael Cusack's YOLO: Crystal Fantasy, viewers are finally getting a look at the quarter-hour animated series. Produced by Princess Pictures, the series follows Australian party girls Sarah and Rachel as they seek out fun times, new experiences, positive vibes, and hopeful horoscopes in the bizarre town of Wollongong. Sarah's looking for love while Rachel is craving chaos, with the combustible combination of the two bringing them into conflict as they encounter surreal Australiana, strange bush creatures, and some seriously eccentric nomads. Cusack produces alongside Mike Cowap, and will executive produce alongside Greta Lee Jackson and Emma Fitzsimons. Now here's your look at YOLO: Crystal Fantasy, premiering on Adult Swim on August 9: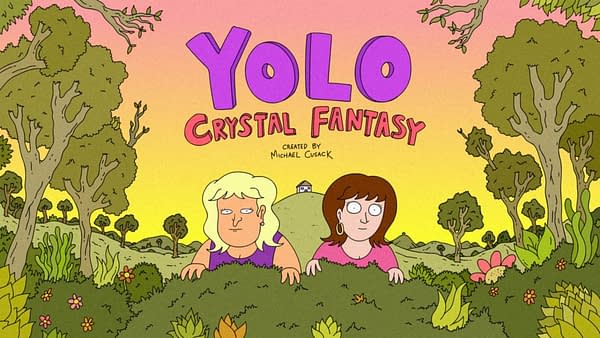 Cusack first made his way onto Rick and Morty co-creator Justin Roiland's (Solar Opposites) radar with viral YouTube hit "Ciggy Butt Brain," leading to the Rick and Morty-themed segment "Bushworld Adventures" that aired on April Fools Day in 2018 (when many believed the fourth season premiere (as the season 3 did the year prior). In the interest of full disclosure, we didn't realize that (A) three minutes could last that long (we punched out by the fifth minute); and (B) we would ever want to punch ourselves in the face that many times in that short a period of time. But we like to keep an open mind, so if you haven't seen it yet? You're welcome:
"I feel like I was being pranked. And then Adult Swim got in contact with me a few weeks later and were like 'Yeah, this is happening. It's a paid gig', so I started doing it."
Enjoyed this article? Share it!