American Horror Story: Apocalypse Season 8, Episode 7 'Traitor': Cordelia Recruits More Magic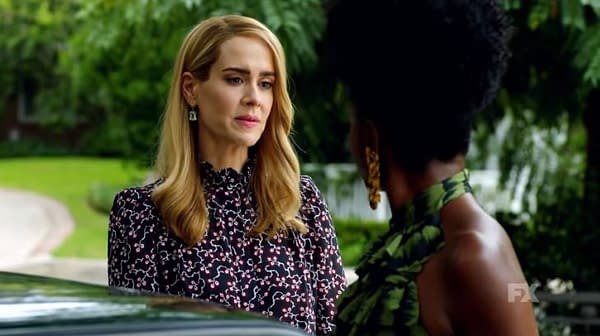 While Madison (Emma Roberts) and Behold (Billy Porter) are off doing some off-site reconnaissance work on Michael Langdon (Cody Fern) over at what remains of "Murder House," the preview for this week's American Horror Story: Apocalypse shows us what Cordelia's (Sarah Paulson) been up to: a magic "recruitment drive" to bolster her forces ahead of their battle with Langdon – but will a 'Traitor' in their ranks prove to be their downfall?
https://www.youtube.com/watch?v=iucOBzFddO0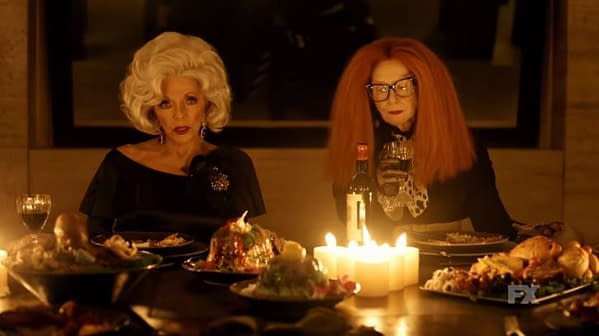 Here's a look back at Bleeding Cool's review of last week's 'Return to Murder House;' and in this essential scene from that same episode, Constance (Jessica Lange) explains to Madison and Behold that she's a good mothere – but some "mistakes" were made when it came to raising Michael Langdon: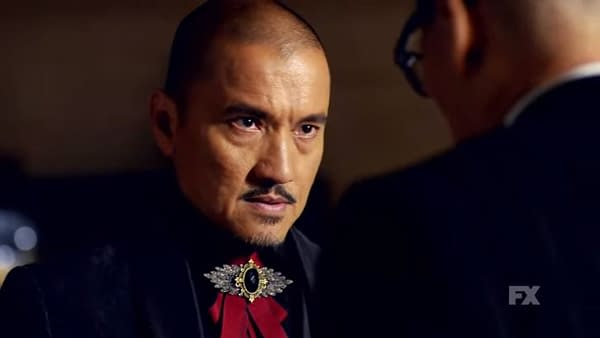 Finally, here's a friendly little flashback to the "simplier times" of the first season of American Horror Story – the one that started it all – followed by the newly-released titles for the season's final two episodes:
American Horror Story s08e09 'Fire and Reign'

American Horror Story s08e10 'Apocalypse Then'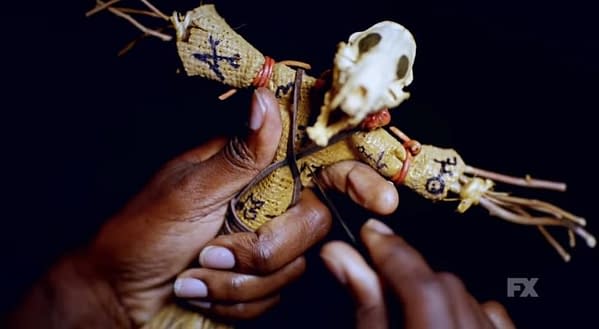 Sarah Paulson, Jessica Lange, Emma Roberts, Connie Britton, Dylan McDermott, Evan Peters, Kathy Bates, Cheyenne Jackson, Billie Lourd, Billy Eichner, Adina Porter, Leslie Grossman, Taissa Farmiga, Gabourey Sidibe, Lily Rabe, Frances Conroy, and Stevie Nicks have returned to Murphy's horrific universe. Joan Collins (Dynasty), Cody Fern (House of Cards), Ashley Santos (We All Fall Down), and Kyle Allen (The Path) serve as new cast members for the season.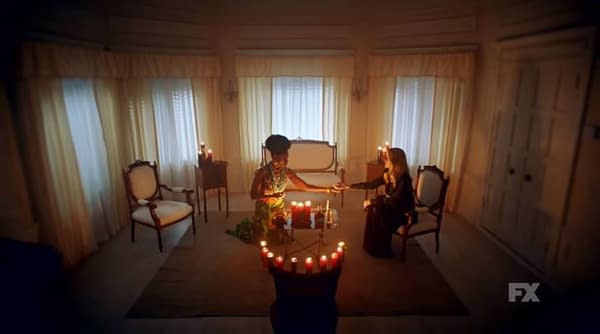 Now get your scorecards out to see how everyone matches up, AHS fans! Rabe appeared in the Murder House, Asylum, Coven, Hotel, and Roanoke seasons, while Sidibe appeared in Coven, Freak Show, and Hotel. Farmiga appeared in Murder House, Coven, and Roanoke; AHS mainstay Conroy has appeared in six seasons: Murder House, Asylum, Coven, Freak Show, Roanoke, and Cult. Nicks appeared as the White Witch during Coven.
Meanwhile… Paulson's Billie Dean Howard appeared in Murder House, and her Cordelia Foxx appeared in Coven. Peters played ghostly teen Tate Langdon in Murder House and fraternity president Kyle Spencer in Coven. Lange's Constance Langdon appeared in Murder House, while Bates and Roberts joined the franchise during Coven as Madame Delphine LaLaurie and Madison Montgomery, respectively.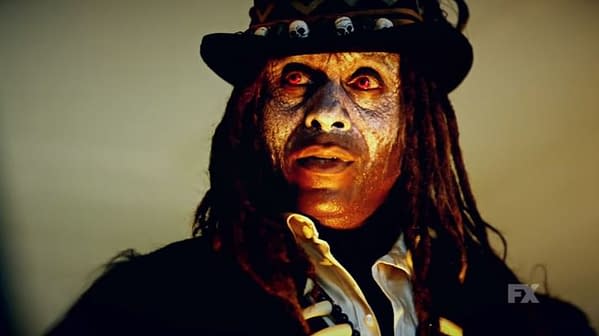 And then we have new characters… Paulson as Ms. Wilhemina Venable, Peters as Mr. Gallant, Bates as Ms. Miriam Mead, Grossman as Coco St. Pierre Vanderbilt, Lourd as Mallory, and Porter as Dinah Stevens.