Castle Rock Season 1, Episode 7 'The Queen' Review: Sissy Spacek Gives Royal Performance in Season's Best Episode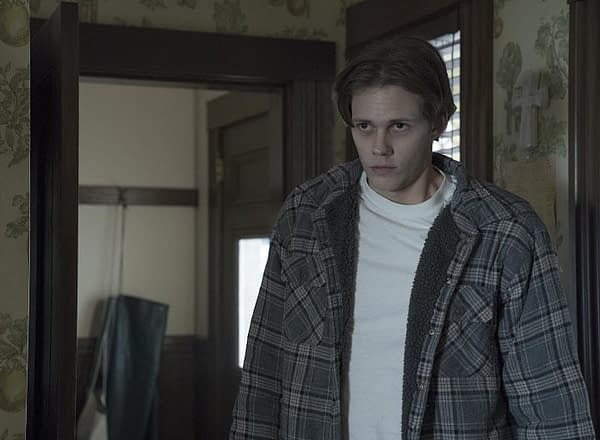 With four episodes remaining in the first season of Hulu's horror-drama anthology Castle Rock, things have been literally and figuratively heating up around the town in the Sam Shaw/Dustin Thomason-created series. Combining elements from a number of Stephen King's works into a "shared universe" narrative that's based around the (in)famous fictional town, Castle Rock stars Andre Holland, Bill Skarsgard, Melanie Lynskey, Sissy Spacek, Jane Levy, Scott Glenn, Terry O'Quinn, Noel Fisher, Chosen Jacobs, and Allison Tolman.
As we head into Hulu's seventh episode 'The Queen', Henry's (Holland) found himself alone with his thoughts — thanks to Odin Branch (Charles Jones) and assistant Willie (Rory Culkin), while Molly (Lynskey) gets a creepy "Peeping Tom" reminder of "past deeds" hanging outside her office. All of that took a back seat to the big, fat cliff we were left hanging from by the end of the episode: Pangborn (Glenn) realized his deal with "The Kid" (Skarsgard) was less about help and more about payback — and as we nervously ease into our review of Hulu's seventh episode, 'The Queen,' it appears his revenge run starts with Ruth (Spacek):
Castle Rock s01e07 'The Queen': Memories haunt Ruth Deaver.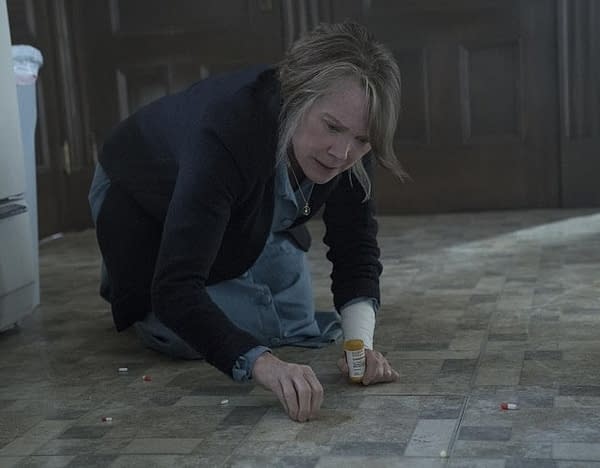 A psychological-horror series set in the Stephen King multiverse, Castle Rock combines the mythological scale and intimate character storytelling of King's best-loved works, weaving an epic saga of darkness and light, played out on a few square miles of Maine woodland.

The fictional Maine town of Castle Rock has figured prominently in King's literary career: Cujo, The Dark Half, IT and Needful Things, as well as novella The Body and numerous short stories such as Rita Hayworth and The Shawshank Redemption are either set there or contain references to Castle Rock. Castle Rock is an original suspense/thriller — a first-of-its-kind reimagining that explores the themes and worlds uniting the entire King canon, while brushing up against some of his most iconic and beloved stories.

From J.J. Abrams' Bad Robot Productions (Star Wars: The Force Awakens, Lost), best-selling author Stephen King and executive producers/writers Sam Shaw and Dustin Thomason, Castle Rock stars André Holland (Moonlight), Melanie Lynskey (Togetherness), Bill Skarsgård (IT), Jane Levy (Suburgatory), Sissy Spacek (Carrie), Scott Glenn (The Right Stuff), Terry O'Quinn (Lost) and Chosen Jacobs (It).