BC Mag #0: The Atomeka Age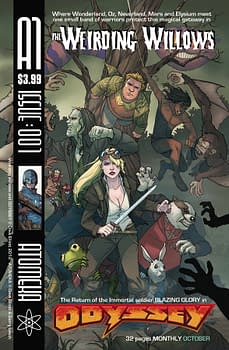 Bleeding Cool Magazine Article By Rich Johnston
Dave Elliott is back. Best known for being a comic book inker, editor, and publisher, his greatest success has been facilitating the projects of other people.

From Alan Moore and Garry Leach on Marvelman for Warrior, to Simon Bisley, Ted McKeever, and Glenn Fabry for the anthology A1 at his own publisher Atomeka and then Marvel's Epic Comics, Leach has worked with a long list of notable creators. Among those are a number of associates he's brought in to work on projects at Penthouse, Tundra, Radical, and a brief revival of Atomeka that helped kick-start Boom! Studios. Of late he's also managed a number of people working on new Image Comics titles.
You can find the full article in Bleeding Cool Magazine #0 at a comics retailer near you. Here is the Bleeding Cool Directory of retailers who have shown special support to the magazine and this website. Are you a retailer who would like to be included? Contact us.
Reply to this article in the forum.
Further Reading: ATOMEKA, DAVE ELLIOTT