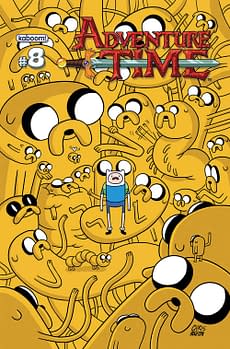 Bleeding Cool Magazine article by Ryan North and Joey Comeau
Adventure Time and Bravest Warriors, two cartoon series with a tremendous cult following, won't be crossing over anytime soon. However, the two writers for the KaBOOM! comic series, Ryan North and Joey Comeau, recently got together to discuss what it is like to bring these characters new adventures in comic form.

Ryan North is the Toronto-based creator of Dinosaur Comics, co-editor of Machine of Death, and writer of the Adventure Time comic series. He is also the creator of Project Wonderful, an auction-based ad-serving system. Meanwhile, Joey Comeau is a Canadian web comic writer and novelist. He's best known for his web comic A Softer World with photographer Emily Horne, and his novel Overqualified. A Softer World won the first Web Cartoonists' Choice Award for photographic web comic in 2007. Comeau is also the writer of the Bravest Warriors comic series.

The two writers share a number of things in common – they both began their careers in the web comic community, they are both writing all-ages series for KaBOOM! Studios created by Pendleton Ward, and they happen to have been very close friends for ten years. What follows is a conversation between two friends filled with the trademark humor and whimsy that is the hallmark of their work.
You can find the full article in Bleeding Cool Magazine #2 at a comics retailer near you. Here is the Bleeding Cool Directory of retailers who have shown special support to the magazine and this website. Are you a retailer who would like to be included? Contact us.
Enjoyed this article? Share it!