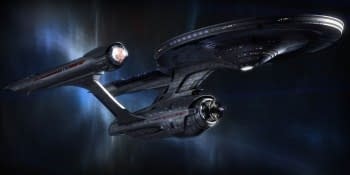 Bleeding Cool Magazine article by Rick Verbanas
In 2009, Star Trek was reborn for an all-new generation of fans, thanks to an amazing reboot by J.J. Abrams, best known at the time for his television series Alias and Lost. While some die-hard Trek fans may feel a bit betrayed, as there are reports Abrams will be directing the first Disney Star Wars film, Episode VII, in 2015, they cannot deny what Abrams has meant to the revitalization of the Star Trek franchise. Now, with the sequel Into Darkness opening in a couple of months, the original crew of the USS Enterprise is again at the forefront of pop-culture, after decades of languishing trying to find new fans.
You can find the full article in Bleeding Cool Magazine #3 at a comics retailer near you. Here is the Bleeding Cool Directory of retailers who have shown special support to the magazine and this website. Are you a retailer who would like to be included? Contact us.
Enjoyed this article? Share it!