[rwp-review-recap id="0"]
Bad Times at the El Royale is a twisty, bloody, breath of fresh air to the action-thriller genre.
Director: Drew Goddard
Summary: Seven strangers, each with a secret to bury, meet at Lake Tahoe's El Royale, a rundown hotel with a dark past. Over the course of one fateful night, everyone will have a last shot at redemption – before everything goes to hell.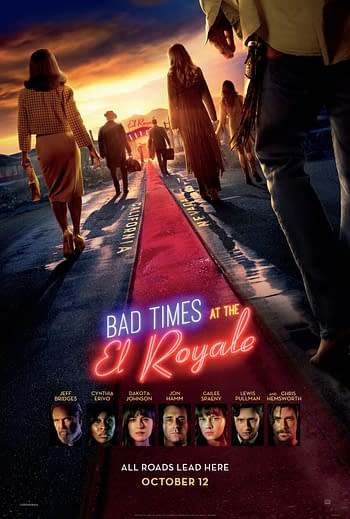 When the fist trailers for Bad Times at the El Royale dropped no one really sure what it was. The best way to describe it is that it sort of looked like the offspring of a Quentin Tarantino movie and Cabin in the woods. That is a pretty accurate description of the final product and, if anything, it doesn't say enough about what a fascinating production this is. To kick things off it features a fantastic cast. Jeff Bridges and Jon Hamm are both here doing what they do best. Bridges in particular brings a dynamic performance that is probably going to get overlooked. Dakota Johnson continues to prove to the world that the Fifty Shades movies were not her fault and Chris Hemsworth is clearly having a ball at the over the top cult leader. However it's Cynthia Erivo and Lewis Pullman who steal every scene they are in. Erivo is basically the real hero of the movie and Pullman's ultimate role is a spoiler but a very fun payoff.
Writer and director Drew Goddard decided to approach this movie not in a strictly linear fashion. Each character is at the El Royale for their own, usually nefarious, purposes. Instead of constantly switching between the various characters we instead follow individuals listed by their room number. That means we learn about the characters during their respective sections similar to Tarantino. In many ways this feels like early Tarantino and much like Tarantino this structure is either something an audience member either loves or hates. For some it might throw the pacing off but for this particular reviewer it worked very well.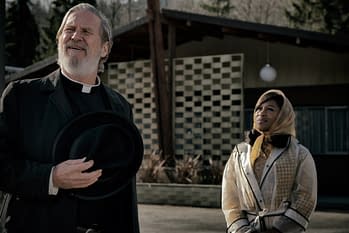 One of the things that helped with that odd pacing was some truly fantastic sound editing. The movie does a great job of keeping things relatively quiet and somber. It helps build tension with scenes ending with very loud noises that tend to shock the audience if they weren't paying attention anymore. It happens several times and every time the audience would jump and laugh. While the violence is there it isn't gratuitous and the stakes for each character are very apparent. While we might not entirely know the specific details of their backstories sometimes we understand where they are coming from. All of this adds up to a movie that feel both familiar and unlike anything we've seen this year.
Bad Times at the El Royale features a bunch of fun performances, a fascinating structure, and excellent sound editing makes for a great time at the theater.
[rwp-review-ratings id="0"]
[rwp-review-form id="0"]
Enjoyed this article? Share it!