The Essential Bourdain: A Cook's Tour Season 1, Vol 1
I personally am still in a state of shock over the sudden loss of personality Anthony Bourdain. He was a mainstay of my lifetime- his books, his shows, his live appearances- and a constant source of inspiration both personally and professionally.
Anytime I felt like my writing just wasn't cutting it- pop on an episode of one of his multiple travel series or read a passage from one of his books- suddenly I was inspired to keep going, to push myself, and to experience things. To be honest, I've never done drugs myself, but have had almost constant partnership through formative years with those who did. Anthony Bourdain's honesty about the struggles of addiction and relapses were helpful from the point of view of something trying to understand but never would.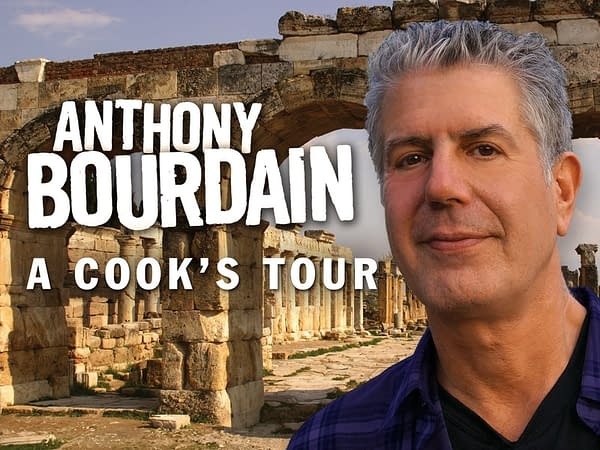 In my process of saying goodbye, I decided to rewatch all of Bourdain's various travel shows and create a list of what I believe to be the essential viewing guide for his episodes. First on the list was A Cook's Tour, a series that aired on the Food Network for two seasons between 2002-2003.
(I'll be splitting this series up into volumes of 5 episodes each, as the seasons are 20+.)
A Cook's Tour Season 1, Vol 1: Episodes 1-5
Epi 1- Tokyo:
*Tony comments that he thinks almost all modern chefs are impressed by Japan's techniques, their plating styles.
*He mentions a vivid dream the night before- and waking with dreams of sushi.
*This is possibly where the idea for his graphic novel came from.
*He visits the Tsukiji Fish market.
*Tony compares the tuna side of the market as being at Cartier and Tiffany's.
*It's funny, the progress of his voiceover work from this to the recent stuff, he always mastered the asides to the camera.
*"The church of food, it's the only church I know of."
Essential: as it's the first, and sets the tone pretty well for the culinary journey Bourdain takes us on.
Epi 2- Rural Japan:
*Tony boards a train and heads out of Tokyo for the outskirts of rural Japan.
*He enjoys a bento box as the bullet train races through the countryside.
*He's off to have a meal with Geisha.
*Tony also goes on a vending machine spree
*There is a fugu sequence- the preparation, the eating of, and the disposal of the poisoned parts
*Tony's appreciation of and desire to impart the beauty of other cultures and their traditions to
his audiences are one of his most endearing qualities.
Not essential: all in all, probably not one I'd personally list with the essentials other than the novelty of Fugu.
Epi 3- Ho Chi Minh City
*Tony talks about the intimidation of the city at first, the sheer amount of people
*He's on the hunt at the local market for a fetal duckegg
*OK HOW ABOUT HIM CALLONG PHO "FOE" RATHER THAN "PH-A"
*While eating at Madam Gao's, Tony calls the meal powerful and seductive
*Tony meets with Viet Nam's first female lawyer, who during the occupation turned her former offices
into a cafe
*SNAKE WINE! Therein begins the snake thing.
*The next day, while dining at "Flavors of the Forest", Tony has cobra heart
*Annnnd cobra blood shots, which he compares to a Bloody Mary made with beef broth
*His first experience with cobra tripes, he compares to chewing on condoms still in the wrappers
Semi essential: definitely look up the scene with the cobra heart, watching the organ pulse in the small bowl before he eats it tells you a lot about him.
Epi 4- Mekong River
*Lots of footage in this episode of street food and market snacks as Tony and Philippe make their way to
Kanto.
*He calls the land "delieriously green"
*Snack boats on the Mekong, including coffee
*MMM, breakfast pho.
*Tony says some of the best baguettes he's ever eaten have been in Viet Nam
*The pair partake of a traditional clay-baked duck
*There are also many MANY shots of booze
*"My belly is full, my head is swimming, somebody take me to the river."
*The next day, Tony heads to a costal town where he plays in the surf, and has lobster blood
*Birds nest soup- the gathering and preparation of the dish
*Wow, seeing Tony squeamish about anything is so weird.
*Also- one of the few times we see him super sick
Not essential: it's a fine episode, don't get me wrong, but his later visits to the region are better produced, and he doesn't end up sick.
Epi 5- Cambodia
*Bourdain starts the episode by saying he picked Cambodia because he knew almost nothing about it.
*He compares it to the film "The Killing Field", at least in appearence
*The evening before, Tony says he visited the Heart of Darkness bar, and was told to avoid the durian
*Which of course means he wants it even more
*Oh good lord, 'lets go steal some meat saws to open this thing' because there's no way this could go wrong
*He ends up loving the durian, calling it smokey and creamy, all the while remarking on it's stench
*Firearms and beer- the ultimate mix for Bourdain in this time period
*"Why is it that shame and pleasure are such close friends?"
*Philipe is back, and Bourdain reveals he's the owner of NYC brassiere Les Halles where he works
*Tony admits he doesn't like tripe, which is HILARIOUS to hear him say considering we know how much he loved it later on
*"It's always wonderful to eat what the people are eating at your destination, it's the way they feed themselves."
*Gosh, this Khmer meal is just gorgeous, and I can almost smell the basil through the television
Semi essential: watch the durian section, watch the meal on the river, because the gist of what he says about shame and pleasure are sort of the theme for years of his tv world.
Check back for A Cook's Tour Season 1 vol 2.