iZombie Season 4, Episode 5 Review: Two Minutes in the Penalty Box for Time-Wasting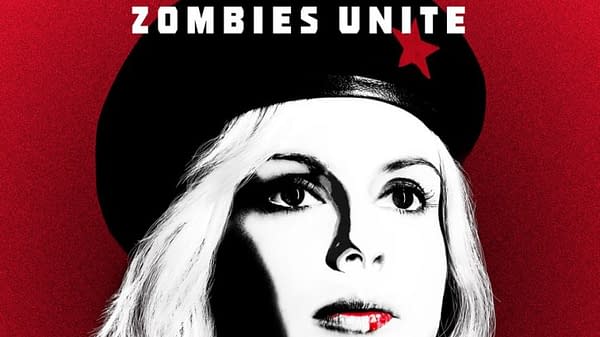 https://www.youtube.com/watch?v=HadN1DdUIao
"Zombies and Humans don't mix" – counselor The fifth episode of The CW's iZombie season 4, 'Goon Struck', had me counting sheep — or rather an army of little snowmen, because quite frankly I've always found them more soothing. The episode moved at a slow and foggy pace, only jolting me awake when they (spoiler) chopped off Mama Leone's (Dawnn Lewis) head.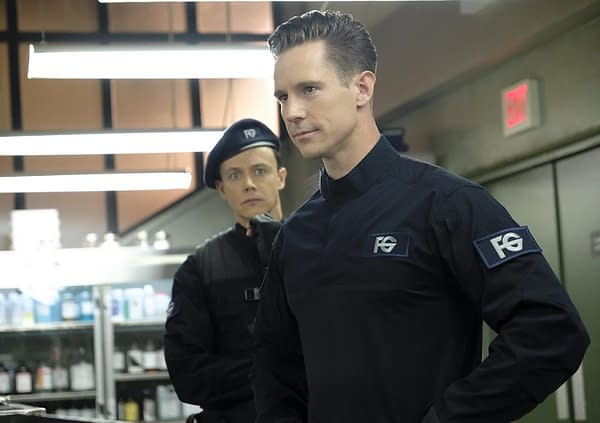 "I broke the law because it feels good to save lives" – Mama Leone/Renegade
Last episode, we watched as Blaine DeBeers (David Anders) deliver Mama Leone to Chase Graves (Jason Dohring) in return for his business being freed from Graves's investigating eyes. Chase originally intended to imprison Mama Leone in the freezer for her crimes, but was convinced to use her an example to show the public that Fillmore-Graves will not stand idly by while coyotes smuggle humans into "New Seattle" to create more unauthorized zombies. It was interesting to watch Graves battle his consciousness over the decision…. but is that really something we want to see in a dictator? I think not. I say kill him off. He's weak. Don't judge me.
https://www.youtube.com/watch?v=65ICxHbpWHo
Major Lillywhite (Robert Buckley) is racking up some serious frequent flyer points towards his ticket to hell in this episode; and while I get the whole "follow the leader"/loyalty bit, what happened to the man who once dedicated his life to saving misguided youth? Major not only stands idly by and relatively unaffected as Renegade is executed, but now appears ready to kidnap innocent people. Looks like Graves ordered Major to kidnap Sloane Milles to force General Mills to back down from his want to nuke the zombie population of "New Seattle" — with a little collateral damage on the side. Unfortunately, there were some hiccups on the road thanks to Don E (Bryce Hodgson) — and did I mention Sloan is now a new zombie? Oops.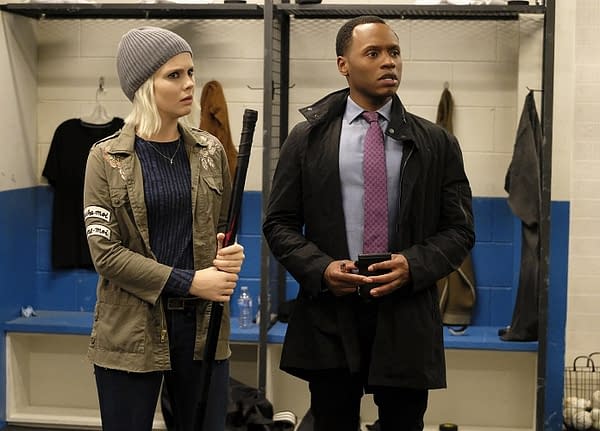 "Game's over Liv…we lost." – Clive
Let's not forget Detective Babineaux (Malcolm Goodwin) and Olive 'Liv' Moore (Rose Mclver), who received a body count of four this episode: three zombies and one human. The zombie cases were quickly taken over by a Fillmore-Graves investigator; and Liv had the pleasure of chowing down on "goon brain" and hitting the ice in full-on hockey player "rage mode". I still enjoy her personality takes, and really appreciated the missing tooth in this week's episode.
My eye candy Blaine was brought in for questioning for the murders; and though he looked clearly guilty of the crime — since all four were executed on his quest to kidnap Mama Leone — Fillmore-Graves interfered in the investigation, claiming that the killer had been caught, Blaine was cut loose, and Liv and Clive's case fell apart: guess you win some, you lose some — but you also get the feeling this isn't quite over.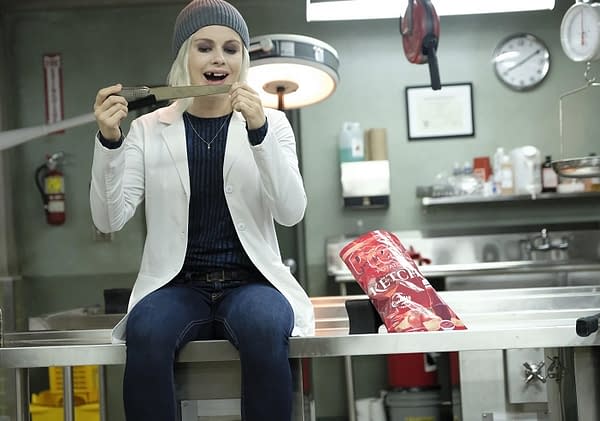 "I need you to gather whoever is left in Mama Leone's organization, we are gonna pick up where she left off" – Liv
Seattle's zombie population continues to go hungry, and humans interest in peacefully coexisting with them seems to be dwindling. I can't really blame the humans: when a zombie bus driver passes out from starvation and then wakes up to start feeding on his passengers, it makes you feel a certain way. What drastic actions will Graves take to feed his people? I'd like to see some answers in next week's episode: more initiative to solve the problem and not just constantly confirming the problem.
The episode wraps up with Liv choosing to let Mama Leone's legacy live on through her, taking on the mantle of crime investigator by day, coyote/vigilante by night. Looks like there might be a Major/Liv face-off in the near future…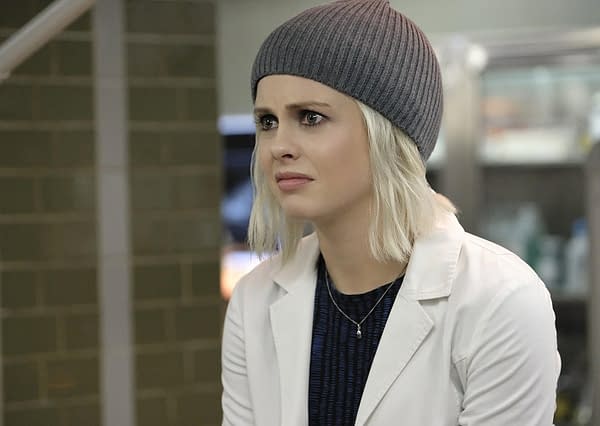 Once again, it's that time when I pay homage to Liv's episodic personality-inducing brain feasts! On this week's menu: "The Enforcer" courtesy of some brain fries.
Next time…
https://www.youtube.com/watch?v=xfqL77xGNQQ
iZombie s04e06 'My Really Fair Lady': Liv (Rose McIver) and Clive (Malcolm) investigate the murder of a pretentious theater actor (guest star Rachel Bloom "Crazy Ex-Girlfriend). Meanwhile, Ravi (Rahul Kohli) makes a huge sacrifice for Peyton (Aly Michalka). Lastly, Blaine (David Anders) makes a startling discovery.

iZombie Season 4, Episode 1 Review: Left Still Feeling Hungry
iZombie Season 4, Episode 2 Review: Brains Shaken, Not Stirred
iZombie Season 4, Episode 3 Review: More Zombies, Less Brains: What Could Go Wrong?
iZombie Season 4, Episode 4 Review: Mama Leone's Backstory Makes for Strong Outing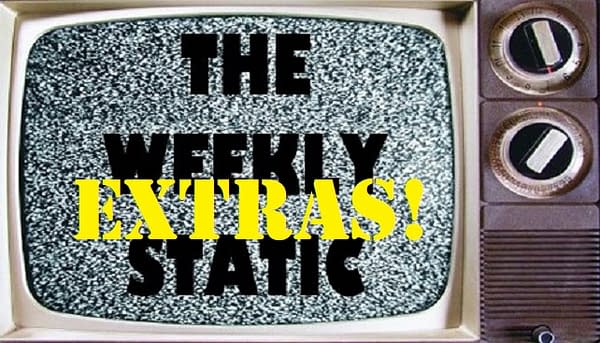 Margo Staten is a Ukrainian born, raised in Brooklyn organically driven, coffee loving, twice divorced mother of one baby Einstein. Has a passion for books, yoga in the park and all things 80's and New Orleans.