Marvel's Jessica Jones Season 2, Episode 5 Recap: aka the Octopus
This article contains spoilers for Marvel's Jessica Jones season two episode – aka The Octopus.
.
.
.
.
.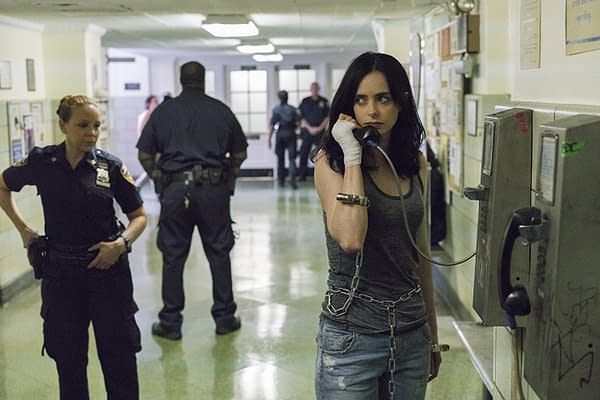 We start off with Jessica (Krysten Ritter) in jail, accused of killing the man who stole her files and computer. Except the files and computer are missing. We see that the mysterious woman (Janet McTeer) has them and is burning everything including her bloody clothes outside of her house. Trish (Rachael Taylor) gets out of jail thanks to her mom (Rebecca de Mornay) and gives an alibi for Jessica but the cops are still holding her and Jeri (Carrie-Anne Moss) tells her to come clean or she could end up going to jail for 18 months for withholding evidence. Trish is sick as hell after taking the inhaler, like a morning after of doing drugs. Jessica calls Malcolm (Eka Darville) and tells him to get all the info he can from Inez (Leah Green). Back to the mysterious woman who is playing piano when a neighbor comes by with a crying baby. The crying angers her to the point the neighbor runs and the woman smashes the piano to bits.
Jessica tells the cops everything and is let go. She discovers that Detective Eddy Costa (John Ventimiglia) was in the building when Kilgrave attacked last season and remembers holding his own gain to his own head. He seems to be friendly towards Jessica. Malcolm finds out about Inez's co-worker and how her death was staged to look like a janitor at IGH killed her instead. Jeri promises to put Inez into a safe house and Pryce (Terry Chen) shows up, accusing Jessica of killing his employee. Jessica doesn't hit him or anything. Progress. Back at the office, Malcolm tells Jessica about Dave (Daniel Everridge) the janitor who was now in a psych ward because of the murder. She promotes Malcolm to associate and has him take Inez to Jeri, but he had to threaten to point the mysterious woman at Inez first before she would agree to go. Jess goes to Oscar (J.R. Ramirez) to have him make her an ID for the psych hospital.
Dorothy told Trish she had an appointment with a cable news company and Griffin (Hal Ozsan) called Jessica, telling her that Trish is in trouble. Turns out it was a set up for him to propose. The mysterious phone call and going onto Trish's computer was to invite people to the proposal. Trish says "thank you" not "yes". She pulls Griffin aside and tells him 'no'. Malcolm gets Inez to Jeri. Jessica picks up her ID from Oscar who invites her to dinner. She passes but there are some sparks going on there. The mysterious woman is burning the pieces of her piano.
Jessica gets in to talk with Dave, who is spending his time drawing an Octopus with crayons. He gives what seems to be memorized lines about killing the nurse and putting her in the bathtub, but he doesn't remember how she got to his house or actually killing her. But he gets upset when Jessica pushes, so she asks about the octopus. Dave knows a ton of facts about them because one of his co-workers, Dr. Karl () would take him to the aquarium to have lunch. Dr. Karl (Callum Keith Rennie) went there every day. Jessica has Dave draw a picture of him and Dr. Karl watching the octopus. On her way out, she called Detective Costa and tells him about the dead nurse and how Dave didn't kill her.
Jeri tries being nice to Inez, but gets down to business and wants to know everything about IGH and the experiments. Dorothy shows up and is stunned Trish said no to Griffin. Trish explains that when they got to the roof, she was more disappointed that it wasn't a meeting with a cable news network than she was excited about the proposal. She knew then that she didn't want to BE WITH Griffin, she wanted to BE Griffin, as in doing his job. She didn't think that was fair to him. Dorothy tells her to go beg for him to come back and calls her a spoiled brat. Trish smacks her and Dorothy leaves. Trish is still strung out from the inhaler hit and does another one.
Jessica goes to the aquarium and waits for Dr. Karl. When he finally arrives, she watches and is stunned when the mysterious woman arrives and they kiss. He looks up and recognizes Jessica watching them. The woman smacks one of the glass at the aquarium that sets off an alarm. Everyone starts running and before Jessica can get down to them, they're gone and the tank bursts.
Suspicions on Griffin may be cleared… or not. Malcolm is starting to step up big time and I have a feeling Pryce is going to get himself in trouble with the wrong people while trying to hurt Jessica. Trish is in for a world of hurt as well from the inhaler. I think it was really good for Jessica to learn that some of the cops appreciate her taking down Kilgrave. Five episodes in and the season feels better than the first one.
On to episode 6…
---
---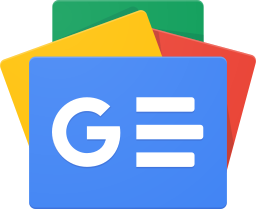 Stay up-to-date and support the site by following Bleeding Cool on Google News today!