Marvel's Jessica Jones Season 2, Episode 7 Recap: aka I Want Your Cray Cray
This article contains spoilers for Marvel's Jessica Jones season 2 episode – aka I Want Your Cray Cray.
.
.
.
.
.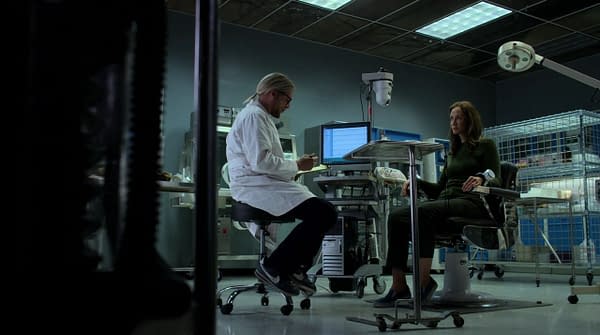 This episode is different than all the rest. Instead of bouncing all around, this starts as a flashback and stays that way, going back and forth between what's happening with two characters. We star with the mysterious woman that was revealed at the end of episode six to by Alisa Jones (Janet McTeer) as she wakes up to discover that she's been in a horrible car accident and is terribly disfigured. She freaks out on nurse Luanne (Leanne Hutchinson) and gets out. She threatens some lives, even Jessica's unknownly, but Dr. Karl Malus (Callum Keith Rennie) comes in and gives her a sedative and gets her back in bed. Alisa wakes up years later, looking better but it's not her face. Malus explains that they had to do genetic editing to promote healing, cutting edge technology. And they had to induce a coma after each procedure. Alisa has been out for five years. She learns that her husband and son are dead, but Jessica is alive.
We then cut to a party where a younger Jessica (Krysten Ritter) is suffering through a release party for the new single, I Want Your Cray Cray by Trish Walker (Rachael Taylor). Trish is partying too much and pushes Jessica away. Jessica then runs into Dorothy (Rebecca De Mornay) at the bar where she also meets the bartender named Sterling (Matt Vairo). Sterling quits after being chastised by the manager for pour too stiff of a drink. Trish invites everyone back to her place, where Jessica also lives. They argue and part angry. Sterling, who took a bottle as he left, offers Jessica a drink. Alisa fights back against doing any more tests. She insists on finding out what happened to Jessica. Malus explains that they weren't sure that she was going to live and the things they did were illegal, so they declared her dead and Jessica was put with another family. Gets upset that Jessica thinks she's dead and tries to break out. Is sedated again.
Jessica and Sterling are dating. She breaks into a store and takes the leather jacket she always wears. Sterling pushes Jessica to introduce him to Trish. She does and he tries to sell her on a night club he's trying to open called Alias. Jessica feels used, but Sterling smoothes it over. Trish is getting high and Jessica is worried. Alisa hides her meds and pretends to be unconscious as Luanne and new nurse Inez (Leah Green) unlock her to change her. Luanne finds the meds too late and Alisa throws Inez into a glass cabinet, shards get buried in her spine. She gets Pasty's name from Luanne and is about to leave when Luanne tries to hit the alarm and Alisa snaps her neck. She fights her way out of IGH, tossing people out of her way. Back at their apartment, some thugs come to rough up Sterling for the money they gave him a year before to open his club. Jessica kicks their asses and sends them running.
Alisa tracks down Dorothy and is able to talk her into finding out where Jessica is by posing as her old high school teacher. She gets there in time to see Jessica use her strength to open a fire hydrant for some hot kids. She then follows Jessica to a bar where she is meeting Sterling. Alisa begins to make contact in the bathroom, but when she comes out, the thugs are there and take Sterling out back. They don't want their money now, they want to use Jessica to pull some jobs. Sterling agrees, saying Jessica loves him and he wants 25% of the take. The thugs leave and Alisa confronts Sterling about using Jessica. They argue and she kills him.
Jessica finds the body and is devastated. She goes to Trish, who she finds about to go down on a club owner as a 'thank you'. Jessica throws the guy out and they go sit on the roof they went to in episode one of the season. There Jessica admits to feeling Sterling's death was her fault for beating up the thugs the day before. She also convinces Trish to go back to Dorothy and enter rehab.
Alisa goes back to IGH but is calm. Malus tells her it's not her fault, that its a reaction to what he did, so the deaths are on him. But he promises to make her better. Make it safe for her to be around Jessica. Leslie Hansen (Renata Hinrichs) is there, mentions calling Coslov and then leaves when Malus says he can handle it. Then we finally cut back to present day with Alisa telling the story to Jessica and asking if her daughter can ever forgiver her. Jessica says, 'no' and punches her across the room. Malus then sedates Jessica and it's fade to black.
A lot of things about Jessica get answered here like the leather jacket and the name Alias investigation. We also get to play connect the dots with a lot of events we've been told about before but are finally seeing play out. But, this episode really didn't move the story forward, just filled in some of the blanks that we had along the way. Ritter does a great job here, you really believe she loved Sterling and you can see how this was the start of the dark path she's been traveling.
Over the halfway point… some sleep then back to the binge.
---
---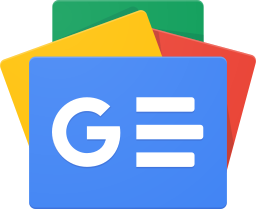 Stay up-to-date and support the site by following Bleeding Cool on Google News today!