This article contains spoilers for the Marvel's Luke Cage season two episode – I Get Physical.
.
.
.
.
.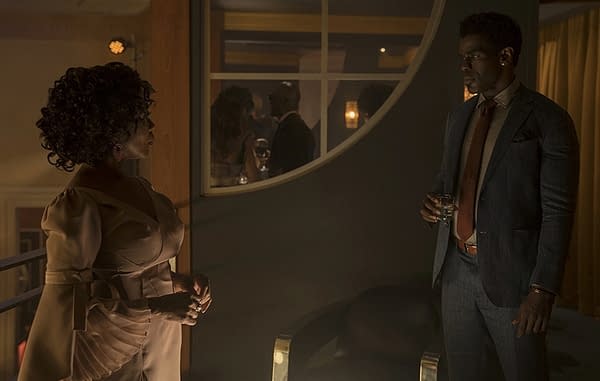 The episode starts with D.W. Griffith (Jeremiah Craft) tracking down Luke Cage (Mike Colter) just as John "Bushmaster" McIver (Mustafa Shakir) sucker punches him on the street. The two men fight and seem evenly matched for strength, but Bushmaster is the better trained fighter and ends up knocking out Luke pretty easily. The whole thing is on video. Luke gets up, stumbles to the barbershop where he shows signs of a concussion. Claire Temple (Rosario Dawson) doesn't answer his call. Bobby Fish (Ron Cephas Jones) finds him, gets him to sit down while he goes to get some ice. Misty Knight (Simon Missick) is at work listening to Nandi Tyler (Antonique Smith) and Mark Bailey (Justin Swain) blowing off steam when the video of Cage and Bushmaster comes in. Bailey makes a joke about Luke going down and and Misty gets upset. Captain Ridenhour (Patrick Jay Fernandez) breaks it up but makes it clear he doesn't care about Luke since Luke made it clear he doesn't care about the cops. He makes it clear that Misty better not be trying to work any of the cases on the side. Mariah Dillard (Alfre Woodard) get's good news from Richard "Piranha" Jones (Chas Lamar Shepherd) about her investment now being worth much more, but Hernan "Shades" Alvarez (Theo Rossi) doesn't seem to care. All of their assets are liquid, including the club, and Piranha has limited power of attorney, which may be what's bugging Shades. Darius "Comanche" (Thomas Q. Jones) comes in and shows them the video of Luke getting beaten.
Luke gets us, sees the beat down being played on ESPN, goes outside and finds D.W. selling copies on the street. Also finds out that Claire is loading luggage in her car. Shades tells Mariah about Nigel's head being in one of the bags and how he thinks Bushmaster is coming for her, asks what she knows. Mariah says the name Bushmaster has something to do with her grandfather but that's the past and she just wants to take their money and start fresh. She continues to treat Comanche poorly. Luke gets to the apartment to find Claire gone and it being sublet. She left him a bag and a note. Misty meets him outside. They head up to Brooklyn to check on the Yardies and Bushmaster but they've cleared out. Luke sees the bag from Mother's Touch, the store owned by Tilda Dillard (Gabrielle Dennis). They follow the smell of decomposition and find the decapitated body of Nigel. Comanche tries to offer to help Mariah check on what Piranha is doing, but she blows him off. Misty and Luke get the current gang rundown from an old friend of Misty's who is finds the owner of the warehouse. He also gives them the rundown on Bushmaster and how he's worked his way up and if he's cutting heads, off he's sending a message. Luke is still punchy from the fight and sent home. We get a montage of Luke on the bus reading the letter from Claire, Mariah looking through old scrap books and Tilda, seeing the video of Bushmaster, trying to figure out what he did with the ingredients he bought from her. Luke visits her and she plays dumb on Bushmaster but gives him something to help with the pain and tells him he has a concussion. They talk about his powers a bit and sort of flirt. She doesn't give her last name.
Misty talks to the warehouse owner who is rather talkative, tells her that Bushmaster is there to take out the family from Sugar Hill that wrong him… the Stokes. Bushmaster meets with Mariah, it's tense with a lot of insinuations to the past but she doesn't bite until he calls her Stokes. He tells her to enjoy her time on the hill because life is precious and fleeting. Shades goes to follow, realizes Comanche is not there. Shades follows Bushmaster back up to Gwen's in Brooklyn. He tries to call Comanche who doesn't answer. We then see Comanche meeting with Captain Ridenhour and find out that Comanche is working for the NYPD. Misty returns to her desk to find a letter from Danny Rand and Colleen Wing that says to call them when she's ready and the designed for a bionic arm. Luke heads back to the barbershop when Bobby Fish comes in. Bobby's daughter needs a kidney transplant and he's a match. He's heading to San Diego in the morning and they say goodbye for now. Luke is alone and when a guy walks in and serves him papers that he's being sued.
This episode is pretty much the stripping of Luke to his core. He loses Claire, he loses the people of Harlem, he's hurting from the concussion and he loses Bobby Fish. We're four episodes in and Luke seems to be close to rock bottom. Maybe he has lower to go but we see where this is headed. Meanwhile Bushmaster seems to be playing everything just right to get his birthright and bring down Mariah. And with Claire gone, will they let something happen between Luke and Tilda? I think they did a good job of stripping things away from Luke except at the end, Bobby's reason for going seemed a bit convoluted but you can overlook it because… it's Bobby Fish. Being only the fourth episode of thirteen, seems like things are bound to get worse before they get better.
Enjoyed this article? Share it!