Marvel's Luke Cage Season 2, Episode 7 Recap: On and On
This article contains spoilers for the Marvel's Luke Cage season two episode – On and On.
.
.
.
.
.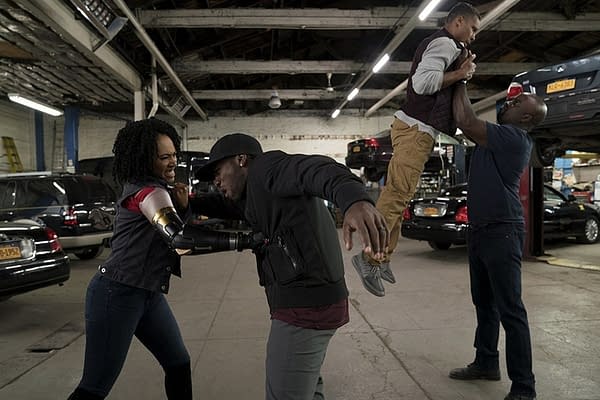 The episode starts with Luke Cage (Mike Colter) in the water after John "Bushmaster" McIver (Mustafa Shakir) paralyzed him and kicked him into the water. As he's sinking, he has flash of seeing his mother visiting him in jail, the experiment, escaping, being with Reva, Reva's funeral, and then an image of his father telling him to wake up. His eyes open and he's not paralyzed anymore. He swims to the surface, goes back to the church and passes out on the floor in front of Reverend Lucas (Reg E. Cathey). Luke wakes an hour later to discover that Piranha Jones (Chas Lamar Shepherd) took off. Captain Ridenhour (Peter Jay Fernandez) finds Misty Knight (Simone Missick) on a basketball court and tries to convince her to come back and to have her get Luke to bring Piranha in. She says she's done. Over with Mariah Dillard (Alfre Woodard), she's having a Cottonmouth moment where she is upset they haven't found Piranha and she knows someone is talking. She stabs one of the guys in the hand and then yells at them all to get out and find Piranha. Hernan "Shades" Alvarez (Theo Rossi) stays back and talks to her about being better than Cottonmouth and Mama Mabel. That fear doesn't breed loyalty. Tilda (Gabrielle Dennis) returns to the club. Things remain tense between Luke and his father, but his father keeps trying.
The Styler's grabbed Piranha. Bushmasters wants all of Mariah's money, but Piranha is holding back. Misty finds Luke at the barbershop. Luke thinks of Piranha dies, it's on him, but Misty says it's not. They track down where the gypsy cabs came from in Brooklyn and go there together. They take on a gang of thugs and Misty not only holds her own, but the arm works really well. Luke is impressed. By the time they get to where Piranha is, they find his severed head in a tank of real piranhas. Mariah and Tilda talk and she sees the legacy that Mariah is trying to leave her and how everyone has sacrificed to make that happen. Misty calls the cops in and talks to Ridenhour who wants to use the fact that Mariah might have lost everything to get her to flip and stop the gang war. Misty is pissed, telling him that he can't make a deal with Mariah. Because of this she remains an ex-cop. Detective Bailey (Justin Swain) tells Luke and Misty they need to leave the crime scene. Luke is beating himself up about Piranha dying. Ridenhour makes a pitch to Mariah about tying Shades to Bushmaster and confess to do illegal things because of Cottonmouth, packages it as a chance for her to come clean and even come out with some sympathy and political clout left. She passes. He pleads with her to get out, to do what's right for her and Tilda. She starts getting upset. She asks if Tilda knows that Mariah almost died giving birth. Asks if Tilda knows her real age or who her real daddy is? Mariah throws him out. She checks her finances and all the money is gone. She orders her assistant to get Tilda, then get the money from the Brownstone as they need to get out of town.
Shades is having lunch with Comanche (Thomas Q. Jones) and talking about the snitch. Comanche believes it's Sugar. Shades gets a text telling him Piranha's dead and Mariah is bugging out. He has to go, tells Comanche to take care of Sugar… but there is a bit of tension between them now. Bushmaster is getting fitted for a suit while his uncle again tries to talk him into letting his hatred go. But he tells about how his mother made him dress sharp for school everyday and he would come home with torn shirts and bloody knuckles because he would have to defend his name. He would be in trouble and get no dinner, but her eyes were smiling because she knew he was a fighter. That he was a McIver like his father. Even though he has all the money he wants Mariah's soul for his mother's. Luke goes to see his father again and the Reverend tells him he's sorry about Piranha. Luke tells him about seeing his mother when he was under the water. Luke says he hasn't been in church in a long time, but he though Got was trying to tell him something. That the world may be his problem, but it's not always his fault.
Misty goes to a bar, orders a drink and makes eye contact with a guy at the end. Comanche goes to meet Ridenhour, but Shades follows them. Comanche shoots Ridenhour to try to cover his betrayal, but Shades shoots Comanche, but you see that it pains him to do it. They were like brothers which is why he didn't see Comanche as the snitch. Mariah is scrambling to get things together, Tilda is upset but Bushmaster busts in and takes them, recognizing Tilda from the shop. Back with Misty, she's now sitting with the guy. They start kissing when her phone rings off the hook until she finally answers. Bailey tells her about Ridenhour and she leaves the bar. Bushmaster is going to set the brownstone on fire with Mariah and Tilda in it. They go back and forth between Luke and his father trying to talk through their problems and finding out how Bushmasters mother was burned by a fire started with a bottle of his family's rum thrown in threw the window. She put John outside and told him to run and she then died in the fire. Bushmaster cuts Tilda free, lights the fire and lets her see if she's a better daughter than he was a son. We see that Reverend Lucas blamed Luke for his mothers cancer, seeing him in prison. But he admits he was wrong. Luke asks him if he realizes that all of his lies about Willis sent Luke to prison, stole so much form his life. But before they can talk more, D.W. Griffith (Jeremiah Craft) comes into tell Luke that Mariah's brownstone is burning. Luke runs out. Shades is on a roof top, looking out over the city. Misty is at the scene of the shoot out. Tilda is trying to get her mother free. Bushmaster walk's into Harlem's Paradise to take over. Luke goes into the building and gets Mariah and Tilda out. Outside, Mariah is surprised Luke saved her, and says she wants to hire him.
Bushmaster finally makes his big push and take over everything. All the pieces that were being set up are played. Ridenhour and Comanche are dead. Mariah is broke. Shades is spiraling a bit. You feel bad for what Bushmaster has gone through, yet he is leaving a trail of bodies to get revenge. And seeing Luke and his father finally start talking is good, but it's obvious they have a long way to go and Luke may not be able to forgive his father for everything. And where does Misty go next?