The Toys That Made Us Season 2, Episode 4: Hello Kitty and the Kawaii Invasion
How much do you know about arguably the most famous cat in the world? Did you know that Hello Kitty has a proper name? That she's actually a girl who just happens to be a cat (and who owns a cat)? That she is partially responsible for the introduction of Kawaii into western vernacular? Well, if all of that is coming as a shock to you and you want to know more… fear not! You can now quench your Hello Kitty thirst for knowledge with Netflix's The Toys that Made Us season 2.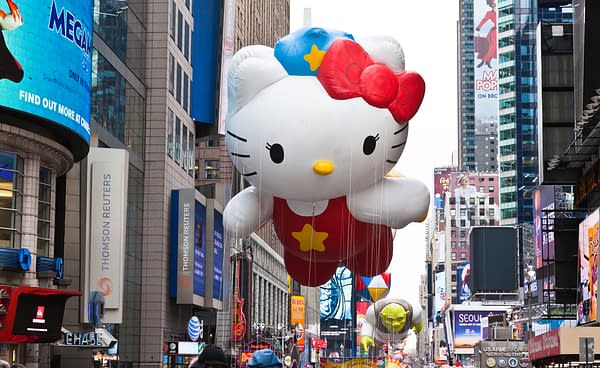 It's hard to imagine a time before Hello Kitty. Growing up, I personally relished the rare occasions when I'd be allowed to visit the Sanrio store. While Hello Kitty wasn't my personal jam (Keroppi or Badtz-Maru for lifeeeee), I can't personally recall a time when that darn white cat wasn't ubiquitous.
With fans of all ages and from all walks of life, Hello Kitty didn't start out as Sanrio's most popular character. In fact, Sanrio didn't start out with characters at all. The company was founded in the 1960s in Japan by Shintaro Tsuji, who came into it with the philosophy "Small gift, big smile."
I highly recommend watching the entire episode, but here are just a taste of some knowledge gems that were gleaned from the episode.
Hello Kitty's real name is Kitty White.
As mentioned before, she's a girl who just happens to be a cat.
She has a twin sister named Mimi, and her parents are named George and Mary White.
Her blood type is A. (Why on EARTH we'd need to know Hello Kitty's blood type is still a mystery).
She is British. Yes. Really.
The characters of Sanrio (of which there are hundreds) aren't friends, enemies, or family. They tend not to appear in each other's universes, unless there's a big event or anniversary.
The most interesting part to me was how Hello Kitty's rise to prominence was so closely tied with the Kawaii movement. Her popularity in Western culture didn't pick up until Kawaii began to be accepted by adults in Japan.
What is Kawaii? It's basically a Japanese word for something that's cute to the max. The show describes it as a:
"… genetic trait we've evolved to help us protect our young. Big round head and foreheads, big eyes lower on the face combined with soft squishy round bodies trigger an automatic 'awww.'"
If you're familiar with traditional animation, this is essentially the same principle as "appeal." I once had an animation teacher posture the same theory in that the reason babies are so cute (or appealing/Kawaii) is so when they wake us up in the middle of the night we don't strangle them.
In the 1980s, when adults in Japan realized it was okay for them to like Kawaii things. So in the early 1990s, the Japanese economic bubble burst, but rising from the ashes of that came the Harakuju movement, which wholeheartedly embraces Kawaii, and with that… Hello Kitty found her niche.
In the early 2000s, pop stars like Gwen Stefani and Avril Lavigne began to import (or appropriate, depending on how you feel about it) Harajuku culture into the west. With that came a surge for Hello Kitty, and she cemented her place in western culture.
Hello Kitty doesn't have paid celebrity endorsements, yet has organic fans ranging from Kimora Lee Simmons and Paris Hilton (who both appear in The Toys that Made Us) to Lady Gaga, Mariah Carey, and Rihanna.
Hello Kitty is also fascinating in that more or less she hasn't changed design since her debut. The most she's diverted from her original design is in an animated series she starred in, where they gave her a mouth.
Head of Hello Kitty design Yuko "Kitty Mama" Yamaguchi maintains that Hello Kitty shouldn't have a mouth. For what it's worth, I would watch an entire show about Kitty Mama.
That's not to say that Hello Kitty doesn't evolve. They describe Hello Kitty as an icon on par with the biggest JPop stars. In the late '90s, Jpop stars were generally portrayed as innocent and non-sexualized. In 1998, one JPop star broke with traditions and announced she had a boyfriend, even though idols never revealed about their relationships. Suddenly the top JPop stars of the time all came forward about their normal adult relationships.
Since Sanrio considers Hello Kitty an idol, she too followed suit, and in March of 1999 they announced she had a boyfriend, Daniel.
Sanrio might have had a rocky road leading to their current success, but they clearly learned from their trials and tribulations. And boy did it pay off.
In 2017 Sanrio was the sixth largest licensor in the world. Hello Kitty has appeared on everything from thermometers, paper shredders, wine (if someone wants to send me some, please feel free), tarot cards, surge protectors, breast pumps, gravestones, toilet papers, adult diapers, duct tape, box cutter, motor oil, and "shoulder massagers." Basically the only way you don't see Hello Kitty these days is if you live under a rock. I was at a white elephant gift exchange where grown adults fought over Hello Kitty items. That cat knows how to market.
There's much more to Hello Kitty than meets the eye — she's a brand, logo, and icon. You can learn more about Kitty White and the rest of the Sanrio crew in Netflix's The Toys That Made Us.