Beast Kingdom is stepping its game up with more statues and this time it's from the world of DC Comics. Batman and the Joker are here to spice up your collection with their newest statues. The first one is a kooky Joker statue here he is riding a unicycle and jiggling a wild amount of items. This takes me back to some older Joker stories the ones that aren't so murdery and dark but wacky and silly. The Beast Kingdom Batman statue is pretty awesome and it even lights up. This statue features him in his light blue and grey outfit and is perched on the bat signal. The bat signal will light up which gives it a great dynamic feel. No price or release date have been given just yet but you can find more about the statues here and keep your eye peeled for pre-orders in the future.
It's showtime!
DC Comics Joker and Batman Statues from Beast Kingdom
The Entertainment Experience brand Beast Kingdom is proud to present the first in the line of 'Staging Your Dream's D-Stage DC Comics Character series, recreates classic snapshots from some of the most classic stories featuring the Clown Prince Of Crime and the Dark Knight!
The D-Stage DC Comics Joker faithfully brings to life the infamous prankster with his classic purple suite, orange vest and bow tie, delicately crafted and painted with great attention to the fine details. Here he is seen juggling with his favorite arch-nemesis Batman, as well as Robin and Joker fish dolls, all the while riding a unicycle through a plume of his infamous laughing gas. A trippy image of a crazed clown ready for some serious trouble.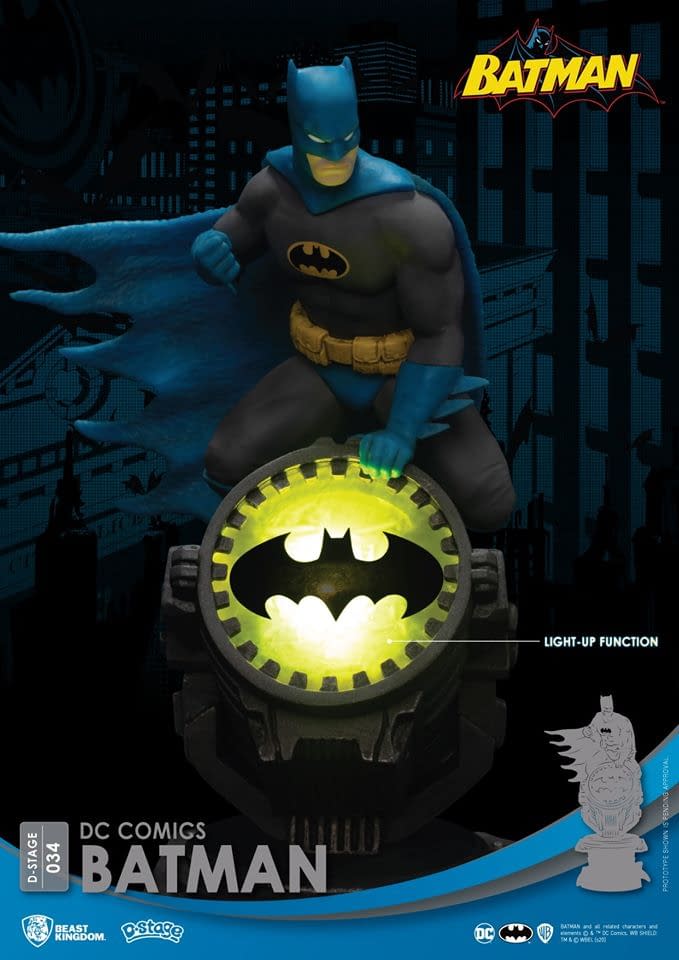 The D-Stage Batman on the other hand is every bit the personification of heroism and strength. Standing on top of the Bat-Signal searchlight, Batman is looking determined to solve his latest crime, and is dressed in the classic blue and grey colors with the yellow and black bat logo made popular in the original comics.
Using 360 degree detailed 3d modelling technology the Beast Kingdom team brings to life highly detailed scenes and characters as if they popped out of the comic pages.
Each figure standing at around 15cm in height truly makes for the perfect DC collectable with two of their biggest stars to start the show. So make sure you collect both today and bring Gotham city's larger than life protagonists to a desk near you!