Deadpool, The Merc with the Mouth is no joke except for when he wants to be. This lovable assassin can go from eating chimichangas to riding unicorns then head of killing undead presidents all on the same comic issue and it somehow makes sense. The craziness of Deadpool has always been a part of who he is and we love that about him. Sideshow Collectibles are sharing in that madness with the new Marvel Bust. The bust measures 11 inches tall and he is getting battle-ready by drawing his katanas. Except for this time, he seems to have cut off more than he wanted to reveal his guts in this bust. This is an amazing way to show off who deadpool is through the bust. Somehow this of statue Deadpool managed to keep true and somehow is breaking the fourth wall. 
The Marvel comics Deadpool Bust by Sideshow Collectibles is priced at $250. As always payment plans are available through Sideshow and preorders are here. Deadpool is scheduled for release between December 2020 – February 2021. 
" A fourth wall break in a fourth wall break. That's like 16 walls. "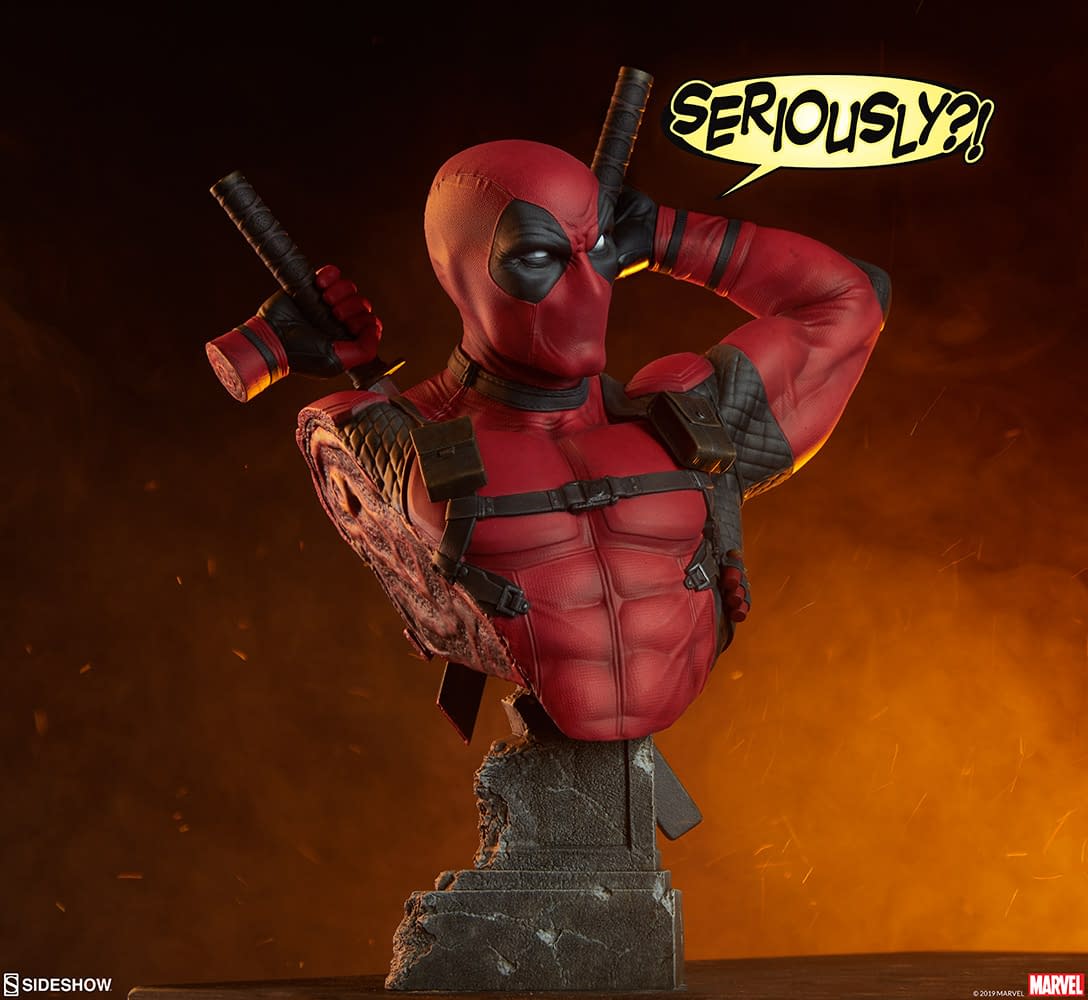 Marvel Comics – Deadpool Bust
"What a weird day. I'm having fun, and I haven't killed anybody."
First, there was the Deadpool Corps. Now, get ready to see the Deadpool core! Sideshow presents the Deadpool Bust, slicing his way into your Marvel collection.
The Deadpool Bust measures 11" tall, as the Merc with a Mouth prepares to draw his dual katana blades in battle. His latest close shave might have been a bit much, though- Deadpool has been sliced through, revealing his guts for all to see. But don't worry, he'll be fine- they don't call him the regenerating degenerate for nothing!
Situated on top of a stone-like pillar base, this Bust features more Wade Wilson than you ever wanted. This polyresin collectible features a fully sculpted costume detailed with shoulder pads (for whatever shoulder he has left), as well as pouches, straps, and textured black panels to complete his signature look.
What a cut-up! Bring home the hilarious Deadpool Bust to your universe of Marvel collectibles today.
Additional Details & Dimensions
Materials – Polyresin

Product Size – Height: 11″ (279.4 mm) | Width: 8″ (203.2 mm) | Depth: 4″ (101.6 mm) | Weight: 4 lbs