Funko Cereal Taste Test: We Like the FunkO's!
Funko is taking the inevitable step of releasing FunkO's, their own brand of cereal. Six of these are available in all right now, exclusive to specific retailers: Mega Man at GameStop, Cuphead at Hot Topic, Freddy Funko cereal on the Funko Shop, Lord of the Rings Gollum cereal at BoxLunch, and as we will take a look at today, Freddy Krueger and Jason Voorhees cereals at FYE.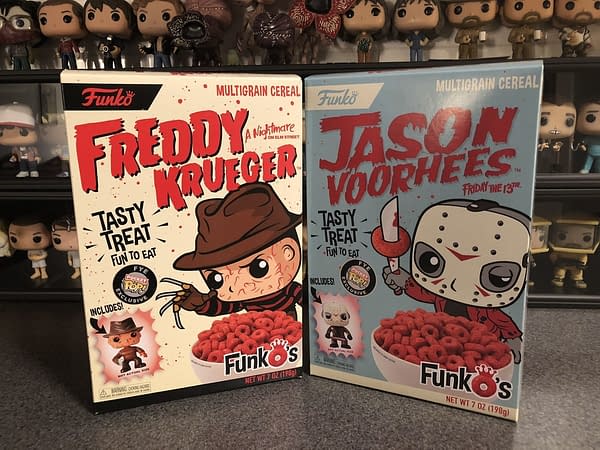 Funko, purveyors of pop culture and all things awesome, is committed to helping you start the day off right by putting the fun back in breakfast with FunkO's. And as we all know from Saturday morning commercials; every breakfast starts with a bowl of brightly colored cereal that comes out of a box with a really cool mascot on the front and a prize inside!

And of course, to put the fun back in breakfast, each box contains a collectible prize, making the boxes as much fun to collect as they are to eat! You'll find a collectible figure inside every box of FunkO's, so you're going to want two boxes – one to taste, and one to display on your shelf with your Pop! collection.

Pick up your first box of FunkO's this summer, pour yourself a bowl and watch cartoons!
Or you know, horror movies.
The cereal boxes themselves are exquisite. I love, love, love the box art on these, with the horror icons slashing their way into your breakfast bowl. Each box comes with a pocket-sized Pop of the character, but a wag of the finger for not putting it IN the actual bag of cereal. Oh well, I still got a kick out of opening the box and taking out the prize and pouring the cereal into the bowl.
And man, was I surprised at how good it was! First of all: the cereal stayed crunchy for over 15 minutes in the milk. That is pretty impressive. It is sugar-coated and tastes sweet and savory at the same time. Reminds me a bit of Fruit Loops, only better. There are a good three to four helpings in the bag as well, so if you enjoy it there is enough there to carry you through a viewing of one of the films. It did not, however, turn my milk very red, which was disappointing.
At $12.99, it is a bit much for these. But it's a boutique item — and the amount of cereal, a mini-Pop, and unique packaging to me make it a worthy purchase.
If you want some of these two specifically, you can order some right here.