Iron Man "Spider-Man: Homecoming" Figure Gets Reissue from Hot Toys
Iron Man returns once again as Hot Toys announces that their Spider-Man: Homecoming Iron Man Mark XLVII figure is getting a reissue! That's right if you missed this figure before this is your time to lock another down. If you don't know, this figure features diecast parts, articulated, and highly detailed. Iron Man has 28 parts on the armor that will be able to light up through their battery operated LED system. The figure will also feature a Robert Downey Junior unmasked head sculpt to really bring Tony Stark alive.
The Iron Man Mark XLVII Sixth Scale Figure from Hot Toys is priced at $374. he is set to fly into your collection between October and December 2020. Links are live for this reissue and can be found here. Sideshow Collectibles does offer payment plans and can help greatly with a figure at this cost. Make sure you secure your pre-order this time around as I doubt there this figure will go live again.
"I wanted you to be better. I'm going to need the suit back."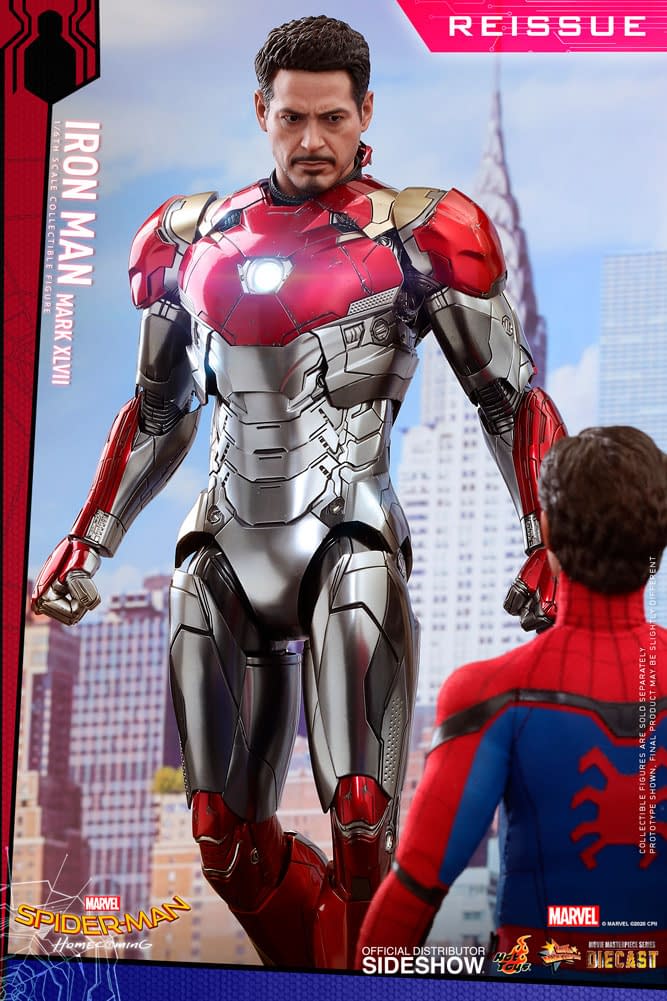 Iron Man Mark XLVII Sixth Scale Figure by Hot Toys Spider-Man: Homecoming – Movie Masterpiece Series Diecast
ABOUT THIS SIXTH SCALE FIGURE
Hot Toys is excited to reissue the amazing Iron Man Mark XLVII Sixth Scale Collectible Figure from Spider-Man: Homecoming for fans who have missed their pre-order opportunity earlier!
With remarkable movie-accuracy, the sixth scale diecast figure standing approximately 32cm tall features the streamlined armor painted in metallic red and gold colors with a distinctive two-toned silver color around the mid-section. This figure includes LED light-up functions scattered throughout the armor, a newly painted Tony Stark head sculpt, an interchangeable LED light-up helmeted head, an interchangeable empty helmet emulating the suit in remote control mode, highly detailed accessories including a pair of glasses wearable on Tony's head sculpt, mini-repulsors deployer with two articulated mini-repulsors, thrust fire effect parts, and a specially designed figure stand.
It's the perfect chance to recruit this remarkable Iron Man figure to your Marvel collection!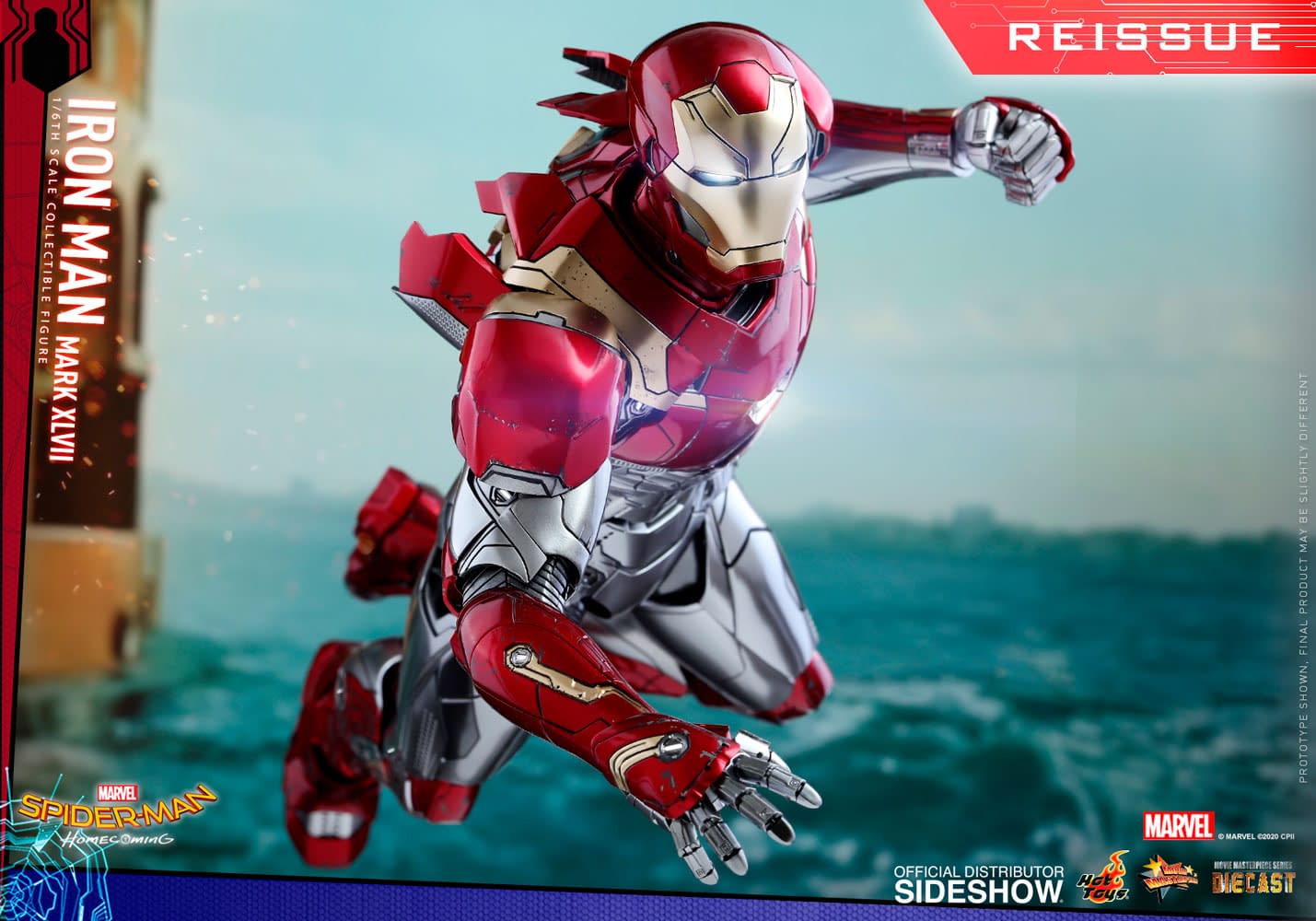 WHAT'S IN THE BOX?
The Iron Man Mark XLVII Sixth Scale Collectible Figure features:
Authentic and detailed likeness of Mark XLVII in Spider-Man: Homecoming. Newly painted head sculpt with authentic likeness of Robert Downey Jr. as Tony Stark in the movie. Movie-accurate facial features with detailed beard, wrinkles and skin texture.
One (1) interchangeable helmeted head with LED light-up function (white light, battery operated)
One (1) interchangeable empty helmet with detachable mask
Approximately 32 cm tall, contains diecast material, has over 30 points of articulations, and has special features on armor: Metallic red, gold, silver, and dark silver colored painting on the sleek and streamline Mark XLVII armor design
28 LED light-up points throughout parts of the armor (white light, battery operated)
One (1) pair of interchangeable shoulder armor (regular, missile firing)
One (1) pair of interchangeable forearm armor (regular, missile firing)
Fully deployed air flaps at back of the armor
One (1) chest armor (can be detached to reveal interior mechanical design)
Four (4) pairs of interchangeable hands including:

One (1) pair of fists
One (1) pair of hands with articulated fingers and light-up repulsors (white light, battery operated)
One (1) pair of battle palms with light-up repulsor (white light, battery operated)
One (1) pair of hands with real-like thrust fire effect

Articulations on waist armor which allow flexible movement
Each piece of head sculpt is specially hand-painted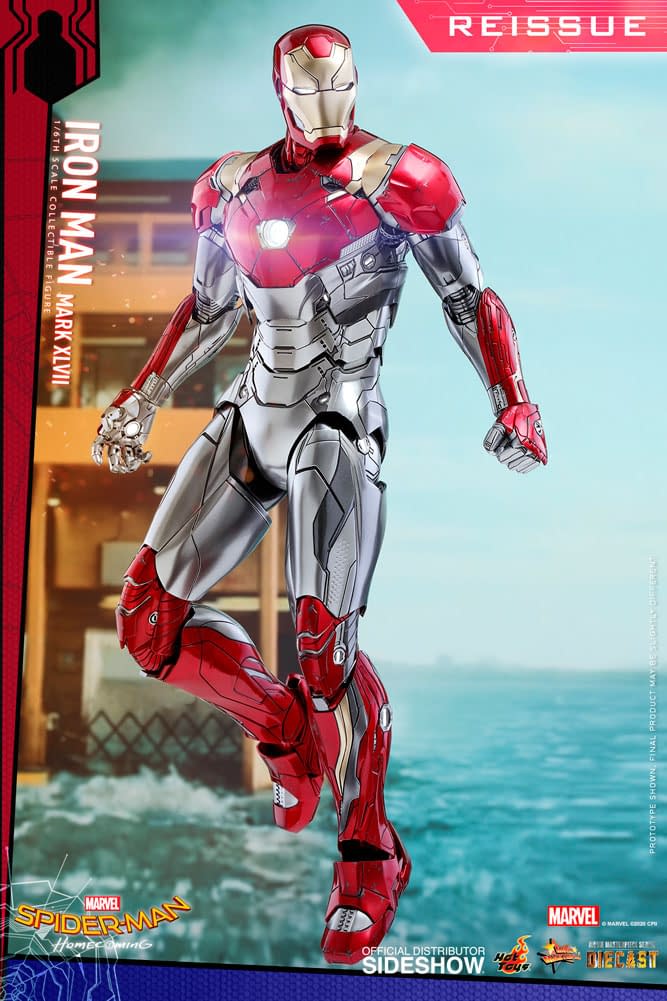 Accessories:
One (1) pair of grey colored lens glasses
One (1) mini-repulsors deployer with dynamic stand
Two (2) articulated mini-repulsors
Two (2) real-like thrust fire accessories attachable to the mini-repulsors and the deployer emulating the repulsors being launched