Captain America Wields Mjolnir in Newest MAFEX Figure
Medicom has announced a new MAFEX Marvel figure. This time Captain America is back and returns to the Endgame with this 6" tall figure. Captain America will come with three interchangeable heads, one standard, another is an angry expression, and the last is unmasked. He does come with a wide variety of accessories and probably the best set to portray the final battle of Avengers: Endgame. He will come with a removable mask, Mjolnir, Mjolnir in motion, lightning effect, and two different shields one bring complete and the other broken. The figure is nicely sculpted and grabs the likeness from the film nicely. This is one figure that will really pack a punch in any fans collection.
This Captain America figure is probably the best one out there. This is just to go all the accessories he has that really shows off his skill with Mjolnir. The spinning effect is Avery nice touch and the removable mask on the unmasked head is a huge plus. This is a figure that any Captain America or Avengers: Endgame fan will want to add to their collection. The Captain America MAFEX Figure from Medicom is priced at $94.99. He is expected to release in March 2021 and pre-orders are already live and can be found here.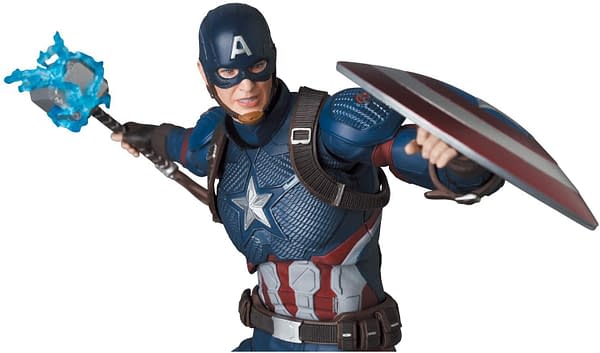 "Avengers Assemble! Both the best form and outstanding movable area are compatible! The strongest action figure ever! Scheduled to be released in March 2021. Maffex No.130 MAFEX CAPTAIN AMERICA (ENDGAME Ver.). Reference retail price ¥ 7,800 (tax excluded). Head prototype production Kyoichi Shimazaki. Prototype production PERFECT-STUDIO."
Approximately 160mm in height
From "AVENGERS ENDGAME"
Three-dimensional "CAPTAIN AMERICA"!
Head parts with mask on and off included!
Two types of "Mugornia" parts,
Includes 2 types of "shield" parts!
With effect parts that can reproduce the play!
By various wrist parts included
Various actions can be reproduced!
Movable figure stand included!