Kotobukiya is at it again as they unveil yet another gender swapped horror Bishoujo statue. We have seen her on the hunt before, but Leatherface is back, and she is ready to dance. Kotobukiya has solidified that chainsaw dance into this beautifully crafted statue. She is dressed up, busty, and is prepared for a night on the town with this design. It is not Texas Chainsaw Massacre with our wearable skin mask, which Leatherface will come with. This "pretty woman" only makes her deadlier and crazier than before. Leather fans and horror fans will want to add this killer statue to their collection.
These statues are always a treat, as it is interesting to see these gender swapped characters. This bust statue will enhance the bloody success of any Texas Chainsaw Massacre or Leather face fans collection. The Texas Chainsaw Massacre Leatherface Dance Bishoujo Statue from Kotobukiya is priced at $129.99. She is set to kill your collection once again in February 2021, and you can lock down your pre-orders here. Don't forget to check out some of the other Kotobukiya Horror Bishoujo Statues like Leatherface (Version 1), Jason Voorhees, and more.
"Leatherface from "The Texas Chainsaw Massacre" joins the Horror BISHOUJO lineup with the infamous "chainsaw dance" scene used as a motif! From the bosoms that are exposed due to the bursting buttons, to the tight pants exposing the roundness of her bottom; you can practically see the sheer volume of her body being enveloped by articles of clothing. The sculpt of the large chainsaw Leatherface can be seen swinging around uses the same sculpt data that was used in the previously released Leatherface BISHOUJO statue."
"The original bloody chainsaw design has been analyzed and faithfully reproduced as shown in the film. The statue also follows the minute settings of the film, such as the damage that can be seen on the outfit around the buttock and the right thigh area. The 'Pretty Woman Mask' face part is included with this statue, further enhancing her madness and eeriness. This statue comes with a base that exemplifies the vast Texas roads covered in large tire tracks, reminding fans of the climax of the film."
The Texas Chainsaw Massacre TM & © 1974 VORTEX, INC./KIM HENKEL/TOBE HOOPER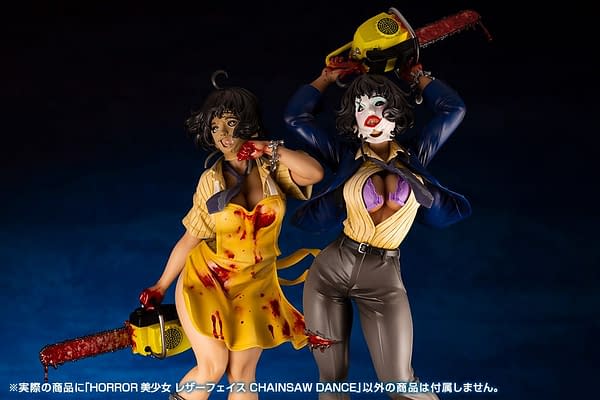 Enjoyed this article? Share it!