Wardens are deadly elite Scions from the world of Gears of War. After severed exposed to the Imulsion Countermeasure Weapon these Locust has evolved into something greater. Their evolution has blessed with their own natural armor through indestructible crystals. This makes them the ideal threat to take on foe who stands in their way and Storm Collectibles wants you to bring him home. This Gears of War figure enemy live back in February but was only released with a single image and this time Storm Collectibles has offered up some additional photos. The Warden is beautifully sculpted and will come with a nice assortment of accessories. He comes with multiple interchangeable hands, a masked and unmasked head sculpt, and two breaker maxes. The figure I'll also come with a damaged Gear Infantry Helmet that will enhance your Marcus Felix and Augustus Cole Gears of War figures.
This is a prime collectible that shows off the talent and skill of Storm Collectibles. This figure is nicely done and will be a menace for any Gears of War fans collection. I am a fan of how some of there collectibles include extra accessories for other figures. Not that it is forcing you to buy it put to show the unique world of the characters through the figures. The Gears of War Warden Figure from Storm Collectibles is priced at $100. He is expected to release in September and pre-roses are still live and can be found here.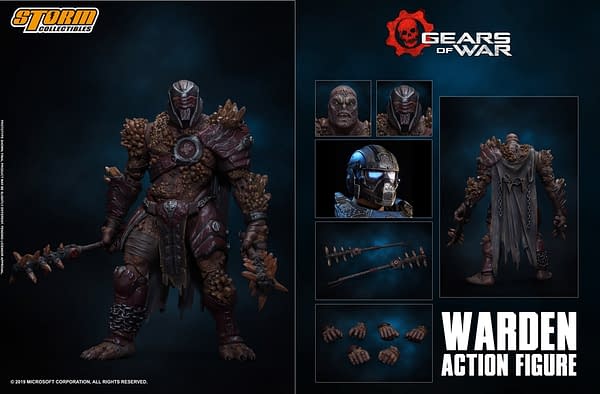 "The Warden's sole purpose is to enforce order among the Swarm's Hives through overwhelming strength. They prefer to take the fight up close, devastating enemies with each swing of their dual Breaker maces. Wardens are an elite form of Scion – Locust that have evolved after exposure to the Imulsion Countermeasure Weapon. As a result, the Imulsion that once contaminated their cells has erupted from their flesh in near-indestructible crystal. This natural armor gives the Warden a fearsome advantage in combat."
Features:
x1 Warden Head Sculpt
x1 Warden Helmet
x1 Battle damaged Gear Infantry Helmet (Battle damaged)
x2 Breaker mace
x3 Pair of hands
Enjoyed this article? Share it!