Thanks to Marvel Comics for slipping these out a little early… AMAZING SPIDER-MAN #12
Writer: Dan Slott
Penciller: Giuseppe Camuncoli
• POWER PLAY begins now! The Amazing Spider-Man, Iron Man, Spider-Man and the rest of the All-New All-Different Avengers come together for this huge story! The most dangerous foe from SECRET WARS, REGENT makes his true intentions known – and it will take the greatest heroes of the Marvel Universe to stop him. ALL-NEW INHUMANS (2015) #7
Published: May 04, 2016
Rating: Rated T+
Writer: James Asmus
Penciller: Stefano Caselli
Cover Artist: Jamal Campbell
AN ALL-NEW ADVENTURE STARTS NOW! The Unpredicable Anna Kravinoff (a.k.a., one of the Kraven family) joins the cast and leads Crystal and her crew to the wilds of Africa in search of a hidden Inhuman enclave that holds answers to Flint's past. Who are these isolationist Inhumans and why was Flint sent away at such a young age?! Those answers will cause the All-New Inhumans all kinds of problems. HOWARD THE DUCK (2015) #7
Published: May 04, 2016
Rating: Rated T+
Writer: Chip Zdarsky
Penciller: Kevin Maguire
Cover Artist: Joe Quinones, Kevin Maguire
When a case takes Howard and Tara to the SAVAGE LAND, they need all the help they can get! But instead, they make do with SPIDER-MAN, SHE-HULK, DAREDEVIL and STEVE ROGERS! Join Chip and special guest artist KEVIN MAGUIRE (!!!!) for an issue we like to call "Howard the Duck Volume Six, Issue Seven!"
A-FORCE (2016) #5
Published: May 04, 2016
Rating: Rated T+
Writer: Kelly Thompson
Penciller: Ben Caldwell
"Rage, Rage Against The Dying Of The Light" STARTS NOW! When a massive dragon attacks a small coastal town, SHE-HULK, CAPTAIN MARVEL, MEDUSA, DAZZLER, NICO MINORU, and SINGULARITY spring into action. But this dragon is more than she seems and has her sights set on more than just one small town. In fact, she's got her sights set on one of A-FORCE. Meanwhile, Dazzler's got a big secret and the strangest ally ever is going to help them in this fight… or maybe try to arrest them. DEADPOOL: MASACRE (2015) #1
Published: May 04, 2016
Rating: Parental Advisory
Writer: Gerry Duggan, Brian Posehn
Penciller: Scott Koblish
Cover Artist: Francisco Herrera
Months ago, we were proud to bring you DEADPOOL TRES PUNTO UNO — a tale told all in Spanish, revealing MASACRE, the Deadpool of Mexico! Due to popular demand (because apparently you were too lazy to translate it for yourself) Marvel has taken to an unspecified Internet translation site and is re-presenting the comic in POORLY TRANSLATED ENGLISH! Just in time for the "Fifth of May!"
GWENPOOL #0
Published: May 04, 2016
Rating: Rated T+
Writer: Christopher Hastings
Penciller: Danilo Beyruth, Gurihiru
Cover Artist: Danilo Beyruth
"Who is Gwenpool, and where did she come from?" Ever since she made a splash in her first cover appearance, those have been the questions on everyone's lips as they lounge about, sipping from a tropical beverage! Now, get all three of the original Gwenpool backup stories from HOWARD THE DUCK #1-3 featuring Ms. Poole's first appearance and her battle alongside our favorite private duck in one convenient package! Plus: See Gwen's first Xmas in the Marvel Universe, and the guy she killed to mark the occasion! THE AMAZING SPIDER-MAN & SILK: THE SPIDER(FLY) EFFECT (2016) #3
Published: May 04, 2016
Rating: Rated T+
Writer: Robbie Thompson
Penciller: Todd Nauck
Cover Artist: Helen Chen
Spidey and Silk's time jaunt takes them all the way to their beginning…the science fair where they were bitten by the radioactive spider! Plus: Chronosaurus Rex revealed! CAPTAIN AMERICA: SAM WILSON (2015) #9
Published: May 04, 2016
Rating: Rated T
Writer: Nick Spencer
Penciller: Angel Unzueta
Cover Artist: Angel Unzueta
STANDOFF Epilogue! With Steve Rogers back as Cap, Sam struggles to find his place. Can the country handle two Captain Americas? MARVEL UNIVERSE AVENGERS ASSEMBLE: CIVIL WAR (2016) #3
Published: May 04, 2016
Rating: All Ages
THE AVENGERS SPLIT IN TWO! With only half of the team on his side, and Avengers Tower wiped out by his new creation, Iron Man seeks help from an ally — only to land them in deeper danger! Meanwhile, Captain America and his half of the team discover S.H.I.E.L.D. isn't everything they thought it was…Will the two teams unite in time to save the day?
CONTEST OF CHAMPIONS (2015) #8
Published: May 04, 2016
Rating: Rated T
Writer: Al Ewing
Penciller: Rhoald Marcellius
Cover Artist: Paco Medina
ULTIMATE FIGHTING" continues! Here come… THE SYMBIOIDS! Half Venom – half Void – and all deadly! Are the Ultimates a match for the cosmic critters? And can they knock the Maestro off his throne? Plus – Battleworld breakout! Which contestant returns to Earth – and which one leaves in a box? CIVIL WAR II #0 (2016)
Published: May 04, 2016
Writer: Brian Michael Bendis
Penciller: Olivier Coipel
Cover Artist: Olivier Coipel
From the creative team that brought you House of M and Siege comes a blistering first chapter in Marvel's new explosive event. Watch as the players are introduced and the table is set for a storyline that fans will be talking about for years.
BLACK WIDOW (2016) #3
Published: May 04, 2016
Rating: Rated T+
Writer: Mark Waid
Penciller: Chris Samnee
Cover Artist: Chris Samnee
RED ROOM BY MORNING, SPIES TAKE WARNING The Weeping Lion has Black Widow under his thumb. Until Natasha learns his true motivations, she's trapped playing his personal weapon and spy…he's controlling the best in the world, and sending her to the place she never wanted to go: home.
BLACK PANTHER (2016) #2
Published: May 04, 2016
Rating: Rated T
Writer: Ta-Nehisi Coates
Penciller: Brian Stelfreeze
Cover Artist: Brian Stelfreeze
The darkest chapter of the Black Panther mythos continues as Wakanda crumbles from within. Enter: The Midnight Angels! Two mysterious women leading the citizen revolt against the current regime of Wakanda, challenging not only T'Challa's politics but also his resolve. But will their rage provide more for the people than the royal family has thus far? Written by MacArthur Genius and National Book Award winner TA-NEHISI COATES (Between the World and Me) and illustrated by living legend BRIAN STELFREEZE!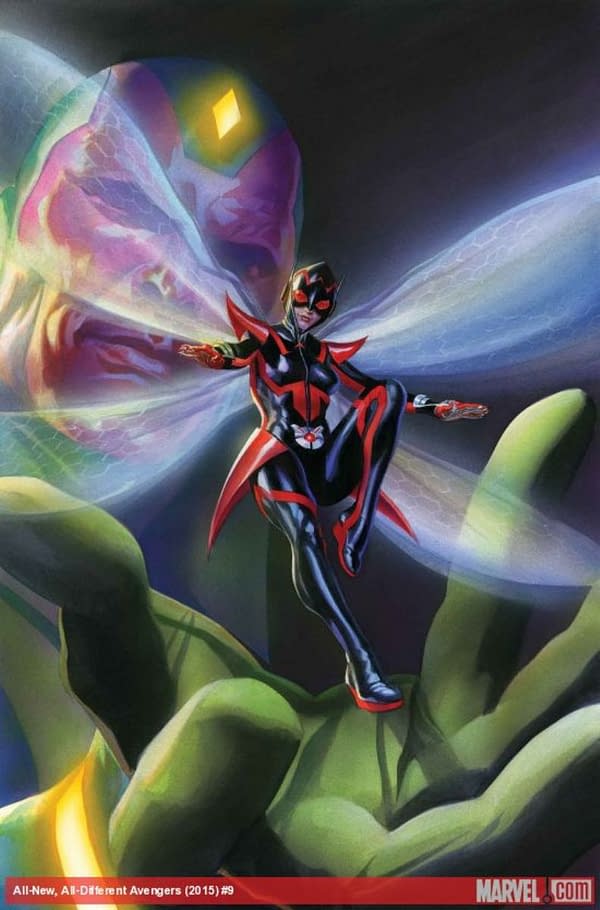 ALL-NEW, ALL-DIFFERENT AVENGERS (2015) #9
Published: May 04, 2016
Rating: Rated T+
Writer: Mark Waid
Penciller: Mahmud Asrar
Cover Artist: Alex Ross
New Story Starts NOW! Introducing the all-new Wasp! Who is she? What is she? And what does she intend to do about Earth's Mightiest Heroes? INVINCIBLE IRON MAN (2015) #9
Published: May 04, 2016
Rating: Rated T+
Writer: Brian Michael Bendis
Penciller: Mike Deodato
Cover Artist: Mike Deodato
Tony and Rhodey are best friends on and off the battlefield but their friendship is tested in ways it never was before as the new power players in the Marvel Universe reveal themselves in a bloody and dangerous fashion that threatens everything they stand for. A Civil War II prologue story! DAREDEVIL/PUNISHER #1
Published: May 04, 2016
Rating: Rated T+
Writer: Charles Soule
Artists: Szymon Kudranski and breakdown/storyboard artist Reilly Brown
Cover Artist:Reilly Brown
A simple change of venues for one of Matt Murdock's cases becomes more complicated when THE PUNISHER attempts to send the defendant away…permanently! If DAREDEVIL and BLINDSPOT want to get this mobster his day in court, it will take every ounce of wit and wile they have. All Frank needs to get what he wants is a bullet. The race is on!
Enjoyed this article? Share it!