BUN&TEA is a new comics magazine from Bleating Heart Press featuring multiple serialized comics storylines along with all the standard accouterments expected of a magazine format, like quizzes. The magazine's first issue is seeking funding on Kickstarter, and Bleeding Cool has got a never-before-seen (publicly) preview of the issue for our delightful readers. But first, on the Kickstarter page, editor Claire Napier writes:
BUN&TEA is approximately sixty-five pages long per month (that's about three times the usual length of an American monthly issue), but—! It's a magazine! So while B&T has plenty of comics stories (fifty of those pages will contain graphic narrative), it comes with all the magazine-y trimmings. Like a quiz. Who doesn't want a quiz?

Yes: the bulk of the thing will be the comics story segments. These stories are optimised for their page length: B&T is a celebration of the serial narrative format, so I've been working editorially with each involved contributor—six solo cartoonists, six teams—to make sure that they have a whole story to tell you, no trailing off or changing direction midway, each chapter of that story will be fun to read in its own, isolated right, and six chapters of these perfect, jewel-like segments are fully planned (written outline, basic dialogue, and drafted layouts) before production begins.

BUN&TEA's comics come from an array of creators in the United States, Australia, England, Ireland, Spain, Chile, and Wales-via-Finland. We are a trans-friendly publication, and contain several queer romances of varying tone.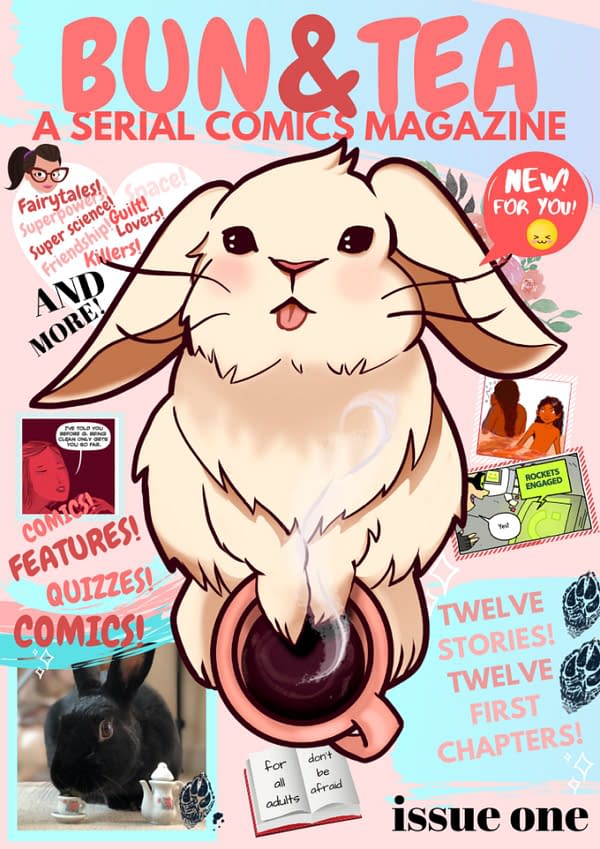 And here's a list of stories and creators included in BUN&TEA:
Emi Foster: Mystery at Meteor City High
Cartoonist Mathew New and artist Courtney Hahn's teenaged super-scientist (and orphan) Emi Foster tries to balance their professional heroism with their need for friendship.

True Name
Scripter Nola Pfau and artist Willow Tomeo show us a young witch trying to avoid her powers being bound by the predatory elite.

STOMP ON ME!
After giant monsters overrun the earth, one half of cartoonist Tom Lake's fearsome kaiju tag-team starts to wonder if his feelings for his partner could be… romantic?

The Origin of Rubies
A Bengali fairytale about love and jewels is re-told by cartoonist Priya Huq, full of family feeling and discovery.

LENS
Scripter Gary Moloney and artist Raquel Kusiak Burgos follow an award-winning photojournalist on her missions… which just happen to coincide with a lot of high-priced assassinations.

The Tide
As the Tide closes in on their dead-in-the-water spaceship, cartoonist Marianna Learmonth's heroines figure out how to keep their tender feelings alive as they try to stave off oncoming oblivion.

The Common Wealth
Cartoonist Kumail Rizvi's master thief, just out of prison, builds a heist team for the richest man in Pakistan. What's the score they have in mind? You'll want to find out.

Perspective
Scripter Terrence Sage & artist Quinton Myricks' young hero picks the reality (and the family) that suits him… and tries to pretend he deserves it. Backup lettering is provided for Perspective by Bernardo Brice, and support colour for Perspective by Anastasia Longoria.

Maidens All
Cartoonist Lindsey Richter's survivor-heroine goes back up against the forest Lady who misled her and meets a girl she can deeply relate to, in a queered adaptation of Tam Lin.

Bishop Takes Queen
Daria left love and country behind when she came from Russia to America, in Henry Barajas and Alexis Shi's Bishop Takes Queen. But she still has chess, and chess is all about taking the queen.

Lazer Bird: ALL-SEEING
Cartoonist Nick Marino's psychedelic mind quest asks the trees how we should best get on with aliens who can't read our thoughts.
In addition to the 1-6 page chapters of twelve stories, the magazine features introductions by cute bunny mascot Bunton Cuppasham and quizzes produced by Rosie Knight. The project manager of the magazine is Christina "Steenz" Stewart and publisher is Megan Purdy, and the plan is for the first issue to ship this fall. The Kickstarter is the best way for readers to get their hands on a print copy, though limited copies may be available through retailers.
And if you're still wondering whether this might be a product you're interested in, they've provided Bleeding Cool with this EX-X-XCLUSIVE 25-page preview, previously sent privately to industry professionals and other VIPs but debuting publicly for the first time right here (pip pip). To learn even more, or to get yourself a copy ($7 digital, $14 physical, amongst other pledge levels), head to the Kickstarter page, where you can also see some more art from the magazine. BUN&TEA is a little past the halfway point in funding with 10 days left to go, so it's a great time to give them some money if you're so inclined.
Enjoy:
Enjoyed this article? Share it!